Israel's theft from the people of Nabi Saleh of their water and land created the weekly protests against the Occupier. This is the moving speech of Nariman Tamimi, read at the Human Rights March rally in Tel Aviv, December 9, 2011 by Nisreen Alyan, an attorney at the Association for Civil Rights in Israel (ACRI), which emphasises that
"In the shadow of the Occupation, there is no dignity and there is no freedom of expression."

"Even the most basic right to demonstrate and protest against the action of the Occupation is grossly abused."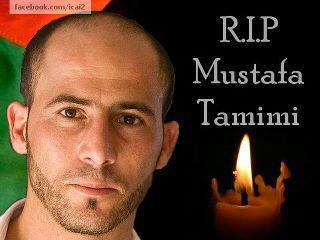 A short time after the speech was read in Tel Aviv, at the weekly demonstration in Nabi Saleh, Mustafa Tamimi was critically injured from an IOF teargas projectile manufactured in the US and fired at him face from point blank range. He died in the hospital the following day, on International Human Rights Day, December 10, 2011.
According to eye witness to the murder, Linah Alsaafin, the Israeli soldiers delayed Mustafa's transportion to the hospital.
'The soldiers laughed. They smiled. They took pictures of us, zooming in on each of our faces, and they smirked. 'They laughed at us as we screamed at them to let us through to where he was, unconscious in a taxi near the watchtower. They threatened us if we didn't go back. We waved the flag with his blood on it in front of them. One of them had the audacity to bat it away. We shouted, "His blood is on your hands!" They replied, "So?"'
Another eye witness, Ibrahim Bornat, artist and activist from Bil'in was standing next to Mustafa at the time of the murder and describes the inordinate, cruel delays created by the Occupation forces.
I ran back to get people, because we were far away, but there was no ambulance around, so the people around gathered him and put him in a servee [a communal taxi] and tried to leave. The soldiers stopped the servee and tried to arrest Mustafa, but when they saw that he was on the brink of death, they began to act as if they were humanitarian, to revive his heart. But what is 'humanitarian', to shoot someone to kill, and then to try to help him? These were the same soldiers from the jeep that shot him. They shot him, then say they want to help him. What they really did is prevent him from leaving.

The body lay on the ground for half an hour. They wanted Mustafa's ID, and they also wanted the ID of his mother, of another family member, and of Bassem Tamimi's wife, because these people wanted to go out with him too… They were doing some kind of medical treatment while he was lying on the ground, but this was no hospital, and what he needed was to be taken to a hospital. He should have been flown out in that moment. There is nothing you can do for him on the street there.
RT @ibnezra: The Israeli army has failed to confirm that its soldiers violated 'open-fire regulations" resulting in the death of Mustafa Tamimi.
RT @shunradan: The jeep frm which #mustafatamimi was shot carries a "how am I driving?"sticker http://twitpic.com/7qupdd Call 02-5694211 & tell them!
RT @Abou_Charlie: #MustafaTamimi's father was denied a permit to exit West Bank to be with his son as he fought for his life. How ethical!
RT @iRevolt: IOF spokesperson displays picture of slingshot as the reason 4 blowing off half of #MustafaTamimi's head is.gd/JycvNU
RT @gazaheart: Hate has no limits. I was shocked to read comments re IDF murder of #mustafatamimi beneath article is.gd/EXLXZ0
Mustafa was the 20th person which Israel's sadistic Occupation forces have killed with tear gas canisters, and the first martyr of Nabi Saleh. The criminal IOF have excused themselves by stating that the incident was 'exceptional'. (exceptionally cruel?)
Figures in the army's Central Command said the soldier claimed he "didn't see" Tamimi. But even if that is true, the IDF's rules of engagement prohibit the firing of tear gas grenades from a rifle pointed directly at demonstrators or from a distance of less than 40 meters away. They also stipulate that the shooter must use the rifle sight and verify that no one is in the line of fire. Central Command and the Military Police are conducting separate investigations into the incident.
Plan Dalet has never ended, Israel's genocide of Palestinians has never ended, Israel's expansionism, its deceitful posture of 'defence' and 'security' which it uses to obscure and justify its foul land grabs and murder has never ended.
At Mustafa's funeral, the IOF again resorted to violence, with 3 people injured and 8 arrested. Once again, the IOF fired tear gas projectiles directly at the crowd, spraying the village with skunk water which will pollute it for days. This collective punishment on people who are being robbed of their birthright and denied civil rights is a crime against humanity.
RT @LinahAlsaafin: The pig soldiers wanted to arrest us all. They beat us. We formed a human pile on the ground, limbs bodies twisted. They continued to hit us
RT @LinahAlsaafin: I held up a picture of #MustafaTamimi in front of a soldier's face. He grabbed it and balled it in his fist. It's in my bag now, torn.
Meanwhile, Israel focussed its terror on the civilians of Gaza, breaking the ceasefire again, invoking the biblical symbology of Palestinians as Amakelites as a sheep and chicken farm was attacked, causing mass death of livestock.
On Saturday, Israeli soldiers fired artillery shells targeting a chicken and sheep farm in Beit Hanoun, in the northern part of the Gaza Strip — dozens of livestock died in the attack; excessive damage was reported.

The Maan News Agency reported that the shelling targeted the farm of local resident Ramadan Abu Ghazala, located east of Beit Hanoun. The shelling led to no human casualties.
In another Israeli state terrorist attack
A Palestinian child was severely wounded and her father was injured in an Israeli airstrike that targeted a house in Zaytoun neighborhood in Gaza city at dawn Sunday.
At present, Gaza may serve as a scapegoat for Israel's impotence toward incidents in the Sinai. Israel is also threatening to punish the Gazan people in another despicable way – by cutting off their water supply.
Mustafa #fail': Israeli military spokesman mocks on Twitter death of Palestinian demonstrator killed by army tear-gas canister
Israeli Defence Force spokesman sparks fury after 'mocking' dead Palestinian demonstrator on Twitter
Related Links
Palestinian protester struck in face by tear gas canister dies of injuries
Nabi Saleh 9.12.2011
Palestinian demonstrator killed by IDF in West Bank protest
Chroniques de Palestine- Popular resistance and human rights: Mustafa Tamimi, Martyr in Nabi Saleh
In Israel, 'fascist' is not a rude word – Amira Hass gets it:
'It is not important what this bill teaches us about Danon as a person – that he did not study history, for example, or that he did but he knows very well that in fascist regimes the State is above all else; or that as an experienced demagogue he knows just how close a connection there is between the level of discrimination against a certain ethnic group and the claims about crime among its members. '
Israel's religious right builds fascist machismo, while the govt builds fascist political repression
The Haaretz editorial is still being coy – 'religious extremism' and 'nationalism'.
Count the fascistic lies and distortions in this drivel where Israel claims to support human rights.
Turkish President shuns event attended by Israel's Defense Minister
Drones spotted above Gaza as Israel breaks truce; death toll at 5
Israeli Airstrike Injures Father, Daughter in Gaza
Israel must refrain from launching Gaza offensive
Israeli aircraft strike Gaza, as cross-border violence continues
"Israel cannot strike at the donkey, so it hits the saddle instead and Gaza cops it."
My attempt to arrest Israeli weapons chief
Israeli ambassador to take up Cairo post
In pictures: When a nonviolent protest ends in death
Ministry of Hasbara: IDF Has Become Israel's Chief Delegitimizer
Invitation: Third National BDS Conference
Gingrich, part of the invented 'US people' describes indigenous Palestinians as 'invented' : Gingrich won't like where his logic leads.
Nabi Saleh Activist Critically Injured by Tear Gas Canister | Palestine Solidarity Project
VIDEO (Graphic): 27 year old Mustafa Tamimi after being shot in head by an IOF tear gas canister yesterday
Seeing the forest and the trees: The untold story of the Jewish National Fund – A sleazy tale : follow the JNF land thieving fund money :
Recalling that Bob Geldof praised the JNF land thieves. Bob Geldof breached the boycott [on May 31, 2011, 'when he accepted a dis-honorary fake degree from Ben Gurion University] praised the JNF when he spoke to patrons at a Jewish National Fund event telling them that the JNF 'got' the idea of sustainability & the importance of water over 100 years ago.
Israel is gobbling Palestinian land again extending an illegal Jews-only apartheid settlement to the edge of Bethlehem. while meanwhile Regev slithers out and lies that it's all Palestinians' fault again, for refusing 'direct' peace talks.
Great news! 'Ads calling for "peace with justice and equality" and an end to the U.S. aid to Israel went up last week in a prominent location in the Civic Center station in San Francisco as well as on 15 AC Transit buses servicing the East Bay area. '
Christian bigots get Lowes ads pulled : Lowe's Pulls Advertising from Muslim Reality Show After Bigots Complain
Palestinian flag to be raised at UNESCO headquarters
New initiative in UN to 'censure Israel's attacks on Palestinians in the West Bank, Gaza and Jerusalem.' : how about STOPPING Israel's attacks for good with BDS ?
Shufat residents were protesting the construction of a new Israeli military checkpoint at the entrance of the camp, which they say will cut the 45,000-string community from the rest of the city and control their movements.
Bedouin protest Israel's relocation plans; village receives notice of imminent eviction
There's no need to be any less bigoted than Europe implies Nutanyahoo
Palestinian protester's death an 'exceptional' incident, say IDF officials
Israel's Russian doll apartheid : Legal researcher on Israel: "Segregation within segregation within segregation"
Egypt Links
Egypt's military will have final say on country's new constitution
Other Links
Wondering why the domestic police are bristling with weapons to use against those they are supposed to defend?
US missiles 'hit Iranian village'
We are all 'persons of interest' in the #newfeudalism of full spectrum surveillance