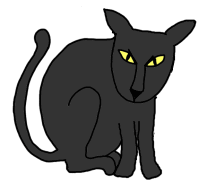 Jinjirrie (@Jinjirrie) is the nom de guerre of Sylvia Posadas, freelance writer, poet, graphic artist and web developer. Born and resident in Queensland for most of her life, she has been active independently and collectively in many campaigns for rights for Indigenous Australians, South Africans, women, refugees, workers and unemployed people, protesting against the draconian Joh Bjelke Petersen government, then lobbying against environmental destruction in Noosa and elsewhere. Sylvia has served as a union and association representative. Later, she worked for several years as a professional musician and performance poet. Her stories have appeared in Skive Magazine; her poems have been published by Bruce Dawe, David Rowbotham, Screaming Violets and Australian Latino Press here, Buck House Writers and here.
Note that while "Jinjirrie" and "Kadaitcha" are Indigenous words describing mythological creatures, Sylvia does not claim Indigenous descent. These epithets are used as metaphors for proliferation of literary creativity in the spirit of publications like Meanjin, with the hope that perpetuation of language and the images within it is ensured by usage. Sylvia appreciates the forests and plants on which we all depend and which are threatened by unsustainable agricultural settler practices.
Location: Sunshine Coast, Queensland, Australia
Interests: Fiction, poetry, music, politics, human rights, anti-racism, environment, art, friends, writing, ping pong, latin dancing, energetic debate
Psychological Profile: Jungian – ENTP, Brain Lateralisation – Right 68%, Left 40%. More info
Political affiliation: With the people and more particularly with the working class. Governments and their officials are *our* servants. We are not theirs.
Favourites
Movies:The Old Man Who Read Love Stories, Stay, A Beautiful Mind, Agatha and the Storm, Beautiful Joe, Cold Comfort Farm, Dogma, Flying Daggers, Cries and Whispers, Amarcord, Under Milkwood, Becket, The Ruling Class, Red Firecracker Green Firecracker, Raise the Red Lantern, Life of Brian, The Seventh Seal, The Castle, Radiance, My Fair Lady, anything 007
Music: Courtney Barnett, Remi, Warumpi Band, Reem Kelani, King Gizzard and the Lizard Wizard, Cosmic Psychos, Darren Hanlon, Astor Piazzolla, Raymond Deane, J.S. Bach, Chopin, Peter Sculthorpe, Borodin, The Saints, The Living End, Leo, anything tango or gypsy
Poets: Janet Frame, Tennyson, Kath Walker, Keats, Bruce Dawe, Remi Kanazi, Mahmoud Darwish, Suheir Hamad
Books: The Time Machine, Chrome Yellow, Anil's Ghost, A Suitable Boy, Animal Farm, 1984, Palestine Peace Not Apartheid, War Crimes, Oscar and Lucinda, Oliver Twist, Godel, Escher and Bach, A Portrait of a Lady, Earthly Powers, A Clockwork Orange, The End of the Affair, I Claudius, The Defence, The Ghost in the Machine, A Fringe of Leaves, A Fortunate Life, Life and Times of Charles Sobraj
Cartoonists: First Dog on the Moon, Bruce Petty, David Nicholson, Patrick Cook, Michael Leunig, Doug Savage, Kudelka, Nik Scott, Websinthe