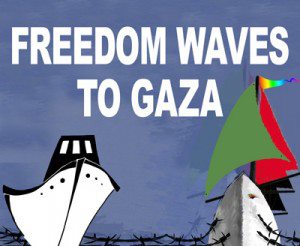 With superb stealth in order to thwart sabotage by Israel which occurred on the last Freedom Flotilla earlier this year and with plans only alluded to in +972 Magazine last week, two Freedom Waves boats are en route to Gaza. They are attempting like 11 fleets before them to break the hideous illegal blockade of land, air and sea that Israel perpetrates as collective punishment on the people of Gaza.
"The Freedom Waves to Gaza emerged from the Freedom Flotilla initiatives," says Irish Ship to Gaza organiser Fintan Lane from on board the MV Saoirse. "While the Freedom Waves to Gaza will be delivering some much-needed medicines, our primary goal is to help free Palestinians from their inhumane isolation in what is in effect an open air prison."

Also on board in this civil society to civil society initiative are delegates from Canada, Australia, the US, Greece, Palestine, Poland and Egypt. "We have just entered international waters and hope to reach the shores of Gaza in a couple of days. The only obstacles in our way are Israel's military, but international public opinion is behind this effort, and so is civil society in Gaza."

"The Palestinians living in Gaza want solidarity – not charity. They have made it clear to the world that their primary demand is for freedom. While humanitarian aid is helpful, Palestinians are still prisoners with no freedom of movement," adds Ehab Lotayef, the Canadian boat organizer. "Israel's illegal blockade prevents not only imports into Gaza, but exports as well. And the blockade prevents Palestinians from moving freely between Gaza and the West Bank, in violation of fundamental human rights."
From an October 2011 Report from the UN OCHA, some fast facts help explain why it is imperative to challenge and end Israel's closure of Gaza:
. The population of Gaza is 1.6 million, with over 50% under 18.
. 38% of Gazans live in poverty.
. 26% of the Gazan workforce, including 38% of youths, is unemployed.
. The average wage declined by over 20% in the past six years.
. 54% of Gazans are food insecure and over 75% are aid recipients.
. 35% of Gaza's farmland and 85% of its fishing waters are totally or partially inaccessible due to Israeli military measures.
. 50-80 million litres of partially treated sewage are dumped in the sea each day.
. Over 90% of the water from the Gaza aquifer is undrinkable.
. 85% of schools in Gaza run on double shifts.
. About one-third of the items in the essential drug list are out of stock.
. Since the beginning of 2010, 64 Palestinian civilians have been killed and 621 injured by Israeli forces; over 60% of casualties occurred in the access-restricted areas. Another 60 civilians were killed and 137 were injured in tunnel-related accidents

The Gaza blockade (through the land, air and sea) is a denial of basic human rights in contravention of international law and amounts to collective punishment. It severely restricts imports and exports, as well as the movement of people in and out of Gaza, and access to agricultural land and fishing waters. Gazans are unable to provide for their families and the quality of infrastructure and vital services has deteriorated.
Israel has now beleaguered the civilian population of Gaza, flaunting international law, for 1604 days.
The MV Saoirse from Ireland, sailing under the US flag, and the Tahrir from Canada carry 27 passengers between them. The humanitarians on the Irish boat include Parliamentarians and famous footballer Trevor Hogan while the Tahrir has several Al Jazeera journalists aboard.
After setting sail under the protection of a Turkish Coast Guard vessel from Fethiye in South West Turkey, the boats are now in international waters and expect to arrive at Gaza on Friday. According to Michael Coleman, Australian representative on the Tahrir:
I went home from the last flotilla feeling quite frustrated, as the ministerial edict that stopped us sailing to Gaza had no basis in law, and almost felt cheated out of doing the most meaningful thing I had ever set my mind to. And I'm hopeful that that won't happen again, but if it does, it doesn't deter my determination.

The aims of the flotilla are twofold. While we do have a small amount of aid on board—and that's one of the goals, is to take aid to the besieged Strip—but the other is public awareness. And we're well aware that the small amount of aid we have is tokenistic. It's not going to prevent the suffering of 1.5 million people. Only governments and international institutions can do that. But we, as private citizens, can pressure governments and international institutions to do what is right.
According to Haaretz, the IDF 'plans to intercept vessels, offer them to dock at Ashdod or port in Egypt'.
Yesterday, Israel brandished its phallic military objects as Netanyahu bellowed for a strike on Iran and more illegal racist Jewish colonies in Occupied East Jerusalem. Deceitfully, Netanyahu claimed support from long dead Gandhi, whom zionists have been wont to attempt to coopt in the past.
'Talking about Gandhi, he said, "Each of us who knew him knows how deeply engraved Jerusalem was in his soul. It was the center of his being, it towered above all else in his world view."
Yet Gandhi was no friend of zionism.
"My sympathy does not blind me to the requirements of justice. The cry for the national home for the Jews does not make much appeal to me. The sanction for it is sought in the Bible and in the tenacity with which the Jews have hankered after their return to Palestine. Why should they not, like other peoples of the earth, make that country their home where they are born and where they earn their livelihood?"
The Israeli PM appears oblivious to US signals to Turkey of its favoured diplomatic position – Turkey's recent promotion to co-chair with the US on the Global Counter-Terrorism Forum and 3 deadly new USMC AH-1W Super Cobra attack helicopters with which to assault the PKK along with messages of support from the US attest to this. Further, Turkey insisted boat passenger numbers be reduced prior to departure (this report says only 11 on the Tahrir and 10 on the MV Saoirse).
For these reasons, it's unlikely that Turkey will send its navy to escort the vessels. In early September, in yet another of its ubiquitous bumbling Turkish affairs reports, Haaretz claimed that Turkish naval vessels would accompany future aid ships, relaying that 'According to the report, Turkish naval vessels will accompany civilian ships carrying aid to Palestinians in the Gaza Strip.'
However, Al Jazeera more reliably reported at the time:
Turkey's naval forces would escort Turkish humanitarian aid ships bound for the Gaza Strip, Recep Tayyip Erdogan, the Turkish prime minister has said, following Israel's refusal to apologise for its deadly raid on an aid flotilla heading to the besieged Palestinian territory in May 2010.

"We have humanitarian aid to be sent there. And our humanitarian aid will not be attacked anymore, as happened to the Mavi Marmara," he told the Al Jazeera on Thursday.

"Turkish warships will be tasked with protecting the Turkish boats bringing humanitarian aid to the Gaza Strip."
Please contact your Federal Parliamentarians and Media Representatives and forward them a copy of the Freedom Waves for Gaza Press Release, explaining why it is important that these boats succeed on their mission. Fair sailing and firm hearts, folks!
Support Freedom Waves
BE A WITNESS
Canadian and Irish ships set to challenge Israel's illegal blockade with Freedom Waves to Gaza
CALL TO ACTION – We Need Waves of Support for Gaza
Related Links
History of Israeli blockade on Gaza
Turkish obstruction on departure outlined by one left behind.
From Tahrir to Gaza: The faces of 'Freedom Waves'
Gaza flotilla organizers to Haaretz: Plan kept secret until last minute
WEDNESDAY 9:15PM LATEST UPDATE FROM IRISH SHIP
Live time map (password is just the letter 'a')
EXCLUSIVE VIDEO: Voices from the Secret International Flotilla Now Sailing to Gaza
BREAKING: New flotilla en route to Gaza Strip reaches international waters
FreedomWaves to Gaza!
The ABC pushes false info about Turkey's intentions but reveals the US requested Turkey not to accompany Freedom Waves
Palestine / Israel Links
Olympia Food Co-op fights back against Israel-backed anti-boycott lawsuit
The US abstains on the KP vote, effectively clearing Marange blood diamonds for sale to blood diamond producers like Israel. US sanctions prevent them being traded in the US, but as for US cronies – so the US wants to chair the KP process next year? that should smooth its way when it eases in its AFRICOM scam.
Goldstone walks alone on a bridge to nowhere