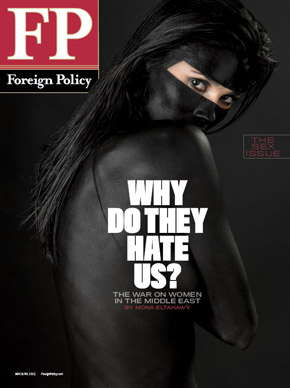 Of all neoliberal women who claim the liberation of women as their cause, Mona Eltahawy consummately peddles imperialism under the guise of feminism.
Her recent article on Foreign Policy transports orientalism into the realms of the pornographic. The debased cover graphic of the issue in which the article appears is of a naked woman body-painted with a niqab and is well-attuned to the sly glittering generalisations in the content, where we do not read of women, but of events which happen to women. En masse, Arab women are reduced to powerless alien objects, victims of lascivious, sadistic orientals, the flip side of the romantic savage. This is the pornography of imperialism, where the natives are ritually objectified, voiceless victims to be aggregated and marketed to western voyeurs, all the better to appropriate righteously their treasures. The historical impact of the west is decontextualised and obscured – patriarchal tyrannies propped up to support exploitation of the vast riches of the Middle East, religious fundamentalism nurtured through inequality, hideous sanctions, pressures and intrigue to serve larger geopolitical goals are made secondary to the innate savagery of the oriental male and helplessness of his victim. One of the convenient, duplicitously benevolent western facades thus is assured to facilitate invasion, occupation and colonial aid as saviour to helpless women in societies which are miraculously located near areas with immense resources or with strategic import. Mona rails against the Muslim Brotherhood and Salafists, although ironically both were abetted by imperialists in order to divide and rule, to assist in the 'war against communism' – and most importantly to ensure the riches of the region could be exploited by western capitalists.
The scapegoating and patronisation of the experience of non-western women also serves as a displacement for elite feminist class hatred of working class and poor women in western societies which cannot be expressed without losing leftist credibility. Non-western women are fair game, because racism and elitism seduces across the divide – the real war on women has no borders. Those who exploit us do hate us, and the ruling elite inculcates sexism, racism and bigotry to shore up its power. When we fight each other, we are diverted from challenging its loathsome power. And so Mona blames Arab men collectively and shifts the battle away from the cause: "Until the rage shifts from the oppressors in our presidential palaces to the oppressors on our streets and in our homes, our revolution has not even begun." Who makes and polices laws which can end impunity for violence, which would stop "the men who can't control themselves on the streets", governments or individuals? why does Mona hold all Arab men responsible for the effects of rapacious western exploitation and puppets?
While western feminists focus on Islam and Arab men for the plight of Arab women, scrutiny of the predations of western imperialism and capitalism is minimised, and any potential threat from an evolution of the Islamic economic system nullified.
Here's a collection of the best crits of Mona's article "Why do they hate us?":
Despite having witnessed alliances between man and woman in the Middle East, who have often fought alongside one another, we understand that we may be oppressed beyond our own belief. That the oppression has rotted our very minds and blinded us from reality, that the men of the Middle East are nothing more than savage brutes, unable to feel anything besides hatred towards us.
Again, dearest Mona, we thank you, on bended knee, for attempting to free us from bondage. We could not have ever imagined a more noble, qualified liberator. We pray that you also deliver the following message, one which comes from the depths of our very souls, to your closest friend and ally, the white man:

We thank you, dearest white savior, for neglecting to address the 'war on women' in your own region, in order to watch us, the women of the Middle East, progress. Shamefully, we have not yet even begun to repay you for freeing us from bondage with your bullets and uranium tipped bombs in places such as Iraq, Yemen, Pakistan and Afghanistan. We are forever indebted.
Dima Khatib examines paternalisation and orientalism represented in imported western feminism to the Middle East. Feminism of all things is a grassroots ideology, of individual and local empowerment.
Your article paints a picture of the Arab society that matches the images of the article: black, bleak, depressing, a painted black body. You have reduced the problem of the Arab woman to the feelings of men; while the image of the Arab woman was reduced to the image that the West has of her. What you have tackled is true, and we have a long road ahead, and the revolutions have not achieved anything for women or for any one else when it comes to societal demands, and we have not yet been granted our basic rights, as women or as men. Like you, I felt a huge shock when the new Egyptian parliament was elected in front of my eyes while I was in Egypt, with women representing less than 2% of it. But the picture in your article is incomplete and gives the impression that we are all miserable, helpless female beings. Arab society is not as barbaric as you present it in the article. You actually enhance the typical stereotype in the non-Arab reader's mind, and it is a stereotype full of overwhelming generalisations, and contributes to the widening cultural rift between our society and other societies, and the increase of racism towards us.
The fundamental problem of Mona's essay is the context and framework of how she analyzes why women in the Middle East are oppressed and the only reason she could give is because men and Arab societies (culturally and religiously) hate women. This is offensive to most women I know, who read the article and shared the same view. Women in the Middle East are not oppressed by men out of male dominance, they are oppressed by regimes (who happened to be men in power) and systems of exploitation (which exploit based on class not gender). Having women in power in a flawed system will not "fix" the problem either. We had a women's quota in Mubarak's parliament, did that change anything for women in reality? It was all ink on paper. Even after revolution, women are consistently used for political grounds by crony political parties. Explaining why women are oppressed without touching on any of the historical, political, or economical aspects of Arab countries, which are not all the same as she tends to generalize in her article, couldn't be more delusional than this piece.
Us and Them: On Helpless Women and Orientalist Imagery
The laundry list of crimes committed against women, including "virginity tests" and genital mutilation, are serious charges which should not be ignored nor should they be denied. Eltahawy, in her attempt to highlight indefensible crimes against women, reaffirms the banal archetype of the poor, helpless woman of the Middle East-North Africa.

Eltahawy pens a lugubrious tale, where women of the Middle East-North Africa seem to have been forever chained to the floors, as captives. History is conveniently left out of this verbose condensation. There is no talk the Arab women of her native Egypt who defiantly took part in the forceful, countrywide revolution against the British occupation of both Egypt and Sudan in 1919, which led to Britain's recognition of Egyptian independence in 1922; women, men, merchants, workers, religious leaders, students et al. held unified strikes against the British occupation on a daily basis, not in separate stalls but in the company of one another.
Omid Safi: "The hypocrisy of the "Why They Hate Us" rhetoric of Muslim Native Informants"
While bashing "cultural relativism" has been a favorite target of Fox News, it has also been used by genuine human rights activists such as Shirin Ebadi who have argued against condoning gender segregation and two-tiered models of citizenship based on gender. The difference between Ebadi and Eltahawy is immense: While they have both paid a price, and both suffered through violence and harassment, only one of them, Ebadi (the 2003 Nobel Peace Prize winner) makes the fight not about elevating her own position, but rather about establishing and networking with human rights and women's rights organizations that actually uplift the lives and rights of Muslim women. (In fact, Ebadi refused the distinction between women's rights and human rights, rightly seeing women's' rights as human rights.) Eltahawy's move only elevates herself by stepping on Muslim women.

The problems that Muslim women face in so many different contexts are real, and are in need of urgent remedying. My intention is not to belittle or demonize one individual author. Rather, it is to point that that the solution is through solidarity and networking with the actual real work that is being done on the ground level, not by standing on the (Western) towers of moral patronizing, and elevating one's own position.
Sherene Seikaly and Maya Mikdashi: "Let's Talk About Sex":
We would suggest, as many have, that oppression is about men and women. The fate of women in the Arab world cannot be extracted from the fate of men in the Arab world, and vice versa. El Tahawy's article conjures an elaborate battle of the sexes where men and women are on opposing teams, rather than understanding that together men and women must fight patriarchal systems in addition to exploitative practices of capitalism, authoritarianism, colonialism, liberalism, religion, and/or secularism.
…
The battle against misogyny does not follow a "men hate women" formula. It cannot be reduced to a generic battle of the sexes spiced with a dose of Islam and culture. It cannot be extracted from the political and economic threads that, together with patriarchy, produce the uneven terrain that men and women together navigate.
Related Links
In this skin-crawling piece, Sami Kishawi describes the abominations inflicted on Palestinian women by Israel. When will Mona speak out against these western colonial horrors perpetrated against Indigenous women?
Nawal El Saadawi: "We are all the products of our economic, social and political life and our education. Young people today are living in the era of the fundamentalist groups."
U.S.: Muslim Brotherhood gave assurances on Egypt-Israel peace treaty
Referring to a recent on the Muslim Brotherhood member interview with Al Hayat, where he said that the treaty with Israel is not binding, Nuland said: "We've seen this press report. I would say that it is one member of the Muslim Brotherhood. We have? had other assurances from the party with regard to their commitment not only to universal human rights, but to the international obligations that the Government of Egypt has undertaken."

The U.S. official added by saying that, "as we've said again and again, not only with regard to Egypt but with regard to other states in that region in transition, we expect that legitimate parties will not only support universal human rights, but will also continue to support international obligations made by their governments they have made commitments to us along those regards, and as I said, we will judge these parties by what they do."

Nuland's comments came after last month top Egyptian opposition figure Mohamed ElBaradei told Iran's Fars news agency that the United States is engaged in secret talks with Egypt's ruling military council geared at ensuring that the country's democratically elected regime will maintain its peace treaty with Israel.

"The negotiations were completely secret and confidential," ElBaradei told Fars, adding that what the ruling military indicated "said was that the talks were about bilateral and mutual relations, but I believe that Americans wanted to ensure that the deals signed between Egypt and Israel will remain intact if Islamists ascend to power."
Harvard professor Leila Ahmed in debate with Mona
Resistance and Revolution as Lived Daily Experience: An Interview with Leila Khaled
My mother had opposed my and my sisters' involvement in the ANM. I was often spanked for attending meetings at a young age. Once I went to a meeting in my nightgown because I snuck out of the house after convincing my mother that I was staying home for the night. My commander was astonished at my appearance and my colleagues were not fully accepting of me. This incident was a particular challenge because I wanted to practice my membership and be a part of that movement. It was not only political but also personal. In that meeting I was criticized for my actions. This criticism made me think critically about what was happening. I considered it a sacrifice because the other members considered my behavior to be beyond the pale of acceptability. I was very annoyed. I wondered why they did not appreciate that I was fighting against my mother. I was always against older traditions and the city was very conservative. That was a turning point in my life. I realized that I was simultaneously discriminated against in my life and in my family. I had to prove myself. Eventually, I managed to gain my mother's acceptance. But it was only with the support of my father as he reminded her that we were all driven out irrespective of sex and so we should all work to go back regardless of our sex.
Leila Khaled and Shireen Said Interviewed by Sukant Chandan
Shireen Said:
We shouldn't forget that the capitalist system oppresses and exploits women and takes away their human dignity. Therefore we must adhere to our values of humanity and progressive politics as well as remain united and strong in the revolutionary left as the best means to achieve our ends. This is the only path to attain freedom, equality, and social justice for us, our families, and our children.
Mona Eltahawy Speaks To J-Street, But Who Is She Speaking For?
Mona Eltahawy, Your Facts Are Wrong and We Don't Hate Women
On Muslim-Arab issues and the Danger of Aiding the Neo-Liberal Colonialist Agenda