this is a poem about feelings
here's some money
to collaborate with invaders
how do you feel?
if this poem is white supremacy
there's a euro boot on your neck
how do you feel?
if this poem is a dominant force
do you resist?
do you understand your oppressor
forgive them and heal them
be nice to the boot
as it crushes you to death
if this poem is oppression
if this poem is about land theft
whatever you do, don't judge whitey
that won't feed them
this is a poem about irony
it's not about me
it's never fair
divide and rule
they take your share
can't you see
it's not about you
they're never kind
they have your absence in mind
this is a poem about hegemony
this is a poem about genocide
when there's none alive to object
nowhere left to hide
October 16, 2023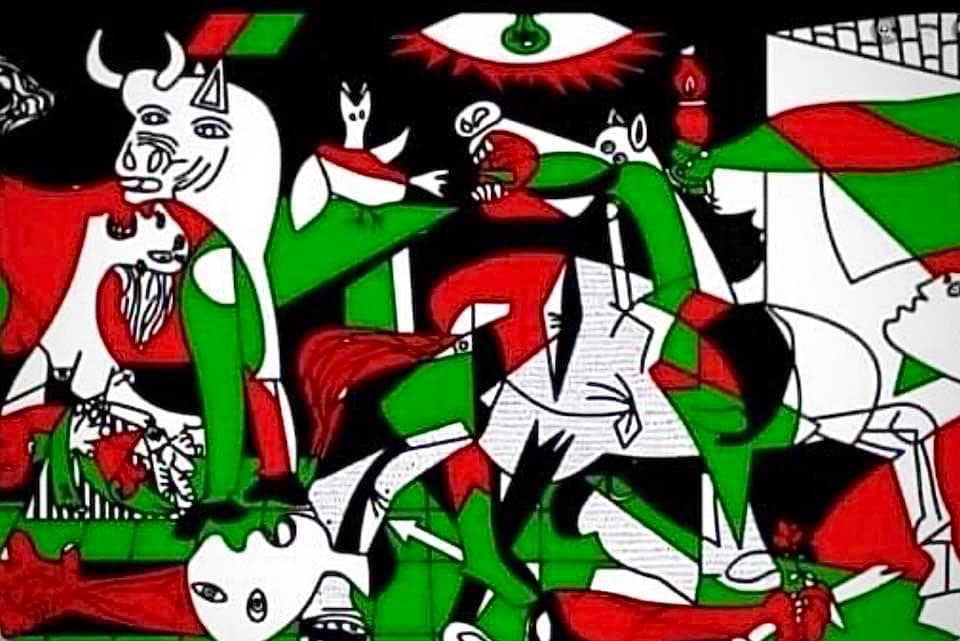 Those who remain silent and pretend to be neutral about deliberate psychopathic criminality, which Israel has conducted against the people of Palestine since 1948 in order to steal their land become complicit with genocide.
As Desmond Tutu said:
"If you are neutral in situations of injustice, you have chosen the side of the oppressor. If an elephant has its foot on the tail of a mouse, and you say that you are neutral, the mouse will not appreciate your neutrality."
Raz Segal, an Israeli expert in modern genocide:
'I think that, indeed, what we're seeing now in Gaza is a case of genocide. We have to understand that the U.N. Convention on the Prevention and Punishment of the Crime of Genocide from 1948 requires that we see special intent for genocide to happen. And to quote the convention, intent to destroy a group is defined as racial, ethnic, religious or national as such that is collectively, not just individuals. And this intent, as we just heard, is on full display by Israeli politicians and army officers since 7th of October. We heard Israel's president. It's well-known what the Defense Minister Yoav Gallant said on 9th of October declaring a complete siege on Gaza, cutting off water, food, fuel, stating that "We're fighting human animals," and we will react "accordingly." He also said that "We will eliminate everything." We know that Israeli army spokesperson Daniel Hagari, for example, acknowledged wanton destruction and said explicitly, "The emphasis on damage and not on accuracy." So we're seeing the special intent on full display. And really, I have to say, if this is not special intent to commit genocide, I really don't know what is.'
The parallels with British colonial genocide of Aboriginal people in Australia are striking.
'The analysis of the frontier genocides waged against the Aboriginal Tasmanians, the Yuki of California, and the Herero of Namibia reveals a surprisingly congruent pattern despite the fact that the cases took place on different continents, under different regimes, and in different periods. The pattern divides into three phases. Colonists initiate the first by invasion. Economic and political
frictions then develop between the two groups as they struggle for limited resources and political power. Unable to compete with the invaders' technology, arms, and wealth, the indigenous people find their economy fundamentally threatened and basic political rights denied under the settler regime. Aboriginal people begin the second phase by attacking settlers and their property in an attempt to regain access to economic resources, reclaim lost land, protect political rights, or exact revenge. Settlers and their government then retaliate, but cannot quickly defeat the indigenous peoples' guerilla insurgency. Out of frustration and expediency, the invaders choose a "final solution" to the military conflict.
During and after the genocidal military campaign, the settlers' government initiates the final phase by incarcerating Aboriginal people in camps that bear comparison with the Soviet gulag. In these reservations, settler governments continue genocidal policy though a varying combination of malnutrition, insufficient protection from the elements, inadequate medical care, overwork, unsanitary conditions, and violence.'