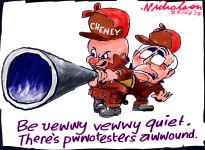 With the planned withdrawal of all Danish troops by August 07, the Coalition of the Gobbling will lose another member entirely. Lithuania is considering removing its forces too. Bliar's concurrent announcement of a reduction in troop numbers by one quarter is greeted with approval from Basrawis. The wily rodent and Bliar spin the troop reduction as success. More likely Bliar can read the writing on the wall and may be looking to avoid further confrontation with an angry local populace which would shred any tattered vestige of a chance he has remaining of claiming justification for the ill-considered Iraqi misadventure. Why were the Brit troops withdrawn and not redeployed to support Doodoo's surge?
"We welcome any withdrawal of British forces from inside the centre of the city," said Hakim al-Mayahi, head of the Basra provincial security council, which has had a fractious relationship with the British.

An AFP reporter who visited British forces in Basra and at the airbase last month found both under almost daily mortar attack from militias in the city.

…

"Iraqi forces in Basra are ready and able to ensure security. Every Basrawi wishes to see all British forces leaving at one time not gradually," he said.

And Razzaq Nasir, a 58-year-old oil worker, was categoric: "There is no need for them. The British forces in Basra are a big problem for the Iraqi forces and for ordinary Basrawis."
The Whorestralian prime monster, with the repugnant Lon Cheney visit upon us, sticks with his plans to retain the present level of troops and send more military trainers to Iraq and indicates he is considering more troops for Afghanistan, the central battleground of the Great Game and historical graveyard of empires.
But as British columnist Gwynne Dyer noted, Australian leaders long ago realized that the United States is the only country that might be willing to come to their aid in an emergency. Keeping the White House happy is an Australian priority."If the United States invaded Mars," Dyer wrote, "Australia would send a battalion along to guard the supply depot."
Ugh.
Kevvie presses the political advantage:
KEVIN RUDD: If it's ok in Mr Howard's view for the Danes to pull out some 460 troops from Iraq, why is it not ok for 520 Australian troops to be brought home to Australia, some time next year?
Well, mate, maybe little Johnny is thinking of all those lovely barbies at Crawford he'd miss out on in his retirement.
Meanwhile, Prodi resigns when the Italian Senate refuses to back his pro-US foreign policy initiatives.
Rome was plunged into political turmoil after Mr Prodi failed to muster enough Senate votes to approve the continuing commitment to Italian troop deployments in Afghanistan and the expansion of a US military base at Vicenza.
Unfortunately Prodi's resignation and consequent electoral turmoil may prove a gift to the way out there and round the bend Berlusconi camp if Prodi can't rally support among the multitudinous factions that adorn Italian Parliament.
Devoid of the belated political nous exhibited by Bliar, Doodoo refuses to get the message that Iraqis really don't want the United Stupids in their country and haven't for years. Yet according to Cheney, the Dems won't be able to prevent Doodoo's surge.
Iraqi woman, Riverbend, horrified by an alleged coverup of rape by the pseudo-democratic Iraqi government and proposed execution of three Iraqi women, points out the COG was defeated long ago:
And yet, as the situation continues to deteriorate both for Iraqis inside and outside of Iraq, and for Americans inside Iraq, Americans in America are still debating on the state of the war and occupation- are they winning or losing? Is it better or worse. Let me clear it up for any moron with lingering doubts: It's worse. It's over. You lost. You lost the day your tanks rolled into Baghdad to the cheers of your imported, American-trained monkeys. You lost every single family whose home your soldiers violated. You lost every sane, red-blooded Iraqi when the Abu Ghraib pictures came out and verified your atrocities behind prison walls as well as the ones we see in our streets. You lost when you brought murderers, looters, gangsters and militia heads to power and hailed them as Iraq's first democratic government. You lost when a gruesome execution was dubbed your biggest accomplishment. You lost the respect and reputation you once had. You lost more than 3000 troops. That is what you lost America. I hope the oil, at least, made it worthwhile."