UPDATE 22 December 2011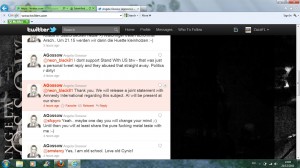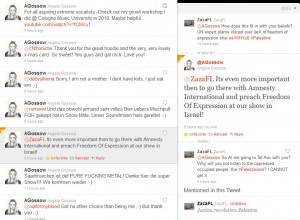 Angela Gossow @AGossow, the growling specialist lead of Arch Enemy, says on twitter "@neon_black81 Thank you. We will release a joint statement with Amnesty International regarding this subject. AI will be present at our show" and "@neon_black81 I dont support Stand With US btw – that was just a personal tweet reply and they abused that straight away. Politics r dirty!"
In 2009 Amnesty International withdrew their support from a Leonard Cohen Israel concert fundraiser abstaining 'from any involvement in the Leonard Cohen concert in Tel Aviv" and that they "would not be party to any fund that benefits from the concert's proceeds.' It is imperative that for the Arch Enemy concert too, Amnesty does the right thing and removes its support from a boycott-breaking event.
UPDATE December 23, 2011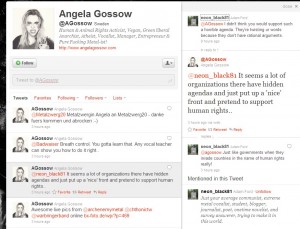 Angela Gossow may be obtaining a more informed view of Israeli propaganda, confiding to @neon_black81 "It seems a lot of organizations there have hidden agendas and just put up a 'nice' front and pretend to support human rights…"
Her tweets which appeared to support Stand With Us have now been erased from her timeline.
StandWithUs President Esther Renzer is married to David Renzer who is co-founder of the Creative Community for Peace, a US 501(c)(3) organization, dba Israel Emergency Alliance. Artists Against Apartheid
… calls on allies to boycott the Creative Community for Peace (CCFP), which is in fact a complicit propaganda institution seeking to normalize Israeli apartheid and strongarm entertainers into its service. Fearing encroaching pressure from the Palestinian led global BDS movement, CCFP has mobilized to counteract the cultural boycott of Israel, making itself a target of the human rights campaign in the process.
…
CCFP wishes to make the claim that "art transcends politics" but is engaged heavily in political propaganda on behalf of an apartheid state. The only artist known to be included in CCFP's advisory board is Idan Raichel, a self-proclaimed cultural ambassador who stated: "We certainly see ourselves as ambassadors of Israel in the world, cultural ambassadors, hasbara ambassadors, also in regards to the political conflict."
StandWithUs also trades under the name Israel Emergency Alliance.
The IEA's mandatory Form 990 financial filings to the Internal Revenue Service (available from the website Guidestar) show an organization with $4.2 million in annual revenue and impressive fundraising capacity.
StandWithUs has been operating a privatised espionage service for its allies for years.
………………………………………………………………………………………………………………………………………………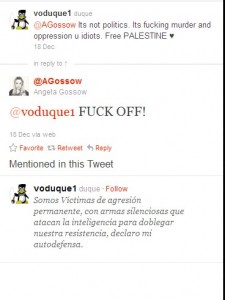 Hypocrisy doesn't come much thicker than this. Arch Enemy is currently performing in conjunction with Amnesty International to highlight issues of freedom of expression. The band has consistently deleted any posts on their Facebook wall which are critical of Israel's crimes against humanity, suppression of freedom of expression and Arch Enemy breaking the principled boycott called by Palestinian people to resist Israel's oppression and contravention of their rights. Angela Gossow, Arch Enemy's growling lead singer also has recorded with settler band Amaseffer. It is no wonder that the band is popular with the Israeli far rightwing as their songs include such gems as "Nemesis" with the lyrics 'eye for an eye' and 'slay the Philistines'.
Now we see from the Palestine Israel One Country: Say NO to apartheid blog:

In a shocking display of pro-Israel bias, Arch Enemy's spokesperson, Angela Gossow, actually THANKS the Israeli group "Stand With Us."

Stand With Us is infamous for creating the "Captain Israel" comics, especially the ones that portray "BDS" as a venomous snake donning the colors of the Palestinian flag. Stand With Us is well-known to "celebrate" militant Jewish nationalism, at the same time, using the well-funded "pinkwashing" technique to make Israel, Tel Aviv in specific, appear to be very tolerant of gays. Stand With Us is critical of the flotilla, against Palestinian human rights, and has actually launched "Shame On Turkey" to shame Turkey for its involvement in the flotilla. But Stand With Us also works very hard to attack BDS volunteers, which is what Arch Enemy worked hard to do in the past month or so. Arch Enemy's Angela Gossow and colleagues made sure to eliminate all references to the letter to Arch Enemy from the PACBI. Please read the letter here http://www.pacbi.org/etemplate.php?id=1769 It simply asks the band to refrain form playing in Israel. By all indications, Arch Enemy appears to be a pro-Israeli band. Does this seem to fit in well with their anti-fascist persona and progressive reputation?
Propaganda organisation StandWithUs is also integrally involved with the Reut Institute which strategises and develops Israeli propaganda against BDS (the Palestinian-led Boycotts, Divestment and Sanctions movement).
Arch Enemy will go down in metal history as the band which proudly touted fascism in the name of anarchism and a state propaganda machine as a human rights organisation, whilst on a tour for a bona fide human rights organisation promoting freedom of expression. Historically, anarchists are prime opponents of fascism, targeted by fascists first for destruction, yet the band's approval of Israeli fascism and their support from Israel's rightwing could be considered a contemporary example of the cosy ideological and historical relationship which political zionism has had with nazism.
Arch Enemy is booked to play Israel on 24th January, 2012.
Previously comments on the band's Facebook walls in support of Palestinian human rights have been deleted. More comments have been left on Arch Enemy's and their guitarist's Michael Amott's Facebook walls. We await their imminent deletion – all in the name of 'free expression' of course. [8 hours after posting, the comments below had all been deleted.]
More Ziofascist Hate
Related Links
Jo Metcalf (Head of Art For Amnesty):
"We're thrilled that ARCH ENEMY are supporting our work on freedom of expression. We're lucky to have the support of musicians and other artists who fully appreciate the value of being able to express their creativity without fear of arrest or worse. In some parts of the world, pursuing a creative goal – or just speaking freely – can lead to harassment, loss of freedom and even torture. I hope that everyone who comes to an ARCH ENEMY gig – not least to witness Arch Enemy's amazing show – gets involved in supporting Amnesty's work in this area."
Swedish band Arch Enemy embraces Israeli propaganda, ignores Palestinian suffering
Apologists for Israeli war crimes support for Arch Enemy on BDS page
Arch Enemy, Freedom of Speech and BDS
Israel's Reut Institute claims "price tag" attacks on EI, Irvine 11 and Palestine Return Centre
Statement by the UN Special Rapporteur on the promotion and protection of the right to freedom of opinion and expression at the conclusion of his visit to Israel and the occupied Palestinian territory
Palestine / Israel Links
how many new children will be incarcerated in Israel's dungeons by the time the next lot are freed?