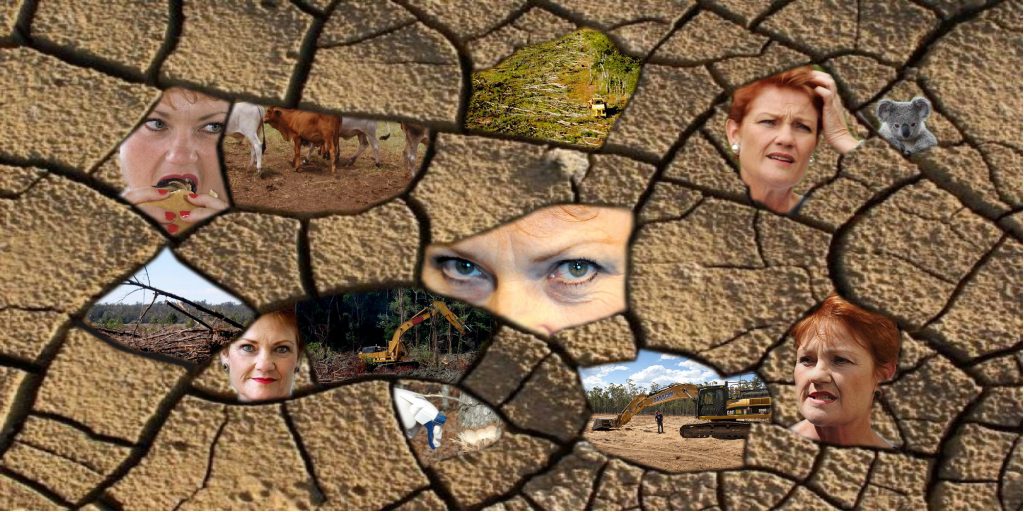 On Hearing a "Friend" has Voted for Hanson
You've never met a single Muslim
yet automatically you despise them,
your putrid tick for racist Hanson
betrays a guilty, greedy voice within.
What's the bloody difference
between yours and Toadball's border defence?
It's vapid new age love you spout
and you want to keep those Muslims out.
How can I keep loving you
when you've embraced her scumbag spew,
imagining Muslims a sub-human race,
high on hate, you're off your face.
You're scared of non-European culture
but it's you who is the savage vulture
picking at this country's bones,
land thieved by England's brutal throne.

July 2016, Post Federal Election.
Related Links
Excellent article – How we stopped Pauline Hanson last time:
Howard had toned down his anti-Asian racism in deference to business concerns. But Hanson helped create a climate that enabled him to carry out policies in the interests of the ruling class that meshed happily with his own prejudices and which he would have pursued anyway: the attacks on land rights and native title; the abolition of the Aboriginal and Torres Strait Islander Commission (ATSIC); cuts to immigration, especially family reunions; the ramping up of Islamophobia using the pretexts of "border security" and the "war on terror".

Howard's attitude to Hanson eventually changed for two reasons. First, he was the target of sustained criticism from sections of the media, the small-l liberal middle class and even some ruling class figures – prominent businesspeople and Liberal politicians like Victorian premier Jeff Kennett – for not taking a stronger stand against Hanson. This was a product of their concern about Australia's international image. Hanson was receiving a great deal of media attention in Asia, and as with Howard's anti-Asian comments in 1988, they were worried about the potential damage to Australia's business interests and ability to play a dominant role in the region.

Second, and probably of greater concern to Howard himself, Hanson began to cohere a movement and set up an organisation, the One Nation party, that posed an electoral threat to the traditional conservative forces.
…
Mick Armstrong's detailed, booth by booth analysis of who actually voted for One Nation in the Queensland election further erodes the notion that her support came mainly from the blue collar working class. He found that One Nation's support was strongest in what had been National Party strongholds in south-east Queensland – polling 43.5 percent of the vote in Barambah, once the electorate of the right wing Premier, Joh Bjelke-Petersen, and over 30 percent in 11 other seats in this area, compared with a state-wide average of 22.7 percent. Moreover:

South-east Queensland has a high concentration of small farmers, and numerous small towns with a large number of small businesses – newsagents, petrol stations, real estate agents, pharmacists, accountants, farm equipment suppliers – but very few large workplaces with concentrations of unionised workers.[25]

The general pattern was that Labor did better in the bigger towns but One Nation overwhelmed them in the smaller centres. So the core support for One Nation was the "small town middle class, not – as so many commentators repeat ad nauseam – 'ignorant' workers." Actually, very few blue collar workers defected from Labor to Hanson. Overall, 80 percent of the Hanson vote came from conservative parties and 20 percent from Labor. In addition, while its highest votes were in rural areas, One Nation polled better in affluent middle class areas of Brisbane and the Gold Coast than in poorer working class areas. Armstrong concluded: "It was not the 'enlightened' middle class that most strongly rejected Hanson, but unionised, traditional Labor-voting urbanised workers."
…
The role of mass protest in the decline of support for Hanson, however, has been understated if not completely ignored. Indeed, there has been no account that I have been able to find of what was one of the most militant and sustained protest movements of recent times. Yet it was an important factor, playing a crucial role in preventing the growth and organisational consolidation of One Nation.

There was widespread opposition to Hanson from the outset. Many in the business community were alarmed by Hanson's anti-Asian policies – not because they opposed racism, but because it was bad for business. This became clear when the Business Council of Australia, along with the Council of Social Services, religious leaders – and, disgracefully, the ACTU – issued a joint statement which condemned her stance on Asian immigration but ignored her equally vile racism towards Indigenous people. This was no oversight: anti-Aboriginal racism was the basis of the business community's campaign against native title. Small-l liberals generally saw Hanson as dangerous. But they too were more concerned about the national interest and Australia's international image than with the impact of racism on immigrant and Indigenous communities. Like Tony Abbott in more recent times, Hanson was considered to be an embarrassment.

But there was also a groundswell of revulsion and opposition from what Robert Manne might call "ordinary people". From the moment Hanson made her maiden speech, people started mobilising against her. Everywhere she went she had to run the gauntlet of protesters.