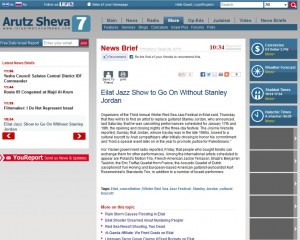 The online news service, Israel National News, has misrepresented the reporting on Jordan's cancellation from this blog. A link to the story from the INN dizzying spin would have enabled readers to determine the truth of the matter. Is this too much to ask of Israel's mainstream media?
On the 6th January, following effective advocacy from supporters of the Palestinian-led boycott, divestment and sanctions movement, Stanley Jordan, who was to headline the Red Sea Jazz Festival at Eilat this month announced that he was cancelling his gig, apologising for any inconvenience caused.
With an embarrassing display of gutter journalism, INN implies that this blog reported Stanley Jordan as having had his "hayday [sic] in the 80s" bowing "to a cultural boycott by Arab sympathizers after initially chosing [sic] to honor his commitment and "hold a special event later on in the year to promote justice for Palestinians."". Is Israel so far up against its apartheid wall that it now selects hasbeens to headline its Festivals?
Jordan is a major jazz fusion performing and recording star, who has played with the likes of Miles Davis, Benny Carter and Dizzy Gillespie, and who has developed a unique two-handed tapping guitar technique. He is also an academic specialising in music therapy. Sometimes the best therapy for dysfunction is to withhold music altogether.
Israel's opportunistic government unashamedly uses all culture as propaganda – apparently it is not beneath its media propaganderists to misuse cancellations by principled artists after calls to boycott to misquote the messenger and smear the artist as well. Yet perhaps the headline of the INN story betrays how close the Israeli-government sponsored festival was to closing after Jordan's cancellation.
Eilat Jazz Show to Go On Without Stanley Jordan http://t.co/0Gm77OFv

— Arutz Sheva Briefs (@israelnatbriefs) January 11, 2013
Artists who still have not committed to cancelling their entertainment of apartheid at the Red Sea Jazz Festival and respecting the boycott are Erik Truffaz, Benjamin Taubkin, Marcelo Pretto, Jacky Terrasson, Yuri Honing, E J Strickland, Wolfert Brederode and the Motion Trio. To help persuade these artists to stand on the right side of history with the oppressed Palestinian people demanding justice, freedom and human rights, information for action is available on the Boycott the Red Sea Jazz Festival facebook page.
Thus far, artists who have cancelled their performances at this year's Red Sea Festival include the Portico Quartet, Andreas Öberg and Stanley Jordan. Before the 2012 Israeli Government-sponsored Eilat festival, Tuba Skinny decided to refuse to play while in Rome en-route to Israel after receiving information about the cultural boycott, only a few days prior to their scheduled gig. Latin jazz great Eddie Palmieri of Puerto Rico and jazz musician Jason Moran of Houston followed Tuba Skinny, cancelling their appearances at the Festival. None of these artists have rescheduled performances in Israel to date.
Note to INN – this is the Kadaitcha blog, which publishes many different writers and sources, including @Jinjirrie. The story on Stanley Jordan's cancellation from the Red Sea Jazz Festival was sourced from Don't Play Apartheid Israel and first published on the Refrain Playing Israel blog.
Related Links
Stanley Jordan's withdrawal, and the worldliness of jazz
On Educating Stanley : Analysis of the First 2013 BDS Victory
First Win for Cultural Boycott in 2013 : Stanley Jordan Cancels
Spirituality, Stanley Jordan, and BDS
Stanley Jordan, Please Respect the Boycott of Israel
To the Palestinian People – Against the Normalisation of Apartheid by Joy Harjo
Hasbara and the Case for Cultural and Academic Boycott of Israel
Everything BDS: Stanley Jordan: Don't Cross the Picket Line
BDS Switzerland asks Erik Truffaz to refrain playing in Israel
OPEN LETTER asking Érik Truffaz to refrain playing in Israel
OPEN LETTER to Yuri Honing: Boycott the Red Sea Jazz Festival in Apartheid Israel
Portico Quartet Respects the Boycott of Israel
2012 – A Great Year for Cultural Boycott of Apartheid Israel