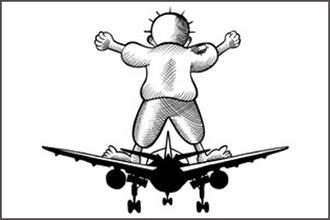 One and a half thousand humanitarians are hoping to visit the West Bank to participate in a children's education project. They are such a threat to the apartheid zionist entity that Israel is demanding airlines cancel tickets – so far Lufthansa, Jet2 and Air France have obliged, making them and other airlines who collaborate with Israel's obscene demands legitimate boycott targets.
The activists have been invited by 25 Palestinian civil society organizations to spend next week in the Bethlehem area building an elementary school, planting trees, and repairing village wells that Palestinians say have been damaged by Israeli settlers.
Israel has a habit of barring those who critique its atrocious oppression and commit the sin of supporting Palestinian human rights, including Richard Falk, Noam Chomsky, Guenter Grass and Norman Finkelstein.
The bans on entering Israel are made on political grounds:
If you are a Likud supporter, flying into the Israeli airport should present no problem. But if you are a supporter of Palestinian rights, the Netanyahu government could stop you from going to Bethlehem on purely political grounds – even if you have never committed any crime and have no intention of ever committing one, even if you have never attended a Palestinian protest in the West Bank and have no intention of attending one. You could be barred by the Netanyahu government from going to Bethlehem simply for the thought crime of supporting Palestinian human rights.

…

Apparently, you can be deported by the Netanyahu government not because of what you do, but because of who you are. If you are an "activist", then Palestinians welcome you to Bethlehem, but you may not be able to get there, because the Netanyahu government may deport you for being such an "activist".
If Israel doesn't want people to visit Palestine through the Tel Aviv airport, it should allow Palestinians to open their own and to administrate their own entries and departures – in other words, end the criminal Occupation enforced by Israel. After four and a half decades of brutal military Occupation by the apartheid zionist entity, the global community is stepping up boycotts, divestments and sanctions as punitive actions to end Israel's criminal oppression and imprisonment of the Indigenous Palestinian population whose lands and resources Israel continues to thieve with impunity. Governments refuse or are unable to act responsibly to ensure Indigenous Palestinians have their full human rights and to enforce more than 30 UN Security Council resolutions of which Israel remains in breach.
UPDATE 15/4/12
How Israel orders your Airline around: The Letter which bars #Airflotilla2 activist from boarding (Update!)
Sami Kishawi marks the atrocious Israeli admonitions to humanitarians participating in the air flotilla and the hypocritical threat letter to airlines permitting them to fly.
News of detained WTP participants
Zionism is a *real* threat to 11 Israeli Jews now arrested at al-Lydd airport by the antisemitic #IOF for supporting #Fly2Palestine
Pro-Palestinian activists detained in Israel
Related Links
Like and share the Welcome to Palestine 2012 page
APPEAL FROM THE PALESTINIAN AMBASSADOR TO THE UK TO MEMBERS OF PARLIAMENT
'We have cancelled your booking' — the criminalization of travel to the West Bank is laid bare to the world
Welcome to Palestine: 'Even prisoners are allowed visits'
Israel in Europe: airlines cancel 'flytilla' passenger tickets
British airline bars 3 women traveling to Palestine
Airlines Cancel Tickets Of Dozens Of Flytilla Activists | #Airflotilla2
Airlines cancel activists' flights to Israel
Palestine / Israel Links
Israeli forces raid West Bank civil defense office
Israeli fascist goonsquad attacks Palestinians and internationals. "Eight Palestinians and four internationals were arrested and at least three people were injured by the blows they suffered at the hands of police. One Italian woman suffered an injury to her shoulder that required hospitalization."
Ben White on cultural boycott: "Boycott is a strategy, not a principle. And as such, it's a response to a call from Palestinian civil society, which is seeking to mobilise international civil society as a way of realising their basic rights. It is a familiar tactic, used to resist local and global injustices. Are Palestinians prohibited from resisting colonial occupation – and looking for allies as they do so?"
Palestinians frustrated over Quartet statement ?
"Senior PLO official Hanan Ashrawi took a much harder line, saying the Quartet statement, which made no reference to Israel's ongoing occupation of the territories, demonstrated "a lack of will" to establish a Palestinian state.

"Unfortunately, the Quartet did not propose any specific policy measures or means of engagement required to create a breakthrough in the current crisis," she said in a statement.

"The real issue is not 'negotiations' but rather ending the Israeli occupation of Palestinian land," Ashrawi said.

"The glaring absence of any reference to this occupation portrays a lack of will to bring an end to it and to establish a viable Palestinian state."'
OPT: Protection of civilians – OCHA Weekly report (28 March-3 April 2012) (3 April 2012) – Multiple war crimes, collective punishment, murders, mayhem, oppression – the apartheid zionist entity never fails to appall.
Israel's Killing Spree on Verdun Street
Israel assassinated key strong Palestinian leaders in 1973 to assist continuance of its oppression and land theft. "each of the three slain men had singular qualities that made the Israelis want to eliminate them, says Maan Bashour, who was a member of the PLO information committee at the time as a representative of the Arab Liberation Front. "[They struck] Kamal Adwan because of his activities inside Palestine, and because he was the youngest of the resistance leaders and a major inspiration for youth; Abu Yousef because he was one of the main planners of the operations of the Black September organization; and Kamal Nasser, the freedom fighter from Ramallah, as a cultural and media star with his popular and especially Christian credentials," says Bashour."
Debating Palestine: Representation, Resistance, and Liberation – Abdulhadi argues: "We need to restore this sense of the indivisibility of justice and combat tendencies that present Palestine as an exceptional case of suffering and liberation."
PACBI-Serrat and Sabina: Refrain from Entertaining Apartheid Israel until Freedom, Justice and Equality :
'You both struggled under the oppressive and fascist regime of Franco in Spain, and must know what it means to resist oppression, and not to entertain it on its terms. We ask you in this spirit to stand with the oppressed Palestinians who are appealing to you to reconsider your performance. '
Ron Paul confirms his ziophilia, sucks up to conservative christan zionists
Oh oh, the zionist cover is blown – Israeli Deputy Prime Minister Dan Meridor knows Iran hasn't threatened to wipe out Israel.
Rightwing zionist fleeces a poor Californian community and sends the profits to finance illegal settlements in Occupied East Jerusalem
How you know the PA collaborates with Israel: it shuts down the Palestinian Human Rights Foundation "claiming the group's activities were not consistent with the interests of the Palestinian people."
Don't let the rightwing fanatics censor truth – Don't let the Religious Right silence Desmond Tutu
The zionist SWC proceeds to attempt to obliterate Muslim culture – even the graves of dead Muslims are not exempt from annihilation. "Since the plans to construct the Museum of Tolerance on Mamilla Cemetery began in 2004, nearly 60 other descendants of those buried at the cemetery and I have made repeated appeals to try and stop the disinterring and destruction of the remains of our ancestors.
Israel's Lawless Settlement Project ~ Fact Checks
Why Does the Occupation Continue – Max Ajl reviews Shir Hever's "The Political Economy of Israel's Occupation"
We are privileged, say 2 Israeli refusers