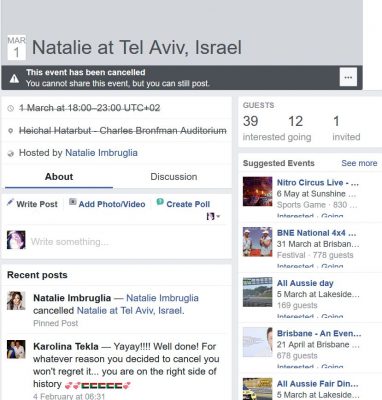 After a solid campaign by concerned groups and Indigenous people, Natalie Imbruglia has cancelled her gig in Israel which was scheduled for March 1, 2017. The campaign was co-ordinated by Don't Play Apartheid Israel with an accompanying Facebook page.
Natalie's decision to refrain from playing in Israel is much appreciated, following the passing of a criminal "law" by Israel's Knesset retrospectively "legalizing" theft of private Palestinian lands for illegal Jewish-only settlements. Recently, in concert with renewed bombing, Israel prevented anaesthetic gas from reaching Gaza, yet after international pressure, one shipment of anaesthetic was permitted before Israel slammed the Gaza prison gates shut for all imports and exports. Gaza's civilian population has lived under brutal siege by Israel since 2006. Of 2 million Gazan civilians persecuted by Israel's military Occupation, over half are children.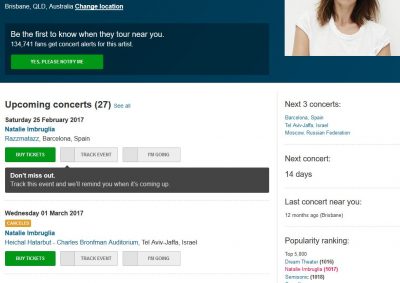 Let's hope Australian band Pond, UK-based Nick Cave and the Bad Seeds, Fat Boy Slim and Radiohead similarly revise their tour plans to exclude the apartheid state of Israel and respect the principled Palestinian-led boycott, divestment and sanctions campaign (BDS).
SUPPORT THE CULTURAL BOYCOTT OF ISRAEL
Sign the petition to persuade Radiohead to respect the boycott.
Contact Radiohead
On Facebook: https://www.facebook.com/radiohead
On Twitter: http://twitter.com/Radiohead
Contact Pond
On Facebook: https://www.facebook.com/pondling
On Twitter: http://twitter.com/Pondband
Contact Nick Cave and the Bad Seeds
On Facebook: https://www.facebook.com/nickcaveandthebadseeds
On Twitter: http://twitter.com/nickcave
Contact Fat Boy Slim
On Facebook: https://www.facebook.com/fatboyslim
On Twitter: http://twitter.com/FatboySlim
UPDATE
In the JPost (12 February, 2017), event organisers are quoted saying Natalie cancelled because of "logistic constraints", that she apologises and will reschedule.
Nevertheless, "Concert producers said refunds would be given to all ticket holders" and thus a reschedule is not expected in the near future.
The Israeli promoters of Natalie Imbruglia are said to claim, but not Natalie Imbruglia herself (who removed apartheid Israel from her tour without any comment on it being cancelled):
"Imbruglia apologized for disappointing her fans in Israel and vowed to schedule a show in country at a future date."
No new concert in Israel appears on Natalie's tour program or the promoter's events.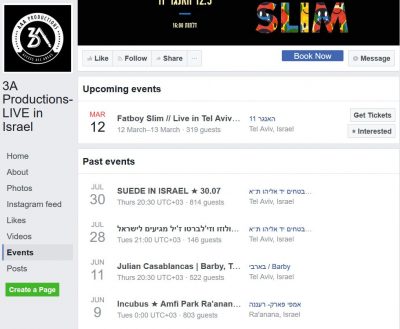 For updates see DPAI Page:
"Natalie Imbruglia, Playing Apartheid is a Big Mistake"
Clearly, by claiming the concert will be rescheduled the promoters facilitate the Israeli anti-BDS propaganda. This tactic has been used rather frequently. For example, when Pharrell Williams cancelled his July 2016 gig due to "scheduling problems", it was claimed falsely by JPost he would reschedule.
Similarly, the JPost published in August 2014:
"American pop singer Lana Del Rey announced on Friday that her Tel Aviv concert scheduled for August 20 has been pushed back to another date due to the ongoing crisis in the south."
"Those who purchased tickets for the concert will be notified of an alternate date. Organizers for the show said that the original tickets will be honored."
However, two and half years later Lana Del Rey has not rescheduled.
For updates see DPAI Page:
Lana Del Rey, Don't Endorse Apartheid Israel's Violence
At Walla (Hebrew), "industry sources" allegedly are blaming poor ticket sales for Natalie's cancellation. "Industry sources" also claimed Pharrell Williams' concert was cancelled due to low ticket sales. Are "low ticket sales" yet another repeat excuse deployed to disguise cancellations made by musicians who decide to refrain from crossing the boycott picket line?
FURTHER UPDATE
The promoters, 3A Productions, are now claiming "she just couldn't make it" and "she is busy, really busy", not low ticket sales, for Natalie's cancellation.
UPDATE – PALESTINIANS THANK NATALIE
"Palestinian artists, cultural organizations and human rights supporters welcome the Australian-British singer Natalie Imbruglia's cancellation of her March performance in Tel Aviv."