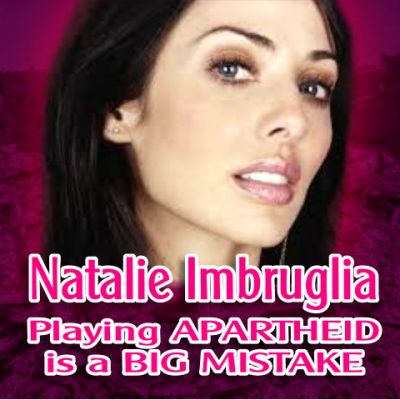 Dear Natalie,
We are writing to you to ask you to please reconsider your performance in Israel, scheduled for the 1st March, 2017. We understand this will be your first appearance in Israel and would like to inform you that playing there will be in breach of the Palestinian call for artists to respect the cultural boycott of Israel until it adheres to international law and Palestinians have their civil and political rights which they are currently denied by the apartheid Israeli government. [1]
Like Aboriginal people in Australia before 1966, indigenous Palestinians who live in Israel are prevented from enjoying full citizenship in that state. Full citizenship is available only on theocratic grounds, to people who are defined as Jewish by the State. Furthermore, Palestinians in Israel are subject to more than 50 laws discriminating against them – de facto apartheid.  Palestinians who reside in the Occupied Territories of East Jerusalem, the West Bank and Gaza which Israel seized and occupied in 1967 cannot vote at all in Israeli elections. These Palestinian people subsist in segregated bantustans isolated from each other by apartheid walls and fences with their movement controlled by over 500 checkpoints, preventing them from attending universities and hospitals, and seeing friends and relatives – many families have been separated for years due to this system of apartheid. Indeed the International Court of Justice declared Israel's apartheid wall in the Occupied Palestinian Territory illegal in 2004 – further international law that it ignores.
Palestinians persecuted by military occupation naturally wish to live freely with rights in their own ancestral lands. However, illegal Israeli settlements continually expand and encroach upon those lands, despite several United Nations Security Council (UNSC) resolutions. Most recently, on 23 December 2016, the UNSC passed another resolution unanimously against expansion of the illegal settlements, and again affirmed their illegality under international law, yet Israel refuses to recognise these resolutions.  Israel has now declared de facto war on the resolution's sponsors, including New Zealand [2] and also intends to withhold UN dues [3]. Since the resolution Israel has accelerated its demolition of Palestinian homes to four times its 2016 weekly average, making hundreds of people homeless.
Nearly 800,000 Jewish people now reside illegally on Palestinian lands, enjoying full political rights while Palestinians languish, brutalised by military occupation and without rights. Palestinian refugees driven out in the 1948 Nakba from the areas which Israel claimed comprise the second largest refugee population in the world and again, despite the requirements of international law, Israel refuses to permit these Indigenous people to return to their homes. In many countries Palestinians are stateless, living in squalid refugee camps for decades, never giving up hope that their right of return will be realised and they can return to their Indigenous home and heritage which has been usurped and colonised.
Zionist colonisation of Palestine follows a similar trajectory to British colonisation of Australia, where Indigenous Australians were forced into isolating missions and reserves, slaughtered and dispossessed of their land and culture, while Palestinians too are subjected to extreme violence and forced into refugee camps and bantustans  We understand you have experienced the end results of these genocidal colonial crimes during your participation in the First Contact SBS programme and are sympathetic to the plight of Aboriginal people in Australia consequent to white colonisation. We ask you to consider also the distressing situation for Palestinian people and the importance of support for their struggle for liberation and justice. Because the international political community has refused to act to support their rights, Palestinians called in 2005 for cultural boycott and asked people of conscience like yourself for solidarity with their movement by refraining from performing in Israel.
By respecting their call, you will also be supporting the women of Gaza who suffer from breast cancer, another area where you have shown empathy. Israel prevents breast cancer sufferers, and indeed most cancer sufferers from obtaining appropriate treatment, due to its collective punishment of two million civilians which it has incarcerated in the largest prison in the world – Gaza – since 2006.
"Dozens of female cancer patients in the Gaza Strip have launched a protest against Israel's refusal to allow them to cross into Israel to seek medical treatments in hospitals in Israel, East Jerusalem and the West Bank. The women say the ban or delay of their treatments is a "premeditated death sentence." [4]
Due to Israel's military attacks on Gaza and its illegal, immoral siege which prevents the import of fuel supply and parts, sickness is common there since the water supply is contaminated by dysfunctional sewerage treatment plants and electricity supply is currently down to a mere four hours per day [5]. Physicians for Human Rights comments on Israel's deprivation of medical equipment:
"There are no syringes, no bandages and no tubes. When one of our surgeons asks for a specific scalpel or bandage during surgery he's told that there aren't any available. When we train a local doctor and teach him techniques and procedures he has nothing to work with." [Ibid.]
The UN has estimated that without major reconstruction, Gaza will be uninhabitable by 2020. [Ibid.] Should you play your concert in Israel, be aware that this crime against humanity is being perpetrated just miles from you.
Certainly, Israel will continue to carry out its injustices against the Palestinian people if we are silent and do not act. We implore you to recognise your performance in Israel cannot create bridges over apartheid, oppression and suffering, merely obscure it so Israel can continue to pretend that its crimes are "normal" and blame Palestinians for their own plight. This is clearly not the case any more than the myth proliferated by white supremacists that Aboriginal people in Australia are responsible for their own immiseration.
The reality is that for Israel any show that isn't cancelled because of boycott appeals is considered a political victory over the Palestinian struggle and international solidarity with it. Performing in Tel Aviv means playing for a segregated audience, on ethnically cleansed land. We really hope you can't see yourself doing this and you join Lauryn Hill, Cassandra Wilson, Sinead O'Connor, Cat Power, Massive Attack and thousands of other artists who have refused to play in Israel – in Ireland over 540 artists have pledged to boycott the state, as have over 1,190 in the UK, and many more all over the world.
Please respect the Palestinian call to boycott Israel – you can make a real difference here and help tip the moral scales toward justice.
We are a group, of over 2000 members from many nations around the globe, who believe that it is essential for musicians & other artists to heed the call of the PACBI, and join in the boycott of Israel. This is essential in order to work towards justice for the Palestinian people under occupation, and also in refugee camps and in the diaspora throughout the world.
Palestine Support Network Australia (PSNA)
Australian Friends of Palestine Association (AFOPA)
Australian Boycott, Divestments and Sanctions Campaign for Palestine (BDS)
Coalition for Justice and Peace in Palestine (CJPP)
Sydney Staff for BDS
The Palestinian Campaign for the Academic and Cultural Boycott of Israel (PACBI)
Samah Sabawi, Palestinian Australian playwright and Al Shabaka policy adviser
Kollaps, Melbourne band
Candy Royalle, Writer, Performer, Activist, Educator
Amy McQuire, Indigenous Writer
Penelope Swales, Musician
Sara Dowse, Writer
Trish Nacey, Videographer and Musician
Walbira Murray, Indigenous Research Officer
Ken Canning, Indigenous Playwright
Jeff Sparrow, Writer, Editor and Broadcaster
Marcelo Svirsky, Writer
Notes: