French composer and double-bass player Renaud Garcia-Fons is scheduled at the White City festival in Tel Aviv, apartheid Israel on May 6th. This is the English translation of an open letter written to him by the French BDS Campaign, Campagne BDS France. Don't Play Apartheid Israel (DPAI) has made a facebook calling on all the artists scheduled to perform at the festival to cancel: Don't Play Tel Aviv White City – It's Today's Sun City.
Paris, 17 April 2012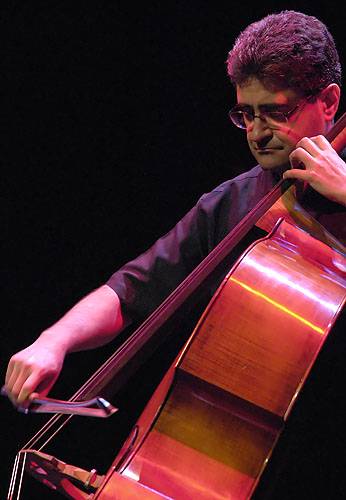 Dear Renaud Garcia-Fons,
On 6 May next, you plan to give a concert in Tel Aviv at the "White City music festival".
We are surprised to learn that you, who are attached to the respect for human dignity, would perform in a country which has been mocking international law for more than sixty years. We recall your participation in an "Orchestra for Peace" at the "Human Solidarity Concert" in Paris in 2002.
Miguel Angel Estrella, who was at your side during that concert, is today a member of the support committee of the Russell Tribunal for Palestine. The conclusions* of that tribunal at its recent session in Cape Town, South Africa, are unambiguous: Israel is responsible for grave violations of international law and is guilty of the crime of apartheid.
Renaud Garcia-Fons, are you aware that, while hundreds of music-lovers would be able to enjoy your talent in Tel Aviv, thousands of others would be deprived of it, being relegated behind a separation wall?
For decades the Palestinian people have been victims of Israel's apartheid policy, which scandalously curtails their most elementary rights: their access to water, to education, to medical care, their freedom of movement.
A people under colonolisation in the West Bank, a people under a blockade in Gaza, a people under discrimination in Israel, added to the refugees whose right to return was recognized by the United Nations but never implemented by Israel. The international community closes its eyes while the Israeli government behaves with total impunity: its killing of hundreds of civilians in 2009 during the "Cast Lead" attack on Gaza; its constant military incursions in the West Bank and its military check-points there; the numerous inequalities between Jewish and Palestinian citizens of Israel regarding medical care, work, and public services; the thousands of uprooted Palestinians living as refugees all over the world; the peaceful activists participating in the Freedom Flotilla in 2010, killed in cold blood.
Faced with such injustice, Palestinian civil society decided in 2005 to launch the BDS campaign: boycott-divestment-sanctions against Israel as long as it does not respect international law. This movement, inspired by the struggle of the South Africans against apartheid, has now taken on international dimensions and the boycott of the State of Israel is growing everywhere.
Today, numerous artists have chosen not to perform in Israel as long as that state does not change its policies. In the film world, Ken Loach, Jean-Luc Godard, Meg Ryan, Dustin Hoffman and Mike Leigh, along with musicians such as Roger Waters, Brian Eno, Annie Lennox, Carlos Santana, Elvis Costllo, Gil Scott-Heron, Gorillaz, The Pixies, Massive Attack, Gilles Vigneault, Vanessa Paradis, have all cancelled their appearances which were scheduled in different Israeli cities.
By going to perform in Israel you would be participating in the normalisation of a colonial situation. Please don't help to close the eyes of French citizens by acting as if nothing unacceptable is happening over there. We can readily imagine that you were unaware of the situation on the ground, but from now on you can no longer say "I didn't know!".
If you would like to have more details about the policies of the Israeli government, we would be glad to provide them.
Dear Renaud Garcia-Fons, we appeal to you to join the artists who are boycotting Israel as long as that state refuses to respect international law, and to cancel your concert at the festival in Tel Aviv.
With best wishes,
BDS French Campaign
CICP
21 ter rue Voltaire
75011 Paris
* http://www.russelltribunalonpalestine.com/en/sessions/south-africa/south-africa-session-full-findings-french