Prepare the disinfectant and scrubbing brush. Richard Silverstein alerts us to the impending arrival of a new wave of hasbaroids, targeting major news sites, and emanating from Hasbara Central at the Israeli Foreign Ministry.
Silverstein's friend responded to an email solicitation and
received this official communique from the ministry with talking points about Operation Cast Lead which s/he was to use in her/his propaganda efforts. Among the links was a Peter Beaumont Cif piece. The following were identified as "target sites": the Times, the Guardian, Sky News, BBC, Yahoo!News, Huffington Post, and the Dutch Telegraaf. Also targeted were other media sites in Dutch, Spanish, German and French considered critical of the invasion.
The Israeli marketing strategy is to blindside the world with glowing information. This is in line with current theory about positive messaging, exemplified in this Economist article – 'Denial is useless. Spread happy truths instead.'
How to counteract this pernicious propaganda? spread the truth and expose the perfidy of the hasbara strategy itself. Refer to this latest infamy and plans at Israel's strategic hasbara stinktank, the Reut Institute. Ensure your facts are presented in complete and unassailable terms – accounts which support human rights, freedom and justice are far more happy truths than tendentious sickly icing on a poisonous cake of Israel manifest destiny, technological superiority, privilege and oppression.
Related Resources to Use to Combat Israeli Propaganda
Read the Palestine Papers which show Israel has never been serious about peace.
Download the Veritas Handbook, an excellent resource for activists for Palestine.
Download the Goldstone Report and familiarise yourself with it.
Read the UNHRC investigation into Israel's murderous attack on the Gaza Flotilla.
Search the Electronic Intifada site to find other information to support your arguments and follow @intifada on Twitter
Read Ilan Pappe's "The Ethnic Cleansing of Palestine".
Read Ali Abunimah's One Country, A Bold Proposal To End the Israeli-Palestinian Impasse and follow @avinunu on Twitter
Read the main sources which define Israeli apartheid.
Familiarise yourself with the latest statistics about Palestinians' real wishes. Also see here.
Participate in the Palestinian boycott of Israel – the cure for apartheid is BDS, BDS and more BDS
The anti-semitism inherent in the anti-boycott movement.
Join Facebook groups which support Palestinian rights and the boycott of apartheid Israel.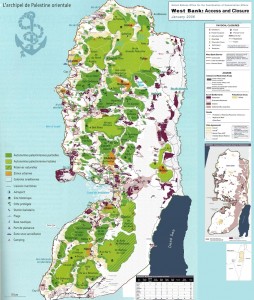 Use Maps to Explain the Outrageous Extent of Israeli Land Theft
Peace Now West Bank map January 2011 – PDF full size map
Also note the graph on the left which shows clearly that colonization peaked during the so-called "Oslo Peace Process," and again during the Camp David Peace charade hosted by US president Bill Clinton.

This provides a fresh evidence, if it were needed, that as far as Israel is concerned the negotiations were an exercise in deception and fraud.
Adalah interactive map and database, with histories of the various settlements.
Peace Now map
Pictorial representation.
Jordan Valley Access and Closure Map (OCHA)
ATLAS OF THE CONFLICT : Israel – Palestine
Map and Grab: The Foreign Quest for Palestinian Land Dr.Salman Abu Sitta Palestine, Britain and Empire c. 1841-1948
Please feel free to add counter-strategy suggestions in the comments of this post.
Palestine / Israel Links
Palestinian elections: Recent polls show mixed signals
Peter Beinart says what we all know
The zio-dominated Knesset is poised to pass laws criminalising boycotts against apartheid Israel, ironically likely to implode on all Israeli citizens.
Friedman the imperialist: White House disgusted with Israel
Israelis call on int'l artists to boycott Eilat festival
Gaza celebrates fall of Mubarak
Palestinians to wind up peace talks unit after leaks
Silwan's Captive Children
Israel closes embassies over terror fears
Action Alert for the Children of Palestine | Continuous Updates of News About Violations of Children
A Palestinian boy's Kafkaesque trial in Israel's military court
Stop the Irvine 11 Prosecutions
Egypt Links
Striving for political and economic freedom
Helen Thomas: Egyptians Understand Their Power
Egypt asks U.S. to freeze officials' assets: U.S. official – No mention of Mubarak's Rodeo Drive and Manhattan properties
Mubarak and Co assets – please add verifiable information
A Warning for Egyptian Revolutionaries: Courtesy of People-Power in the Philippines
Dangerous Victims: Egyptian Revolution in Israeli Eyes
Arab democratization and the future of 'the only democracy'
Wikileaks Links
Spy games: Inside the convoluted plot to bring down WikiLeaks
And in today's bizarro world : Wikileaks Hires Alan Dershowitz
WIKILEAKS PRESS RELEASE Mon Feb 14 18:28:37 2011 GMT
Mr Assange will not himself be intervening in the action against Twitter because as an Australian who has committed no criminal act on US territory, he claims that the American courts have no jurisdiction over him. The head of his UK legal team, Geoffrey Robertson QC, has brought in Alan Dershowitz, the distinguished Harvard Law Professor, as part of the team to advise on the US Attorney General's actions.
THE DERSHOWITZ HOAX
Alan Dershowitz joins Julian Assange defense team
"Assange is a journalist. He's a new kind of journalist. He represents the newest wave of journalism," Dershowitz said. "I'm currently in this case because I believe that to protect the First Amendment we need to protect new electronic media vigorously."
WikiLeaks cables: The Middle East fallout could be grave – Dershowitz:
But secretary of state Hillary Clinton is surely correct when she warns that WikiLeaks poses a danger not only to the US but to international diplomacy, while at the same time trying to minimize the actual harm done by these particular disclosures.
Alan Dershowitz: Should we fight terror with torture?
I'm sure that a torture supporter will do a lot to legitimate Wikileaks…not.
Dershowitz: Torture could be justified
Dershowitz Joins Legal Team for Wikileaks
@DjinninOz: @Wikileaks yep Wiki wont be getting anymore $ from me while there's a chance of ANY of it ending up in that racist shits pocket #
@hemara: @wikileaks I can no longer support wikileaks as long as Dershowitz is on board: he's a liar, racist and bigot – & most troubling of all.. #
@hemara: @wikileaks ..is pro-torture & justifies killing of civilians by radically expanding definition of "combatants". In short, an apologist.. #
@hemara: @wikileaks ..for the worst excesses of American empire. This association will fatally damage your credibility. #
@hemara: Why I declare #wikileaks can go to hell: RT @wikileaks: Dershowitz Joins Legal Team for WL http://bit.ly/fSXoXs || #Palestine #
Other Links
Clinton argues for internet freedom but fails to mention the latest French moves.
More facts emerge about the leaked smear campaigns : Glenn Greenwald
Iranian protesters persist in streets of major cities
The Un-Victim : Amitava Kumar interviews Arundhati Roy
PKB of the day : US State Secretary Clinton calls Iranian regime 'hypocritical,' backs anti-government protests
"Austerity" Comes to America
Defector admits to WMD lies that triggered Iraq war : Curveball comes out