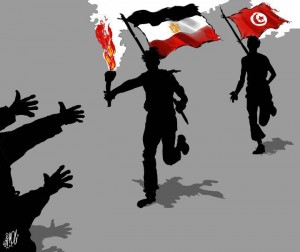 The roots of the Egyptian people's revolution lie in the labour movement. It does not augur well that the 'interim' army rulers are intending to restrict worker meetings and strikes. In effect: 'you won democracy so now give up one of democracy's key tenets'.
'Egypt's new military rulers will issue a warning on Sunday against anyone who creates "chaos and disorder", an army source said.

The Higher Military Council will also ban meetings by labour unions or professional syndicates, effectively forbidding strikes, and tell all Egyptians to get back to work after the unrest that toppled Hosni Mubarak.'
Egypt's military to warn against "chaos and disorder"
In response, an action plan which builds on the original strategy:
@3arabawy: Don't trust the Generals! Don't trust the Generals! Keep building your trade unions. That is the only thing that can protect our revolution. #
@3arabawy: Everyone should start forming unions & labor associations now. If we don't build those now, we'll be fucked by the regime soon. #egyworkers #
@3arabawy: Army is now warning against strikes. Remember when army took over in 1952, 1st thing they did: executing 2 strike leaders in Kafr el-Dawwar. #
@stupiditytries what are they going to do??? shoot people? let them try. if people want to organize, they will (and they should). #
@InasBseisos the military are waving with STICK after they already lured us with the carrot #Jan25 #
@jmayton: The military in #Egypt is not looking so "honorable" right now. Getting reports of people being roughed up by army. #Jan25 #
Egypt is now led by the Defence Minister and leader of the military, Hussein Tantawi.
Egypt's new military rulers on Sunday suspended the constitution and dissolved a parliament dominated by the ruling party of former president Hosni Mubarak, after he was overthrown in a popular revolt. Skip related content

The Supreme Council of the Armed Forces' "communique number five", which was read out on state television, said a transitional period of military rule would last six months while reforms were put in place to allow free elections.

The council announced the suspension of the constitution and said it would "run the affairs of the country on a temporary basis for six months or until the end of parliamentary and presidential elections."

It announced the "dissolution of the lower and upper houses of parliament" and said it would continue to issue decrees during the transitional period.

The legislative body was seen as illegitimate following elections last year that were marred by widespread allegations of fraud and gave Mubarak's National Democratic Party (NDP) an overwhelming majority.

A committee will also be formed to oversee amendments to the constitution and a popular referendum will be organised to vote on the changes, the council said, in a bid to ease restrictions on presidential candidates.

The statement also confirmed Defence Minister Hussein Tantawi as Egypt's de facto head of state.

"The head of the Supreme Council of the Armed Forces will represent the council domestically and internationally," it said, stressing its commitment to international agreements.
What is to come?
@RamyYaacoub From @Ghonim 's meeting with Military leadership: Constitution amendment council might be pumping out amendments in 10 days #Jan25 #Egypt #
A double narrative of the Egyptian people's revolution is emerging after the military assumption of power : one is the solid perspective from the Egyptian trade union movement which built and is maintaining the revolution, and the other from the middle class represented in western media by Google executive Wael Gonim which responded in self-interest to the killing of middle class Khaled Said, attributing much of the revolution's success to twitter and facebook and which now feels appeased. The alliance between the working class and bourgeois has proved a winning combination, but let's not forget where the revolution started and continues – in the grassroots trade union movement.
Egypt Links
"There is a Pre-History to this Revolt": As Egypt's Military Bans Labor Strikes, Mona El-Ghobashy Examines How Egyptian Labor and Social Movements Laid the Foundation for Revolution
Egypt: The Distance Between Enthusiasm and Reality
Army urges Egyptians to end strikes
Egypt's military dissolves parliament, suspends constitution
Industrial Action Updates
Mubarak's Folly: The Rising of Egypt's Workers
Egypt's military to warn against labor strikes
Biting the hand that fed you : Mubarak slammed U.S. in phone call with Israeli MK before resignation
Jordan Muslim Brotherhood: Israel, U.S. main losers in Mubarak ouster
Mubarak's final hours: Desperate bids to stay
Revolutionary Socialism #Egypt #Jan25 #EgyWorkers [arabic]
Israel and new Egyptian leadership make contact
#Jan25 Opera #egyworkers on strike
Egypt's military rejects swift transfer of power and suspends constitution
Wael Ghonim and Egypt's New Age Revolution
Was the Revolution Facebooked? 1 of 2
Where in the world are the Mubaraks ?
Did Facebook bring down Mubarak?
Egypt's thirst for freedom has intensified, even after Mubarak's exit
Egypt: It's Not Over Yet!
Egypt being governed same way as before, PM says
The rumor trail: Where is Mubarak?
Paul Barry: where's Mubarak's loot?
Egyptian military tortured, "disappeared" thousands of demonstrators
Mubarak in life/death state in Germany hospital
Visualizing The New Arab Mind
West has ugly history of blocking Arab freedom
Rendition For Mubarak: Hand Him Over To The Iraqi Resistance
Public transport #egyworkers strike
Egyptian activist Mona Seif: It's a revolution, and it's not over
OK. It is official. Wael Ghonim is starting to annoy me
Military urges halt to strikes gripping Egypt
Knowing and Unknowing the Egyptian Public
Palestine / Israel Links
#BDS: Focus On Israel's Tel Aviv-Jerusalem Fast Train
Israel/Palestine: Apartheid of a special type?
Israel wary of changes in Egypt as ex-officials predict hostility
Indeed, Israeli officials appear to have little sympathy for the democratic aspirations of citizens in Arab states. As Gabi Ashkenazi, the outgoing Israeli army chief, was quoted by Israeli media as saying last week: "In the Middle East, stability is preferable to democracy."
When will Obama start talking to Hamas and Hezbollah?
Hamas prohibits import of Israeli-manufactured clothing
Youth Against Normalization: #BDS: Boycott Sign in Washington State
Only someone like Mubarak could defend Netanyahu's brand of democracy
Beit Ommar Demonstrators Protest Settlers, Vow Solidarity With Egypt
International/Egyptian March to Gaza, Rafah Crossing, on February 26th, 2011
Haaretz notices GOD TV's role in JNF Forest of Hate (while GOD TV squirms)
Israeli and PA Forces Suppress Solidarity with Egyptians
An Open Letter to the Participants of the Red Sea Chamber Music Festival
Egypt's revolution and Israel: "Bad for the Jews"
US vows to oppose UN resolution on Israel
Israel's fruitless lie
Wikileaks Links
RT @crowdleaks: Search through all the #hbgary emails using the #crowdleaks search tool http://ping.fm/Vi7dg
For those who may be interested, got a response from @JuliaGillard to the open letter about #Assange.
Australia Links
1988 Anti-Bicentennial Cartoon Book
Remove Schedule 2 of the FaHCSIA and Other Legislation Amendment Bill 2010
In Australia, a Fight Over Aboriginal Lands
Australia is the same as Israel – without guaranteed equal rights, all rights can be compromised by the majority racist government. Australia desperately NEEDS a Bill of Rights for real equality and justice.
Other Links
Live conversations and updates on Algeria protests as they happen!
Tunisia: An On Going Battle for Democracy
Uncertainty In Arab Countries After Protests Dispersed In Algeria, Yemen
@exiledsurfer: Protest schedule: #Bahrain #feb14, #Libya #feb17, #Algeria #feb19, #Morocco #feb20, #Cameroon #feb23, #Kuwait #Mar8 #
Inside the Muslim (Journalist's) Mind
Four Myths About Iran's Clerical Regime : Is Ahmadinejad an anti-imperialist, or really a deceptive populist?