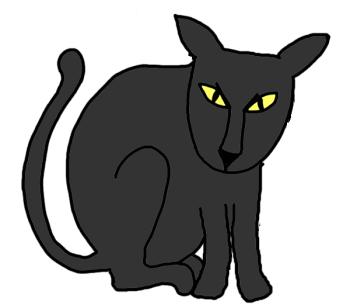 I'm admiring my new haughtily petulant, verging on malevolent, inscrutable cat avatar by divine Australian cartoonist, FirstDogOnTheMoon (@firstdogonmoon), conjured up from a photo of my companion Voldemorte, a siamese cross black cat.
FirstDog inhabits the First Blog On The Moon, an inspired compendium of cheerful animal observations, biting(sic) political satire, cartoons and comics. His artwork can be found regularly elsewhere on Australia's premier online news and commentary site, Crikey.com.au – don't miss the hilarious FirstDogOnTheMoon Christmas Spectacular! And now, his precocious animalia has overrun the twitterverse.
Interlopers should note my delicious black cat avatar should not be copied or used elsewhere at the risk of deep doo doo – it belongs to the artist and is for *my* use.
Again thanks, FirstDog – your work is treasured!