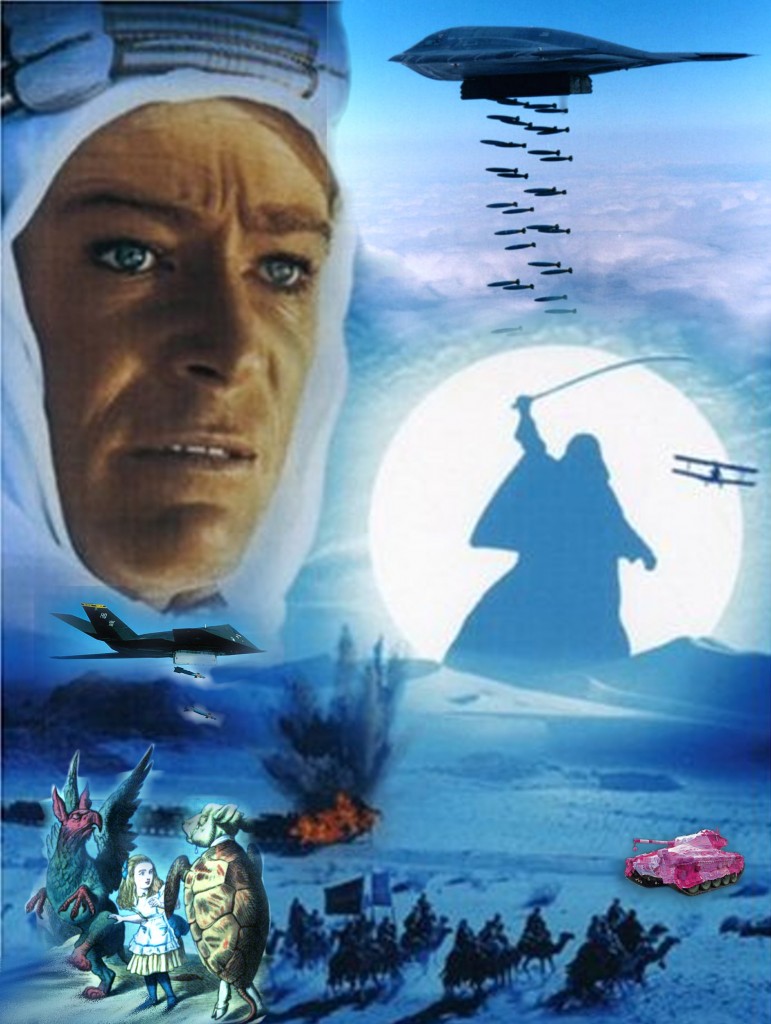 The Dictator Quadrille
Did you cheer when NATO boots smashed into the face of Afghanistan?
those evil Taliban, hate hate hate, such primitives, more sanctions
and the wall came down, Brzezsinski crowed.
Did you party when US bombs destroyed the Koranic library in Baghdad,
because democracy is messy? So Cheney gloated.
Saddam is gone, pushed off the long drop.
Aren't they better off now? history is a sweet crude encumbrance.
Did you share a joke or two when Gaddafi was clubbed in a culvert,
raped with a knife – all hail NATO, such zealot humanitarians,
AFRICOM, civilised pointy ends over means,
millions of liquidated lives afri-forgotten beyond trothawk triumph at chaos.
Great white saviours! power vacuum cleaners armed with fake incubator Saudi sat pics
sarin barrel WMDs chemical Putin Niger uranium Lockerbie Russian attacks.
Empire gives notice to the latest demon of infinite malevolence, Assad,
usurps the right to protect us all from remembering,
betrays landlocked Kurds again already.
Do you recall Halabja, Amiriyah, Fallujah?
The price, Madeline snarled, was worth it, and who paid?
not nationalist PR agents in their recliner rockers, hunched over lethal keyboards.
Your pillars of wisdom are mirages of multi-imperialism,
Syriabara buttressed by indifference to brown people squatting on our oil,
may they buy our weapons as penance.
Once venerated as obedient dancers, dictatorships topple dramatically when they stand on imperial toes.
Like Alice, the last thing you remember is the cat's grin above the chess board,
then repeat after me, "I don't care, I don't care, I don't care" as you disappear.
October 2015
Related Links
"For the last year-and-a-half we have said Assad has to go, but how long and what the modality is … that's a decision that has to be made in the context of the Geneva process and negotiation," Mr Kerry said.' http://www.abc.net.au/news/2015-09-20/kerry-calls-for-renwed-effort-on-syria-conflict/6789582
Assad 'part of solution in Syria' — Julie Bishop signals policy change  http://www.theaustralian.com.au/national-affairs/foreign-affairs/assad-part-of-solution-in-syria-julie-bishop-signals-policy-change/story-fn59nm2j-1227544502722?sv=73a358828d8d737433cc8b39f524c09f
The Red Line and the Rat Line http://www.lrb.co.uk/v36/n08/seymour-m-hersh/the-red-line-and-the-rat-line
http://www.pbs.org/wgbh/pages/frontline/shows/saddam/kurds/cron.html
A Great Analysis of the Neocon BS the Guardian Has Been Selling Lately
"You can really have no notion how delightful it will be
When they take us up and throw us, with the lobsters, out to sea!"
http://www.authorama.com/alice-in-wonderland-10.html
"Brzezinski: It isn't quite that. We didn't push the Russians to intervene, but we knowingly increased the probability that they would.

Q: When the Soviets justified their intervention by asserting that they intended to fight against a secret involvement of the United States in Afghanistan, people didn't believe them. However, there was a basis of truth. You don't regret anything today?

Brzezinski: Regret what? That secret operation was an excellent idea. It had the effect of drawing the Russians into the Afghan trap and you want me to regret it? The day that the Soviets officially crossed the border, I wrote to President Carter: We now have the opportunity of giving to the USSR its Vietnam war. Indeed, for almost 10 years, Moscow had to carry on a war unsupportable by the government, a conflict that brought about the demoralization and finally the breakup of the Soviet empire.

Q: And neither do you regret having supported the Islamic [integrisme], having given arms and advice to future terrorists?

Brzezinski: What is most important to the history of the world? The Taliban or the collapse of the Soviet empire? Some stirred-up Moslems or the liberation of Central Europe and the end of the cold war?

Q: Some stirred-up Moslems? But it has been said and repeated: Islamic fundamentalism represents a world menace today.

Brzezinski: Nonsense! It is said that the West had a global policy in regard to Islam. That is stupid. There isn't a global Islam. Look at Islam in a rational manner and without demagoguery or emotion. It is the leading religion of the world with 1.5 billion followers. But what is there in common among Saudi Arabian fundamentalism, moderate Morocco, Pakistan militarism, Egyptian pro-Western or Central Asian secularism? Nothing more than what unites the Christian countries."
http://www.counterpunch.org/1998/01/15/how-jimmy-carter-and-i-started-the-mujahideen/