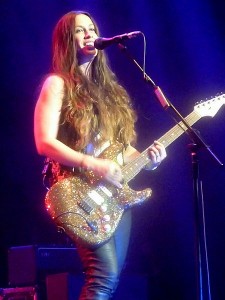 Dear Alanis Morissette,
We are writing to you to ask that you not cross the Palestinian picket line by playing in Israel in December. As we write, the people of Gaza, who live in the world's largest open-air prison, are being subjected to nightly airstrikes by Israel, a few miles from where you would be playing to a segregated audience. Last week, humanitarian activists trying to break the illegal, immoral siege of Gaza were kidnapped in international waters, tasered and imprisoned in Israel. Their crime? Showing solidarity to the Palestinian people.
Last month the United Nations issued a report: "Gaza in 2020, a Liveable Place?" [1] focusing on Gaza's precarious situation, particularly regarding power supply, water, education and employment. Gaza's 1.6 million people, most of them refugees and over half of them children, are held in a tiny piece of land with their movements controlled by Israel and their basic human rights denied. They are also terrorised by drone planes and military incursions regularly. Can you imagine that human beings are being treated like this? Can you imagine playing for the state that does this? Amnesty International, an organisation which you have supported, has documented Israel's war crimes in Gaza, as have many other NGOs. [2]
Were this Israel's only breach of human rights, it should be enough for you not to play in Tel Aviv. However, Israel is also guilty of gross human rights violations against the Palestinian people living in the West Bank and the Palestinian citizens of Israel. In November 2011 the Russell Tribunal on Palestine determined that Israel is practising apartheid against the Palestinian people. [3] Its session in New York this month saw submissions from Alice Walker, Angela Davis and Roger Waters among others and made the following findings:
"Among these violations of international law, several of them are criminally sanctioned: war crimes (Israeli settlements, inhumane treatment, torture, indiscriminate attacks, home demolitions, forced population transfer, collective punishment, 1996 ILC Draft Code of crimes against the peace and security of mankind, Art. 20; 4th GC, Art. 147, Rome Statute Art. 8), crimes against humanity (persecution defined by the International Criminal Court (ICC) Statute cited here as expression of international custom, Art. 7), and the crime of Apartheid (1973 UN Convention, Art. 1 ; on Apartheid and persecution, see 2011 Capetown findings of this Tribunal). Because of their systematic, numerous, flagrant and, sometimes, criminal character, these violations are of a particularly high gravity." [4]
Archbishop Desmond Tutu described the situation thus: "I have been to the Occupied Palestinian Territory, and I have witnessed the racially segregated roads and housing that reminded me so much of the conditions we experienced in South Africa under the racist system of Apartheid. International Boycotts, Divestment and Sanctions against the Apartheid regime, combined with the mass struggle inside South Africa, led to our victory … Just as we said during apartheid that it was inappropriate for international artists to perform in South Africa in a society founded on discriminatory laws and racial exclusivity, so it would be wrong … to perform in Israel". [5]
As a means of resistance to this apartheid, Palestinian civil society, like its South African counterpart during their struggle, has called for a boycott of Israel until it complies with international law and Universal Principles of Human Rights. The PACBI (Palestinian Campaign for the Academic and Cultural Boycott of Israel) call [6] for BDS, made by over 200 civil society organisations, is growing in international support daily and the list of artists respecting the call includes: Santana, Cat Power, Elvis Costello, Cassandra Wilson, Massive Attack, Jello Biafra, Faithless, Leftfield, Gorillaz, Pixies, Gil Scott Heron, and many more who have refused to play for apartheid. If there is any doubt that the state uses artists' performances in Israel as endorsement of its policies, this quotation from the Israeli foreign ministry where it stated that it "sees no difference between propaganda and culture", should dispel that. Indeed, the official state twitter was boasting about your upcoming performance when it was announced. [7]
Just this week the African National Congress (ANC) International Solidarity Conference voted to support the Palestinian-led campaign of boycott, divestment and sanctions against Israel, cementing the links between the two struggles against apartheid. [8]
When a performer playing last week asked his Israeli interviewer if Palestinians could attend the concert, the response was: "We have to check." Playing to a segregated audience is not worthy of you, Alanis, and would be a terrible disappointment to many of your fans.
Every day the Palestinian people endure Israeli oppression with dignity and immense courage – all they are asking is that you do not cross their picket line. In solidarity with them, we are asking you to not to play for apartheid. Alanis, please cancel.
Warmest Regards,
Don't Play Apartheid Israel
We are a group of 950 members, representing many nations around the globe, who believe that it is essential for musicians and other artists to heed the call of the PACBI, and join in the boycott of Israel. This is essential in order to work towards justice for the Palestinian people under occupation, and also in refugee camps and in the diaspora throughout the world.
Notes:
[1] http://reliefweb.int/sites/reliefweb.int/files/resources/104094048-Gaza-in-2020-A-livable-place.pdf
[2] http://www.amnesty.org/en/news-and-updates/report/impunity-war-crimes-gaza-southern-israel-recipe-further-civilian-suffering-20090702
[3] http://www.russelltribunalonpalestine.com/en/sessions/south-africa
[4] http://www.russelltribunalonpalestine.com/en/sessions/future-sessions
[5] http://www.timeslive.co.za/local/article727749.ece/Tutu-urges-Cape-Town-Opera-to-call-off-Israel-tour
[6] http://www.pacbi.org/etemplate.php?id=1801
[7] http://refrainplayingisrael.blogspot.ie/2012/09/alanis-morissette-why-apoptygma-berzerk.html
[8] http://electronicintifada.net/blogs/ali-abunimah/israel-far-worse-apartheid-south-africa-says-anc-chair-pretoria-conference-backs