Israeli activists, Sahar Vardi and MIcha Kurz recently completed a speaking tour of Australia. Sahar and Micha are among a growing number of young Israelis who are taking an active stand against their government's occupation and policies of oppression against the Palestinian people.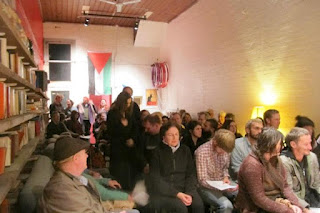 Some notes:
Kurz on Israeli politicians: 'They are not interested in a peace resolution'.
Kurz: 'Making up 40% of the population, Palestinian Jerusalemites are not allowed to vote'.
Vardi: 'There's a huge bigger picture there which has to do with foreign investment and who makes a profit out of this at the end of the line – definitely not Palestinians, but not necessarily Israeli citizens either. Israel's biggest import today is arms, military technology – Israel can sell this stuff because it can prove it works. Israel builds the wall and they have the security systems set up, then when the US wants to build a wall between Mexico and the US it uses Israeli technology because it knows it works.'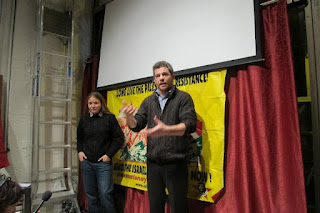 Kurz: 'We saw G4S stickers all round Melbourne today. G4S runs the largest prison camp in the occupied territories … runs the largest private military in the world. They are active in other areas of urban warfare, in western cities everywhere. The question always has to be who is making a profit … that keeps it away from fear or anything to do with antisemitism or security, it has everything to do with global profit. What inspires me about the BDS movement is it has managed to suggest a grassroots movement where politicians have failed and has united people from the grassroots up … it's something Israelis can support. I support the BDS movement.'
Kurz: 'We work for justice and human rights … When I hear 'peace' I hear agreement between two equal parties. There are no two equal parties here. There is an Israeli occupation of Palestinian lands and people.'
Kurz: 'I've given up on politicians. What it comes down to is strategically building a grassroots movements, both global and local. The global movement is growing and succeeding despite the mass media – we know not to trust them anyway. I've witnessed firsthand how things are succeeding.'