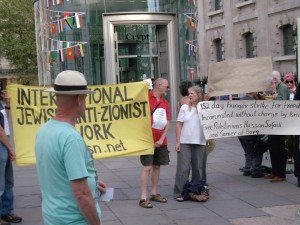 Report from Yael Kahn, on the London protest to support Palestinian hunger strikers, Samer Al-Barq and Hassan Safadi, who are engaged in the longest hunger strikes in history. These courageous people are highlighting Israel's Kafkesque abuse of Palestinian prisoners, who are detained without charge or trial:
'London protest: The tens of thousands of people walking between Trafalgar Square and Leicester Square, many of whom were involved in the final day of the Paralympics, in central London could not miss the large banners and around 40 protesters demanding the immediate release of the hunger strikers.

Amazing support for the Palestinians in general and to the hunger strikers in particular among the public, many of whom were involved in the Paralympics at Trafalgar Square. We leafleted and engaged with well over 1,000 people, with many more thousands reading our messages pinned to our clothes and posters.

Clearly among the general public and the tourists in London the support for the Palestinians is tremendous.
Even an Israeli who was sent to join the Olympics agreed the conditions of the prisoners and their incarceration without charge were unacceptable.

Another passerby got involved because his teenage daughters were very interested. He was surprised and extremely pleased to find out that the Muslims and Jews at the protest had the same aim to support the hunger strikers.

It really feels that at last people are coming together in response to the plight of the hunger strikers.'
Israel has failed to honour its previous agreements in regard to Palestinian detainees. In the light of this, Addameer, Al-Haq and PHR-IL urge the international community to immediately intervene on their behalf and demand:
That the agreements reached on 14 and 15 May 2012 be respected, including the release of administrative detainees who were promised release at the end of their current orders;
Unrestricted access for independent physicians to all hunger strikers;
The immediate transfer of Samer Al-Barq and Hassan Safadi, as well as all other hunger strikers, to public hospitals;
That no hunger striker be shackled while hospitalized;
That all hunger strikers be allowed family visits, while they are still lucid;
That Hassan Safadi and Samer Al-Barq, along with all other administrative detainees, in addition to Ayman Sharawna and other detainees that were released as part of the prisoner exchange deal in October 2011 be immediately and unconditionally released.
Related Links