Dear Jennifer Lopez,
We are a group of over 850 people from all over the world who are united together in support of democracy, human rights, justice, and freedom for the Palestinian people.
We ask you to respect the call of Palestinian civil society, and refrain from scheduling a concert in Israel. Please stay true to the words that your management wrote on your behalf in June of 2010:
"Jennifer Lopez would never knowingly support any state, country, institution or regime that was associated with any form of human rights abuse." [1]
You refused to play in Turkish-controlled Cyprus, as your appearance would have made a political statement in favor of human rights violations. Similarly, if you perform in Israel, you will be making a political statement affirming support for human rights violations by Israel. Your appearance will be used to whitewash Israel's crimes against humanity since Israel uses all culture as propaganda and makes no distinction between the two. Music cannot bind people across the walls of apartheid where segregation, discrimination and brutality remain after the last song ends.
You produced and played the role of "Lauren Adrian" in the film Bordertown, calling needed attention to the plight of women in Juárez, Mexico. Your statement [2] during your award ceremony by Amnesty International 2007 shows your compassion for the oppressed:
"Since first hearing of these atrocities in 1998, when Gregory Nava came to me with this project, I desperately wanted to tell this story. I began working to ensure we made this film in order to bring the attention of the world to this tragedy and to pressure the Mexican government to bring to justice those responsible for these horrible crimes."
You don't need us to tell you how mainstream media in the USA has been in denial of the Israeli crimes against the Palestinians, starting from the Nakba in 1948, through the current apartheid and racism. In fact, people are often led to believe that it is important to meet the needs of suffering Israelis, while ignoring the much greater sufferings imposed by Israel, which forces millions of Palestinians into living as refugees and in destitution. The pain Israel inflicts on Palestinian women and children is well represented in children's artwork and in the piece of artwork entitled "Torment" by Najah.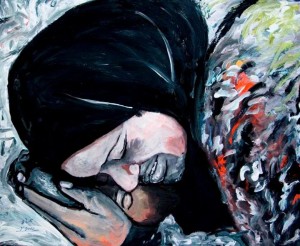 See http://boycott-israel-harp-contest.posterous.com/palestinian-art-depicts-womans-childrens-suff
Some artists objecting to the Israeli regime's actions have justified their booked performances in Israel as acts of support for the Israeli "peaceniks." Another performing musician, Natacha Atlas, wrote:
"I had an idea that performing in Israel would have been a unique opportunity to encourage and support my fans' opposition to the current government's actions and policies. I would have personally asked my Israeli fans face-to-face to fight this apartheid with peace in their hearts…"
Natacha Atlas then confirmed that she decided to cancel, explaining:
"after much deliberation I now see that it would be more effective a statement to not go to Israel until this systemised apartheid is abolished once and for all. Therefore I publicly retract my well-intentioned decision to go and perform in Israel…" [3]
Please read about Israel's apartheid in the letter that was written to French philosopher and prominent intellectual, Jacques Rancière (Professor emeritus, University Paris 8) by the PACBI (Palestinian Campaign for the Academic and Cultural Boycott of Israel). Jacques Rancière subsequently chose to cancel his planned lecture at the Minerva Humanities Center at Tel Aviv University earlier this year. (See http://www.pacbi.org/etemplate.php?id=1793)
Already this year prominent artists Cassandra Wilson, tUnE-yArDs and Cat Power have chosen to respect the boycott and stand in solidarity with the Palestinian people in their struggle for justice. Also among the growing list of artists that have cancelled concerts and events in Israel are the late Gil Scott-Heron, Elvis Costello, the Pixies, Mike Leigh, Klaxons, Gorillaz Sound System and many more.[4]
We are hoping that you will choose to respect the boycott.
Sincerely,
Don't Play Apartheid Israel (DPAI)
Notes
[1]http://www.hurriyetdailynews.com/default.aspx?pageid=438&n=jennifer-lopez-scraps-cyprus-concert-after-pressure-report-2010-07-09
[2] USA/Germany: Jennifer Lopez to receive Amnesty International award for producing "Bordertown"
http://amnesty.org.uk/news_details.asp?NewsID=17258
[3] International Star Natacha Atlas announces Israel boycott http://electronicintifada.net/blog/ali-abunimah/international-star-natacha-atlas-announces-israel-boycott
[4] 2011 Summary of the Cultural Boycott of Israel http://www.pacbi.org/etemplate.php?id=1788