On Thursday 9th February 2012 Cat Power, Chan Marshall, cancelled her date with apartheid – a Tel Aviv gig scheduled for 12th February. Palestinian and Israeli anti-apartheid activists had written to her asking her to cancel, as had international activists including DPAI (Don't Play Apartheid Israel) who set up a Facebook page, wrote to, messaged and tweeted Marshall.
Cat Power, Please Respect the Boycott of Apartheid Israel (Facebook page)
Cat Power: Listen to Palestinian Voices, Don't Play Apartheid Israel (Open Letter)
Letter to Cat Power from Boycott from Within
During the day of Thursday 9th, Cat Power was looking for a gig in Ramallah on February 13th and soon was inundated with messages explaining that Palestinians didn't want her to play in Ramallah, they wanted her NOT to play in apartheid Israel and to respect their call for BDS. Screenshots of her tweets below, click on images to enlarge.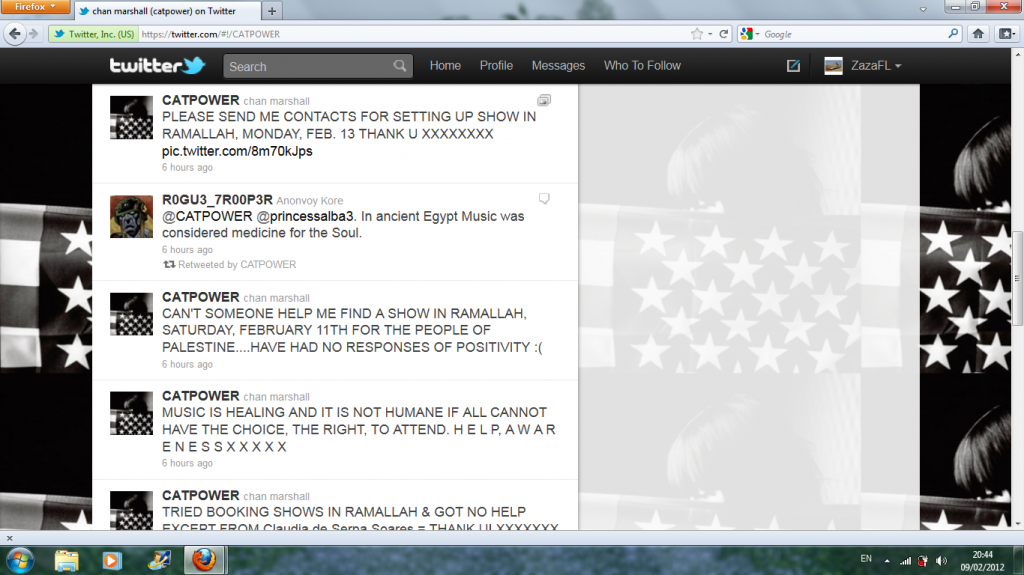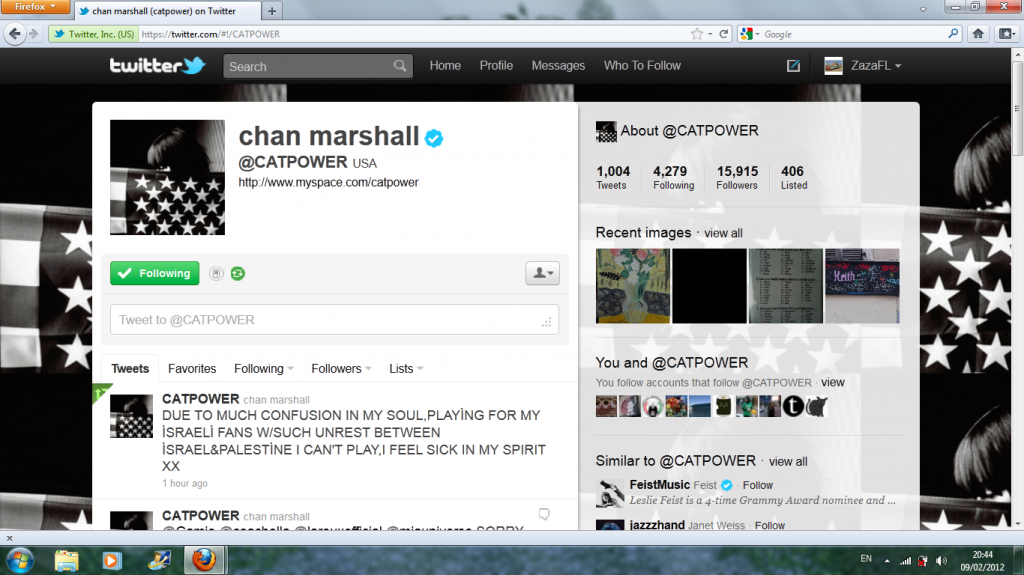 Thanks are due to Cat Power who made this courageous decision to cancel, she should be very proud of her actions and proud to be part of the BDS campaign.
This is a good day for the BDS campaign, a great day for justice! We can only hope it inspires more artists to act in good conscience and not to play in apartheid Israel, artists like the Red Hot Chili Peppers.
The beat drops when the wall falls! One world, one love.
UPDATE 11/2/12
Cat Power's cancellation gains international exposure via AP.
http://news.sky.com/home/showbiz-news/article/16167279
http://www.huffingtonpost.com/2012/02/10/cat-power-cancels-israel-show_n_1267720.html

http://www.washingtonpost.com/world/middle-east/rock-musician-cat-power-cancels-israel-show-citing-israeli-palestinian-conflict/2012/02/10/gIQAS8qc3Q_story.html
http://www.jta.org/news/article/2012/02/10/3091622/cat-power-cancels-tel-aviv-show
'While the, currently relatively unpopulated, Facebook page could seem like a case of dealing with trivialities in the face of all-out war with Iran," Israeli Madonna fans' fears are not unsubstantiated, with a distinguished list of artists bailing out on Israeli shows in the last minute over political crises and wars.

In fact, later Thursday American singer-songwriter Cat Power announced on her Facebook page that she is cancelling her planned Tel Aviv show due to political reasons.

In a short statement, the U.S. singer said: "Due to much confusion in my soul, playing for my Israeli fans with such unrest between Israel and Palestine I can't play, as I feel sick in my spirit."'
Meanwhile the whiny zionist press bleats misogyny and sexism, and includes a disgraceful tirade from Mairav Zonstein in +972 mag, which unfortunately and ironically (the campaign to persuade Cat Power to cancel was initiated by Australians including myself, I set up the facebook group on behalf of Don't Play Apartheid Israel, messaged her and wrote on her wall, along with other DPAI members) is republished on the Australians for Palestine site. (Update 13/2/12 – Australians for Palestine were alerted and now changed the +972 mag story to this one 🙂 thanks for the solidarity!)
http://972mag.com/cat-power-cancels-show-in-israel-citing-confusion-in-my-soul/35080/
Dena Shunra's comment below the +972 story is worth republishing:
Isn't it tragic that free will extends to people who don't agree with you, for whatever reason?

Cat Power – along with the many other artists and performers who have joined the BDS campaign – gets to make choices about her performance, even if you don't like them.
And it is not hard to imagine why an artist might be appalled and disgusted to find out that what was billed as a performance in a cosmopolitan city would be barred from being viewed by people living a mere hour's drive away – due to a diabolical system of permits.

It doesn't take a political agenda to do the decent thing in such a situation.
Also note the reference by Henry to the 4000 year old animal husbandry manual:
There are, however, some outstanding ancillary issues on which we're not all comfortable appealing to a 4000 year old text on animal husbandry as a final arbiter.
http://heebmagazine.com/cat-power-cancels-tel-aviv-gig-is-a-pussy/33144