In a stunning act of solidarity with the Boycott, Divestment and Sanctions movement [BDS], Cassandra Wilson has cancelled her gig at the Holon International Women's Festival in apartheid Israel from February 22 – 25 saying
"As a human rights activist I identify with the cultural boycott of Israel".
The Festival says it will sue – yet instead it could direct its ire toward the apartheid Israeli regime against which BDS is the tactic chosen by Palestinian civil society with the international grassroots community in solidarity, since the international political community has failed to enforce 35 UN Security Council resolutions against Israel or prosecute it for its horrendous contraventions of the Geneva Conventions and crimes against humanity of apartheid, colonialism and collective punishment.
Ynet reports on the Festival's promoter's reaction to the cancellation (translation from Hebrew):
During the conversation, there was no time to be angry because we were in a state of crisis management and had only a few hours until Cassandra was supposed to board a train to the airport. These were hours of decision and the conversation was pertinent. She sent me examples of emails she received and my impression was that it was just a vocal minority.
I told her that in recent years the rate of tours of A-list artists in Israel is only increasing, and I gave as an example among others, Madonna, who will open her national tour and Guns N' Roses announced their arrival. Everyone who was and will be here exercises deliberation and beyond that her decision is puzzling, because the subject never came up in the past and she is not a girl but an active artist who chose enter a contract with us and has already received full payment.
…
"The festival is not less good without Cassandra Wilson."
Cassandra is a highly celebrated performer who was to frontline at the Holon Festival:
The 56- year-old, two-time Grammy Award-winning vocalist has delved into numerous musical areas over the last three decades, including jazz, blues, pop, country music and folk. She has released over 20 albums under her own name and recorded and performed with a wide range of artists, including celebrated jazz trumpeter Wynton Marsalis, pop crooner Elvis Costello and R&B and soul singer Luther Vandross.
You can express your appreciation of Cassandra's act of solidarity by tweeting her at @reallycassandra or send a message here.
Cassandra was contacted by BOYCOTT! Supporting the Palestinian BDS Call from Within and many tweeters to alert her to the nature of and need for the BDS campaign for justice and rights for Palestinians.
With Cassandra's cancellation, there's now been four acts which have pulled out from their gigs already this year, the others being tUnE-yArDs, Cat Power and The Pains of Being Pure at Heart.
2012 is shaping up to be a great year for BDS cultural boycott wins – BDS is snowballing!
UPDATE 22/2/12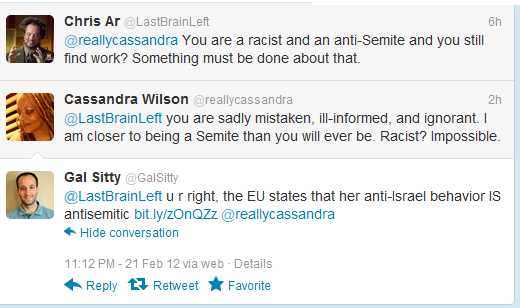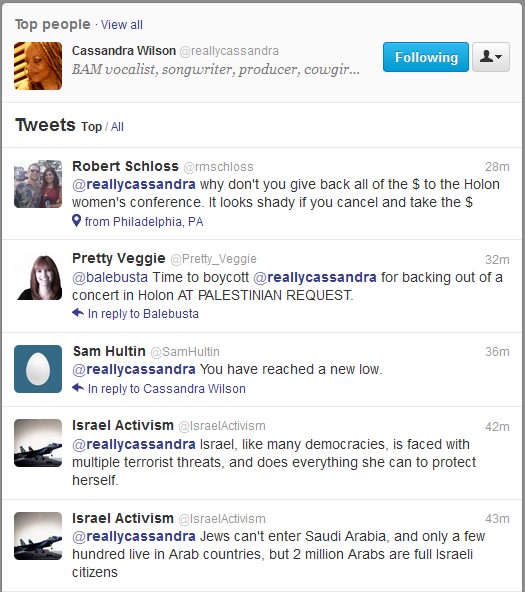 Israeli racists are now tweeting threatening, abusing messages to Cassandra Wilson.
@reallycassandra replies to one apartheidist tweeter: "you are sadly mistaken, ill-informed, and ignorant. I am closer to being a Semite than you will ever be. Racist? Impossible." #
Another tweeter invokes the flawed and discredited EUMC working definition of antisemitism.
Other tweeters slam the cancellation as being one at Palestinian request, ludicrously and hypocritically calling for a boycott against her even whilst condemning the legitimate BDS call.
Haaretz profiles Cassandra's cancellation:
Grammy-winning jazz singer Cassandra Wilson has called off her scheduled concert in Holon tonight, after receiving requests from pro-Palestinian activists asking that she join an artistic boycott of Israel.
…
Tuesday morning's surprising last-minute cancelation comes months after Wilson signed a contract to perform in Israel ? but only one day after she received full payment for her scheduled appearance, according to the director of the Holon Theater, Guy Telem.

Telem says he spoke with Wilson at length on Tuesday in an attempt to convince her not to cancel the appearance.

"Her first explanation was that she read recently about Israel's intention to attack Iran and she feared for her safety and the safety of her people," said Telem. He recommended she speak with official agencies in Israel and the United States to inquire about whether there were any official travel warnings, rather than relying on media reports. He also said such warnings have been in the media for months, including well before she signed the contract to travel to Israel.

Wilson later admitted that her decision stemmed from a desire to support Palestinians' civil rights, Telem said.

Telem said he asked Wilson whether she actively supported the Palestinian cause before pro-Palestinian activists approached her about canceling tonight's concert; Wilson had no answer, he said.

For legal reasons, Wilson refused to disclose the names of the groups that approached her, said Telem.
Haaretz then interprets and insinuates rather than reports:
It seems that she pulled a fast one and the singer's manager has agreed to refund only part of the money as of now, he said. But the damage done to the festival is much greater than just her appearance fee and the damage to the theater's reputation; there is also the matter of compensating the public and other large expenses related to the appearance.
…
The Pains of Being Pure at Heart canceled a performance in Israel in recent months, citing political reasons, and took on a more profitable deal in Malaysia instead.

The Knesset Education, Culture and Sports Committee met at the beginning of the month to discuss the boycott. It establisheded a special subcommittee to look into how to compensate Israeli promoters in the cases of politically motivated cancelations. The subcommittee is supposed to present its recommendations within 90 days, but no progress has yet been made.

While many artists have canceled appearances in Israel over the past few years for political reasons, it seems that many only develop their political awareness on the matter after they sign the contracts to perform. Promoters are now introducing clauses to protect against such cancelations, stipulating that the artist is aware of possible political pressure to cancel their appearance.
The promoters might also make the performers aware of the highly developed and well-funded duplicitous Israeli propaganda campaigns which attempt to convince artists to perform regardless of the global boycott movement, along with a full kit explaining why Israel is an apartheid, racist, settler colonial entity and why so many artists of conscience have decided to support the boycott.
… a coalition of artists — Artists Against Apartheid — called for a comprehensive boycott against CCFP, which they categorized as a "complicit propaganda institution seeking to normalize Israeli apartheid and strongarm entertainers into its service."

CCFP is also closely linked to StandWithUs (SWU), a US-based pro-Israel and anti-boycott organization devoted to expanding Israeli propaganda on US college campuses and crushing Palestine solidarity activism in local communities. As The Electronic Intifada reported, SWU has tight ties with the Israeli government to combat BDS.
…
As much money and effort that Israeli lobby groups are pouring into these propaganda ventures to battle the expanding BDS movement, it is a clear indication that they're feeling the heat. With groups such as CCFP, AIEF, the Jewish Federations of North America and their public relations wing, the Jewish Community Relations Council, pouring millions of dollars into desperate attempts to stifle and censor Palestinian voices and the BDS movement, the BDS activism community will continue to hold Israel and its enablers accountable, from Tel Aviv to Hollywood.
Tweets of Support for Cassandra's Cancellation
Please click to enlarge
DOUBLE HAPPINESS
Khader Adnan ends his steadfast 66 day hunger strike against Israeli arbitrary military detention without charge or trial. There are currently 309 Palestinians held illegally by Israel in this manner.