Outrageously, over the weekend apartheid Israel threatened journalists on board the Freedom Flotilla boats, who include two Israeli journalists, Amira Hass and Joseph Dana. However, apparently Nutanyahoo is backpedalling Israel has now dropped this threat.
The Israeli government has dropped a threat to issue lengthy deportation orders against journalists aboard a Gaza-bound flotilla.

Prime Minister Benjamin Netanyahu said Monday that he ordered authorities to find a formula for the reporters if they are on a flotilla that violates Israel's entry laws.
…
The Foreign Press Association, which represents hundreds of journalists working for international news organizations in Israel and the Palestinian territories, condemned the Israeli decision and urged the government to cancel the order.

"The government's threat to punish journalists covering the Gaza flotilla sends a chilling message to the international media and raises serious questions about Israel's commitment to freedom of the press," the FPA said in a statement.

The association's lawyer, Gilead Sher, sent a letter to Helman demanding that the threat be rescinded.

"The state of Israel must make a clear distinction between those who carry out an action and those who cover it (as journalists)," Sher said in his note. Israel's local journalists association also condemned the government's letter.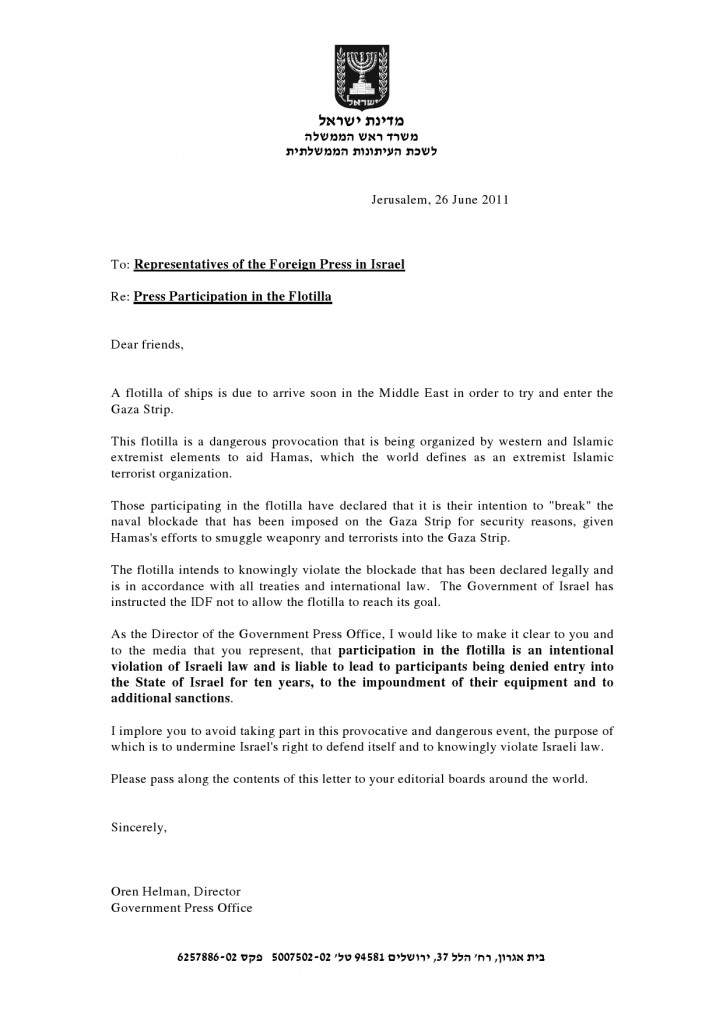 In another brilliant scoop, Max Blumenthal reveals that the anti-semitic crazed rightwing Christian Zionist Hagee and his loony minions are funding the Israel Law Center's effort to stymy the flotilla.
Who is Shurat Hadin, and what is their agenda? According to the group's website, Shurat Hadin is a Tel Aviv-based law center that specializes in lawsuits against "terrorists." Its founder, Nitsana Darshan-Leitner, describes herself in her bio as a "human rights activist."
….
I have discovered that a major donor to Shurat Hadin is the homophobic far-right Pastor John Hagee. In March 2010, I reported that Hagee appeared beside Prime Minister Benjamin Netanyahu at a major rally in Jerusalem to denounce the two state solution and announce the financial contributions he and his supporters were making to Israeli organizations. Among the organizations Hagee said he had bankrolled was Shurat Hadin.
…
As the researcher and reporter Bruce Wilson has documented, Hagee preaches that the Jewish Rothschild family controls the US economy through the Federal Reserve and conspires to attack the American middle class by devaluing the dollar. In his 2006 book Jerusalem Countdown, Hagee claimed that a lineage of "half-breed Jews," descended from Esau and which included Adolf Hitler, have persecuted full-blooded Jews throughout history. Hagee prophesied that God intended to exterminate that "half-breed Jew" line.
Scuttlebutt Updates
Gaza-bound ship "Juliano" found sabotaged in Greek port
It's one thing for a foreign power to press the Greek government to delay our voyage with red tape. It is quite another thing for enemy agents to operate on Greek territory. It is high time for the international community to put their foot down and say: Enough!"
Related Links
U.S. Boat to Gaza Responds to Reports Israeli "Lawfare" Group Filed Complaint Delaying Departure of U.S. Boat
Israeli actor in anti-Gaza Flotilla pinkwashing video identified
Israel approves plan to repel new Gaza flotilla
INTERVIEW: Ray McGovern US Ship, Gerry MacLochlainn Irish Ship, and IDF Colonel Avital Liebovitz
GAZA, WE ARE COMING – Despite pressure and threats of violence, flotilla will sail
On Saturday, 25 June, the French boat, Dignity / Karama, left the port of l'ile Rousse in Corsica, France, to meet up with at least nine other vessels sailing to Gaza to challenge Israel's illegal blockade. Israel's best efforts to stop our boats at port, including pressure on governments, threats against insurance and communications companies, intimidation of human rights defenders, frivolous lawsuits and other underhanded tactics, have thusfar failed. The Freedom Flotilla has set sail.
Former Bush Speechwriter Says He's 'Cool' With Israel Shooting Americans On Gaza Flotilla
U.S., Israel escalate threats against flotilla, including U.S. citizens
Israeli officials contradict each other over Gaza flotilla "extremism" claims
Antony Loewenstein on ABC The Drum explaining the reasons behind the Freedom Flotilla 2
Tell Hillary to Ensure Safe Passage for US Boat to Gaza
Anxious activists prepare for Gaza flotilla launch
On delegitimization – A 'Jerusalem Post' roundtable
Israel Law Center behind harassment of flotilla funded by homophobic End Timer Pastor John Hagee
Netanyahu's cabinet orders IDF to be firm in stopping Gaza flotilla
'Israel, Egypt agree flotilla can unload cargo in El-Arish' – possible propaganda
Twitter / @IsraelMFA: RT @DavidSaranga: Video …
According to Ynet, gutless wonder Nutanyahoo backed out of apologies for Israel's murder of flotilla participants last year three times.
Israel reviews warning to Gaza flotilla reporters
Former Bush Speechwriter Says He's 'Cool' With Israel Shooting Americans On Gaza Flotilla
Palestine / Israel Links
Jerusalem court indicts four border policemen for assaulting Palestinian boy
A society is judged by the way it treats its prisoners
We're Here, We're Queer—And We Support Palestine!
Dutch MP calls to slash funding of anti-Israel NGOs
Rightwing shill for apartheid Israel Ron Boswell attempts to wedge Greens over BDS
Egypt to boycott Shakira over Israel?
'Anti-boycott bill has fragile foundations'
They MUST Stop Teaching Their Kids To Hate
Non-violent Palestinian activist Nagi Tamimi sentenced to 12 months prison for disrespecting the Occupation & the IOF.
The ADC vs the Arab-American community
Criminalising Palestinian solidarity
Challenging Racism by Israelis on Every Front
UNISON Rejects Executive Report and Maintains Suspension of Links with Israel's Apartheid Union Histadrut
Interview Janan Abdu-Makhoul: "What cows are to India, security is to Israel: when they call in security, human rights vanish"
Australia Wealth Inequality
Inequalities of wealth in Australia analysed Among the Melbourne Institute's findings is that the 'bottom half' of Australia's population owns less than 10 per cent of total household net worth, while the wealthiest 10 per cent owns 45 per cent. (This was in 2005, before the crash).
15 Mind-Blowing Facts About Wealth And Inequality In America