Today is the 60th anniversary of the Universal Declaration of Human Rights, a document which recognises humanity's common interests and belongs to us all.
The Declaration represents a contract between governments and their peoples, who have a right to demand that this document be respected. Not all governments have become parties to all human rights treaties. All countries, however, have accepted the UDHR.

….

As the Declaration's custodians and beneficiaries, all of us must reclaim the UDHR, make it our own. While we are entitled to our human rights, we should also respect the human rights of others and help make universal human rights a reality for all of us. In our efforts lies the power of the UHDR: it is a living document that will continue to inspire generations to come.

One way you can show your support for the UDHR and spread awareness of human rights around the globe is to sign the petition to print the Universal Declaration of Human Rights in your passport .
Australians might contemplate in particular Article 14, so cruelly ignored by the xenophobic and human rights abusing Howard government.
1. Everyone has the right to seek and to enjoy in other countries asylum from persecution.
2. This right may not be invoked in the case of prosecutions genuinely arising from non-political crimes or from acts contrary to the purposes and principles of the United Nations.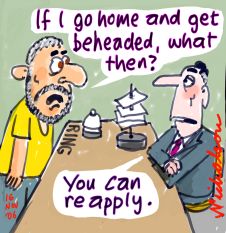 Sadly, the right to seek asylum takes second place to border protection in the minds of many brainwashed Australians.
The sixth 'people-smuggling' vessel to reach Australian waters since September arrived on December 8.
Its 44 passengers brings the number of suspected asylum seekers arriving by boat over the past 10 weeks to nearly 120.
This is a VERY VERY SMALL number of people compared to the legal migrant intake instituted by the Rudd government this year.
The overall migration program will now be 190,300 for this year, and 133,500 of those places will be allocated to permanent skilled migrants.
Wrongful detention of legitimate asylum seekers committed by Howard's cold-eyed goons is coming back to haunt us.
Immigration Department may be forced to compensate 191 of the 247 people investigated by the Ombudsman for wrongful detention.

The department has so far offered compensation in 40 of the cases and settlements have been reached in 17. In total, about $1.2million in compensation has been paid so far.
If Australia wishes to minimise people-smuggling within the character of the UDHR to which it is signatory, it needs to address human rights issues in asylum seekers' countries of origin.
Increased border protection to prevent the entry of desperate asylum seekers fleeing human rights abuses is an ineffective bandaid solution, and as has been amply demonstrated during the Howard years with the Tampa and SievX affairs, can lead to shameful Australian human rights abuse with consequent blowback later on, including diminishment of Australia's international stature and authority to speak out about human rights abuse elsewhere.
Article 19 of the UDHR is today's recommended reading for Stephen Conroy and supporters of his web censorwall.
Everyone has the right to freedom of opinion and expression; this right includes freedom to hold opinions without interference and to seek, receive and impart information and ideas through any media and regardless of frontiers.
On December 13, protests against Conroy's proposed web filters will be held around Australia.
UPDATE
Father Frank Brennan is to head a Human Rights Consultative Panel to consider a wide range of human rights issues, including whether Australia should have a bill of rights. Brennan is a self-professed fence-sitter on whether we Australians would benefit from our individual rights being enshrined in a Bill or Charter of Rights.
Australia is the only democratic country in the world without formal human rights protections – join the Getup campaign to change this.
Aung San Suu Kyi, the democratic elected leader of Burma and Nobel Peace Price recipient, speaks about printing the Universal Declaration of Human Rights in passports.