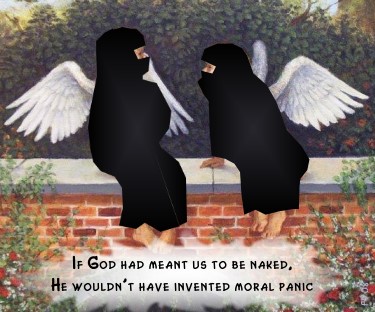 Moral panic has reached new, Orwellian heights in Oz, with a 60 year old Maroochydore man charged over republishing a video link showing a man swinging a baby around by the arms.
The controversial three-minute video had already been published widely across the internet and shown on American TV news shows. The clip can still be found online today.

…

The baby is laughing and smiling at the end of the clip, but the video has attracted criticism from child-welfare advocates because of how vigorously the man swings the baby by its arms.
Will those downloading and /or republishing pics of the deceased Steve Irwin dangling his baby round the maws of an Australia zoo crocodile or Michael Jackson holding a baby over a balcony experience similar visits from the boys in blue?
Meanwhile, parts of Wikipedia have been blacklisted by a British online child pornography watchdog, [IWF] causing almost every internet user in Britain to be blocked from contributing to the site anonymously. Colin Jacobs illustrates how this is 'a perfect snapshot of things to come in Australia if the cleanfeed is introduced here'.
The Internet Watch Foundation is an unelected self-regulated body which operates as a charity in the UK.
Conroy has stated that Australia will be filtering the IWF blacklist.
And in NSW, an internet cartoon showing characters modelled on Bart, Lisa and Maggie Simpson engaging in sex acts, is child pornography, a judge has ruled in a landmark case. The judge concluded
a fictional cartoon character is a "person" within the meaning of Commonwealth and NSW laws.

…

Justice Adams said the legislation's main purpose was to combat the direct sexual exploitation and abuse of children that occurs where offensive images of real children are made.

But, he said, it was also calculated to deter production of other material, including cartoons, which "can fuel demand for material that does involve the abuse of children".
If one accepts that the cartoons were of real 'people' and there is no valid artistic defence in this case, the judgment appears to be supported by existing Commonwealth legislation which proscribes
(a) material that depicts a person, or a representation of a person, who is, or appears to be, under 18 years of age and who:

(i) is engaged in, or appears to be engaged in, a sexual pose or sexual activity (whether or not in the presence of other persons); or

(ii) is in the presence of a person who is engaged in, or appears to be engaged in, a sexual pose or sexual activity;

and does this in a way that reasonable persons would regard as being, in all the circumstances, offensive;
The Explanatory Memorandum to the Act goes further:
…"depictions"… is intended to cover all visual images, both still and motion, including representations of children, such as cartoons or animation. … "descriptions" … is intended to cover all word-based material, such as written text, spoken words and songs.
In dissension, Greg Barns, a specialist barrister in criminal and human rights law, said
the decision showed that the laws surrounding child pornography were too broad if cartoons could be classified as child pornography.
Tacky ripoff, or child porn? would the cartoon offend a 'reasonable person'? Haven't seen it, so we can't say. Still, prohibiting cartoons which might possibly incite another Thoughtcrime seems a bit over the top.
While all exploitation of children is to be deplored, news stories about the world's most horrificly obscene and prevalent forms of child abuse – starvation and malnutrition – are given scant exposure. Is this because these travesties tend to happen in Africa and don't count or because US food and shipping companies and their political minions are exempt from moral opprobrium?
U.S. farm and shipping lobbyists have stifled efforts to simplify aid deliveries, leaving Africans to starve when they might have been saved, said Andrew Natsios, a professor at Georgetown University in Washington who led USAID, the Agency for International Development, from 2001 to 2006.

"No one can take the high moral ground against it, so they hide behind closed doors and kill it," he said. "It's all done behind the scenes."

…

The number of the world's hungry will grow from about 967 million this year to 1 billion in 2009, predicts Olivier E. De Schutter, a professor of human rights at the University of Louvain in Belgium and an adviser to the UN on the right to food.

One ingredient in this recipe for famine, U.S. food aid, differs from policies of the European Union and Canada, which buy food near where it is to be used. The U.S. program serves domestic interests more than the world's needy, said Gawain Kripke, a senior policy adviser at Oxfam America, a Boston-based affiliate of the aid group Oxfam International.
Each year malnutrition is implicated in about 40% of the 11 million deaths of children under five in developing countries, and lack of immediate and exclusive breastfeeding in infancy causes an additional 1.5 million of these deaths. However, contrary to popular belief, only a fraction of these children die from starvation in catastrophic circumstances such as famine or war. In the majority of cases, the lethal hand of malnutrition and poor breastfeeding practices is far more subtle: they cripple children's growth, render them susceptible to disease, dull their intellects, diminish their motivation, and sap their productivity.