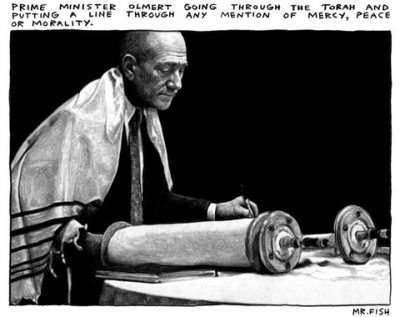 As we predicted, Israel's recent aggression against the blockaded and deprived people of Gaza and threats of escalated collective punishment have been logically followed as in the past by more radicalisation, with a murderous attack by an unidentified gunman within a religious school in Jerusalem.
Merkaz HaRav yeshiva is described by one comment in Haaretz as 'a heart of religious Zionism', in other words, a bastion of the land thieving settler movement.
"This attack … came in reaction to the crimes of the Israeli occupation and the massacres against civilians in the Gaza Strip," said Sami Abu Zuhri, a Hamas spokesman.
The gunman is reported as being a Palestinian living in East Jerusalem, and his actual identity is still unclear.
8 students were slaughtered, making the results of Israel's aggression against the neighbours it ethnically cleansed 60 years ago consistent with the existing death ratio. A comparative 10 Palestinians are slaughtered due to the illegal occupation, blockades and oppression by the Zionist enterprise for every 1 Israeli.
And so the cycle of violence, orchestrated and cheerled by those who benefit and glory in it the most – religious zealots, rightwing fanatics, power-mad politicians and of course the shills of the weapons industry – continues.
Meanwhile, Israel is condemned for its 40 years of occupation and oppression by aid groups –
GAZA is experiencing "a humanitarian implosion" and life for its embattled citizens is at its worst since the beginning of Israeli occupation in 1967, a coalition of British human rights groups and charities said yesterday.
Poverty and unemployment are rising, hospitals are suffering power cuts for 12 hours a day and the water and sewage systems are close to collapse, according to a report by groups including Amnesty International, Care International UK, Oxfam and Save the Children UK.

It called on the UK government and the European Union to urgently redress this by pressuring Israel to lift its blockade on the impoverished coastal enclave and talk to Hamas.

…

The UK groups' report on Gaza said the severity of the humanitarian situation had "increased exponentially since Israel imposed extreme restrictions on the movement of people and goods in response to the Hamas takeover (last June] and to indiscriminate rocket attacks against Israel".

It added: "The Gaza economy is no longer on the brink of collapse; it has collapsed."

During the past six months, the majority of private businesses in Gaza have shut down and 95 per cent of its industrial operations have been suspended due to an Israeli ban on imported raw materials and the blockage of exports. The report said poverty and unemployment had deepened dramatically and that 1.1 million people out of a population of 1.5 million were dependent on food aid.

Israeli restrictions had also hit patients in need of medical treatment unavailable in Gaza. Israel granted only 64 per cent of applications for care outside Gaza in December, compared with 89.3 per cent in January 2007.
An Israeli spokesman for Olmert effused in support of ongoing collective punishment of Palestinians, whilst taking the opportunity to delegitimise the democratically elected Hamas government yet again.
"In Gaza, a hostile regime took power that is shooting rockets into Israel on a daily basis. You don't have to have normal economic relations with a country that is shooting at you."
It doesn't appear to occur to these arrogant monsters that Israel, possessing the 5th most powerful military in the world, continuously commits war crimes which have been declared war crimes internationally for very good reason, as they inevitably cause terrible repercussions to be visited upon their perpetrators, irregardless of whether Israel wishes to lay the blame, as it always does, on its victims rather than taking responsibility for its own criminal, deliberately chosen policies.
There is no happiness for him who oppresses and persecutes; no, there can be no repose for him. For the sighs of the unfortunate cry for vengeance to heaven. – Johann Pestalozzi