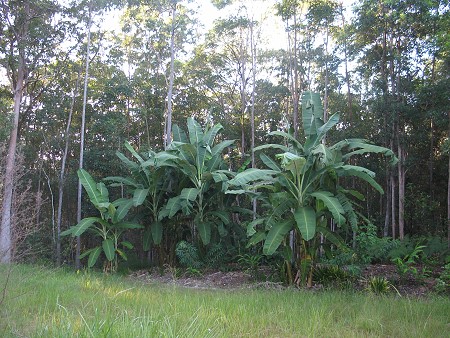 Most mornings we take the black cat for its beloved walk around the property, inspecting the gardens with their native shrubs, birds and dam, overflowing still from the recent rains.
Soon the bananas will be ripe enough to pick and hang in the shed – if the birds don't find them first.
Sago plants are ready for their roots to be harvested, soaked and turned into tapioca or roasted or diced for curries, accompanied by crushed edible ginger.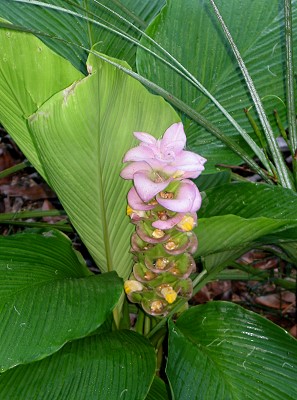 An elegant heliconia flower which has lasted for a couple of weeks still pleases with its voluptous curves and delicate colours.
Our splendid pink surprise grevillea is flowering in profusion near the dam. It is difficult to grasp that in one month, our shire will no longer exist … the merging of Noosa into the Sunshine Coast super council is imminent, despite the most vocal local protest in the history of Australia since the Eureka Stockade.
The latest outrage is that Noosa is to be given 'iconic' status, and any development or other decisions regarding its future will come directly from Brisbane. How's that for representative democracy? we had better local representative government under Joh Bjelke Petersen (shudder), As one commentator has put it, centralised power and decision-making is the antithesis of democracy. Our community is disheartened – the decisions made far away may soon smash the cohesion which has sustained our environment and restrained at the shire boundaries the nauseating high density developments to the south.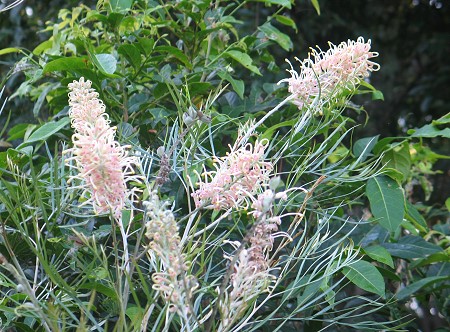 Our current Noosa mayor, Bob Abbott, may win Sunshine Coast super council leadership from development hungry Joe Natoli, yet even so, what happens after the next State election if Labor loses? and in the interim, what development pressures will Labor face? what of Terry Mackenroth, one of the architects of the amalgamation who sat on the supposedly independent committee, and who is a director of developer Devine Homes? what sort of sway do the building unions whose workers want jobs at any cost to the environment have with the Labor money men?
Still, it's not over till it's over and we must continue our protest as long as we are able. The survival of our community's special preserving relationship with its treasured indigenous plants and animals depends upon it. We live here and we must protect our surroundings from those who care only for money, their development cronies and pandering to their future customers from the southern states – with a consequent increased demand for health and other community services which are currently horrendously inadequate.