"A good heavy book holds you down. It's an anchor that keeps you from getting up and having another gin and tonic." – Roy Blount, Jr.
Amandarin Grindstone comes out with more detail about her language acquisition expenditure, admitting that
taxpayers had in fact picked up a $54,000 bill for her Mandarin lessons and speech coaching.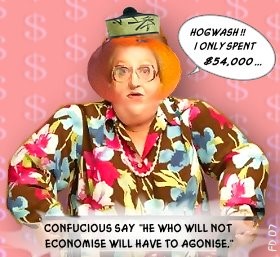 Thus, perhaps her interpreter costs would be $16,000 out of the original $70,000 said to be involved in her Chinese diplomatic linguistic efforts.
"If money had been spent for somebody to come in and just give me tutoring in a language so that I could order a gin and tonic, or go to a restaurant and order a meal, that would be fair enough to complain," she told media outlets.

"But that's not what it is, it's helping with speech preparation and things".
Does Amandarin enjoy her gin and tonics as much as she obviously does her tucker?
We await the discoveries of her Immigration ministry successor, Kevin Andrews, who is conducting
a full search for all receipts, bills, invoices and other documents relating to his predecessor's training in the Chinese, or any other, language.