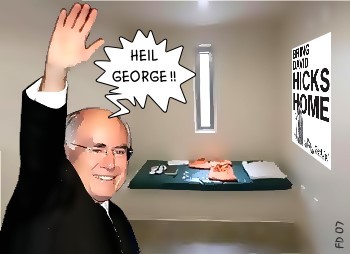 Labor Party supporters will be grinning from ear to ear today. With
the rodent's electoral prospects have never looked bleaker. To top it off, there are accusations that David Hicks was sedated before being told of the last dodgy charges against him. Hick's lawyer in the federal case against the Whorestralian gobblement is intimating the ratbag gang may be hauled into court.
The legal action, which is due to begin in May, argues that the Government breached its duty of care to Hicks by not demanding the US Government release him from Guantanamo Bay as other countries had done with their citizens.

Hicks's lawyer, David McLeod, told the ABC that besides the Prime Minister, Attorney-General Philip Ruddock and Foreign Minister Alexander Downer could also be called to the witness box.

Mr McLeod said most of the evidence for the case would be agreed to without the need to call witnesses before the trial went ahead.

"If it can't be agreed, then there will be a request for certain witnesses and it may well include Mr Downer and Mr Ruddock and indeed Mr Howard as potential witnesses," Mr McLeod said.
To highlight his dire plight for the past five years, Amnesty International is exhibiting a reconstruction of Hicks' Guantanamo cell at Martin Place in Sydney. People experiencing the conditions of Hicks' inhumane incarceration have described their reactions as "traumatising".
IT consultant Nikki Lee, 33, said it was a surreal experience stepping inside the replica cell, which includes a short bunk bed, a narrow window and a stainless steel toilet and wash basin.

"It's very small and quite terrifying really to imagine spending that much time in there," she said.

"It makes it more real and unreal at the same time because it doesn't seem that this could happen to someone who has not committed a crime."
Fitted with a security camera on which people can record their thoughts, the art vérité exhibition will soon tour to other states.
We'll be leaving a strong message of disgust when the wardrobe-sized room visits Queensland. Wonder how many people have already expressed their wish for the ratbags to trade places with Hicks?