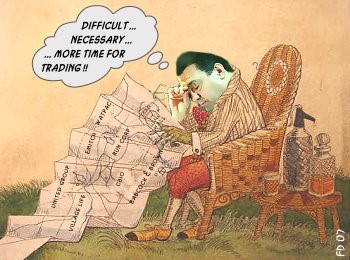 O, Ratty!' he cried. "I've been through such times since I saw you last, you can't think! Such trials, such sufferings, and all so nobly borne! Then such escapes, such disguises such subterfuges, and all so cleverly planned and carried out! Been in prison–got out of it, of course! Been thrown into a canal– swam ashore! Stole a horse–sold him for a large sum of money! Humbugged everybody–made 'em all do exactly what I wanted! Oh, I AM a smart Toad, and no mistake! What do you think my last exploit was? Just hold on till I tell you—-"
The public deserve to know exactly what shares Santaro had on his register when Nutt, from Ratty's department, told him to change them to investing to trading, what sales and purchases he actually did in the 12 months preceding December 06 and which were recorded on his register.
From the Australian today:
"Prime Minister John Howard said yesterday that senior adviser Tony Nutt last December discussed Senator Santoro's entry in the register of senators' interests with the office of the former minister for ageing.

"What did Tony Nutt know at the time he advised Senator Santoro to change the operations of his family company from share trading to investment?" Senator Milne asked.

"If the prime minister's office knew at the time that his company was share trading, then that clearly was in breach.

"How many other Liberal senators or members has the prime minister's office advised simply to change the name of their operation on the register, not the nature of their business?"
SANTO Santoro and his wife traded up to 72 parcels of shares in stocks covering health, energy, resources, technology, chemicals, media and construction through a "family trust" from late 2005, but failed to notify the Senate of almost all the trades.

…

The company also acted as sub-underwriters — a buyer of last resort — in money-raising ventures by 14 companies. It is not clear how many shares, if any, were ultimately purchased from those activities.

Senator Santoro was appointed Minister for Ageing in January last year and after that made another 29 trades in resources, communications, construction and computing companies.

Releasing a more comprehensive statement of his activities yesterday, Senator Santoro said "none of the shares purchased between 27 January 2006 and 12 October 2006 were in any way relevant or connected to my ministerial responsibilities".

His statement lists a total of 58 purchases and sales of shares, involvement in 14 sub-underwritings and the inclusion of two new stock holdings since his February 5 declaration. Not all the transactions were disclosed in the December and February updates.
Until these questions are answered satisfactorily, one will have no alternative but to think it's just more of the same whitewashing, devious manouvreing we have come to expect from the rodent, like the AWB coverup, concealment of tax bracket creep figures via the institution of FOI limitations, the Tampa and SievX affairs.
In ignoring his own code of ministerial conduct, Howard's goose is cooked. It's interesting to note Wayne Errington's observations in the Canberra Times in March 06:
"After losing so many ministers due to various indiscretions in his first term, Howard decided that his ministerial code of conduct was too disruptive. Political learning that succeeded in stemming the disruptions to the government that continual ministerial scandals had provided has become stubbornness in refusing to sack ministers unless their actions were directly brought into question.

After losing too many ministers in his first term for trivial offences, ministers now tend to be like limpets, making a mockery of the concept of ministerial responsibility."
How many more ministerial skeletons await discovery in Howard's closet? Why was Abbot so keen to defend Santoro? A symptom of similar affiliations to fundoid religious causes, or something more?