"All your children are poor unfortunate victims of lies you believe. A plague upon your ignorance that keeps the young from the truth they deserve." – Frank Zappa 1968

Mewling net nanny Helen Coonan has been pushing the ill-considered, atrociously framed draft Communications Legislation Amendment (Content Services) Bill 2006, recently leaked gleefully by staunch defenders of free speech and Oz democracy, Crikey.
All commercial content was proposed to be classified by the blackshirt bookburners at the OLFC– and contravenors punished retrospectively. Howard and his dunderbrained prigs are apparently willing to threaten and sacrifice the profitability of a vast number of thriving net industries perhaps in case Kevvie's mob goes the whole hog and usurps the intellectually challenged fundo vote as well as the middle of the road religious folks.
Peter Black cogently points out several major problems with the proposed legislation.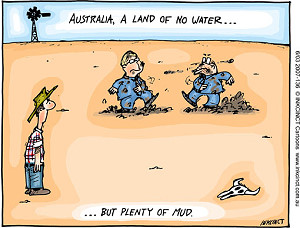 Still, one might regard this libtrog piece of wowserism as a flailing last ditch attempt to jerk public interest back to good old safe rightard family values and away from the embarrassing "Who's Helped the Most Crooks and Who Has the Most Crooks" sacrificial chess game which little Johnny looks to be losing by a resignation or two at present.
The silly bill has been withdrawn and we will have to wait in shuddering anticipation of a possible reemergent succubus. Meanwhile, we'll ponder once more horror writer Stephen King's immortal advice:
"What I tell kids is don't get mad, get even. Run, don't walk, to the first library you can find and read what they're trying to keep out of your eyes. Read what they're trying to keep out of your brains. Because that's exactly what you need to know."