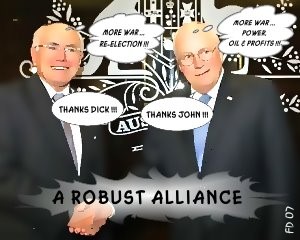 The Iraqi prize – its oil – is about to come under Coalition of the Gobbling companies' control.
… Now comes new evidence of the big prize in Iraq that rarely gets mentioned at White House briefings.

A proposed new Iraqi oil and gas law began circulating last week among that country's top government leaders and was quickly leaked to various Internet sites – before it has even been presented to the Iraqi parliament.

Under the proposed law, Iraq's immense oil reserves would not simply be opened to foreign oil exploration, as many had expected. Amazingly, executives from those companies would actually be given seats on a new Federal Oil and Gas Council that would control all of Iraq's reserves.

In other words, Chevron, ExxonMobil, British Petroleum and the other Western oil giants could end up on the board of directors of the Iraqi Federal Oil and Gas Council, while Iraq's own national oil company would become just another competitor.

The new law would grant the council virtually all power to develop policies and plans for undeveloped oil fields and to review and change all exploration and production contracts.

Since most of Iraq's 73 proven petroleum fields have yet to be developed, the new council would instantly become a world energy powerhouse.

"We're talking about trillions of dollars of oil that are at stake," said Raed Jarrar, an independent Iraqi journalist and blogger who obtained an Arabic copy of the draft law and posted an English-language translation on his Web site over the weekend.
More recently from Raed's blog:
My contacts in the Iraqi government, in addition to some fellow Iraqi bloggers, confirmed that the oil law draft was submitted to the Council of Ministers last week, and is expected to reach to the Council of Representatives (the Parliament) very soon after it gets approved in the Council of Ministers. The law will be considered active in case it gets approved by the parliament.
For a clear analysis of the Coalition of the Gobbling's proposed endgame for the current episode of the Great Game and its plans for global oil dominance, read William Clark's stunning article of December 06.