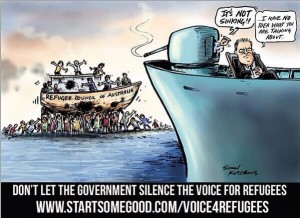 Late night thoughts of Morriscum
set adrift in a leaky boat
with Australians online taking bets
how long he can stay afloat.
Abbott's lashed firmly to the mast
Bishop's locked in the hold
When the boat sinks we'll all cheer
and divvy up the gold.
Brandis burnt international law
to please his zionist mates,
It won't keep him warm 10 fathoms down
When he meets his watery fate.
Cormann's whining on his mobile
calling up the crony banks
Too late for party kickbacks
the ocean gives us thanks.
For in all Australia's history
there's never been rogues as these
Corrupt and heartless brigands all
may they drown on the open seas.
Alas, the dream is but a dream
still the scurvy wretches spout
from their padded thrones in Parliament
We'll have to vote them out.
Jinjirrie, July 2014.
Related Links
If these Tamil asylum seekers have been handed over to the Sri Lankan navy, Abbott and his murderous crew should be at the Hague for crimes against humanity.