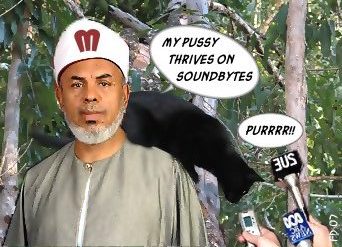 From the august Australian Constitution
116. The Commonwealth shall not make any law for establishing any religion, or for imposing any religious observance, or for prohibiting the free exercise of any religion, and no religious test shall be required as a qualification for any office or public trust under the Commonwealth.
Yet a wave of disapprobation from our servants in Parliament on both sides of the bench is rising against Hilaly, who besides being an Australian citizen since 1990, is still ordained as Mufti of Australia at least for the next three months. The lines between religion and politics are blurring.
Sheik Taj has been reported in the Iranian papers – another propaganda coup for that wily regime.
The mufti of Australia has called on the Islamic world to stand in the trenches with the Islamic Republic of Iran which possesses the might and the power.