An hilarious skit on Howard's current craven posturing on climate change: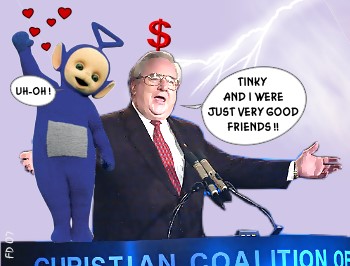 Hot news sent to us from a friend in the know in Nebraska –
Lynchburg – Scandal struck the Falwell family today when a secret will was discovered leaving most of his estate to Tinky-Winky the Teletubby.

Rumors that the Reverend Falwell had carried on a secret affair with the television star were vehemently denied by Falwell's family, which is contesting the will in court. Family spokesman Totle Biggit announced, "There was no affair. Reverend Falwell may have spent time with Tinky-Winky, but only to bring him the word of the Lord. He was always reaching out to media figures in an attempt to save them from evil influences. Whether it was weekend spiritual retreats in Key West with Tinky-Winky, going to Streisand concerts with Big Bird or watching gladiator movies with Bert and Ernie, Reverand Falwell did whatever it took to spread the good word."

Tinky-Winky himself only recently came forward with his tale of a secret and stormy affair, "Publicy he denied me three times before the cock crowed, but he always came crawling back with his endearing little "I don't know how to quit you.' He may have engaged in some verbal gay bashing, but secretly he hated all forms of gay bashing, unless you count all the times he tied me up and went at me with the cat-o-nine tails. Truly ours was the love that dare not speak its name."

When asked about some of the Reverend's more controversial comments, Tinky-Winky responded, "I know it sounds strange but deep down he was a kind person who felt horrible about the things he had to say publicly. He did it to keep his followers happy and the money rolling in. He didn't really think gays were responsible for 9-11, he knew it was all the fault of the Catholics and the Jews."
We have no problem whatsoever speaking ill of the dead Moral Moronity leader Falwell.
He was a particularly noxious far right-winger – a gay bashing, apartheid supporting bigot. Falwell's lambasting of Tinky Winky can only be described as bizarre. Yet those who protest the loudest about moral depravity almost invariaby have hidden, smutty secrets – thus we can speculate with glee about Falwell's hidden proclivities.