Article by Yoav Litvin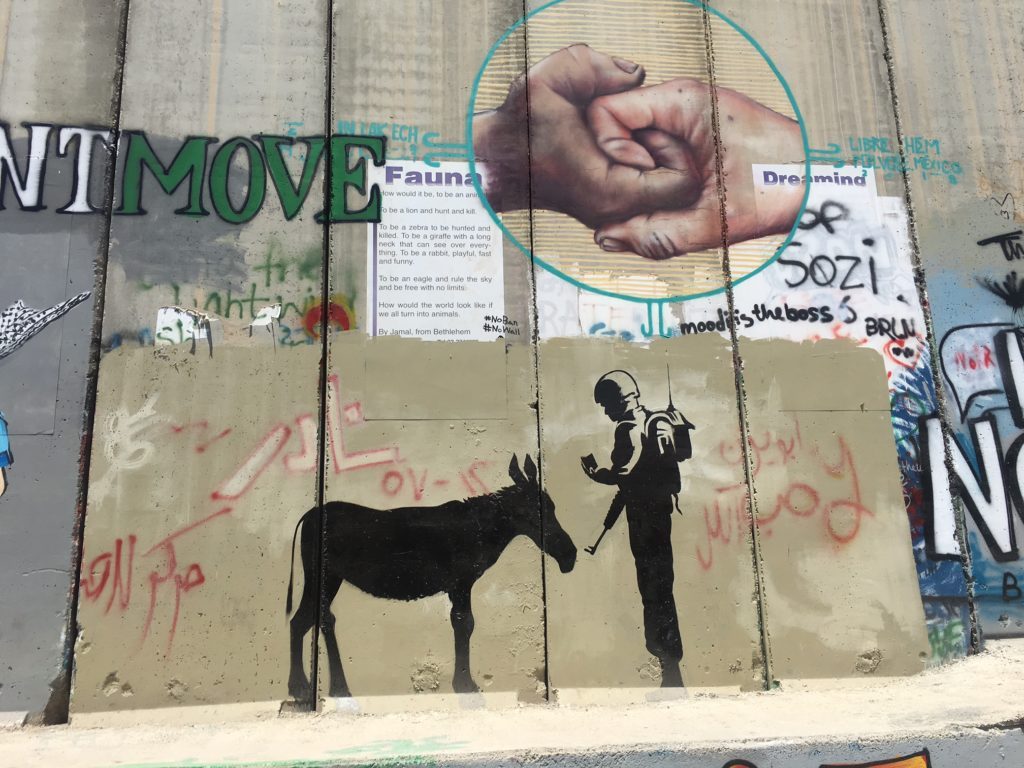 Jewish American progressives are falling for the oldest trick in the Zionist playbook: the conflation of Zionism with Judaism. The ultimate victims of this propaganda ploy are always Palestinians.
Sheldon's Party
Last Sunday, Sheldon Adelson's Republican Jewish Coalition (RJC) welcomed President of the United States, serial sexual harasser and inspiration to murderous white supremacists worldwide – Donald Trump – as a god.
Members of the audience brandished "Trump"-embroidered Kippahs, enthusiastically clapped at the President's overt incitement against Rep. Ilhan Omar and swallowed whole his anti-Semitic reference to Benjamin Netanyahu as "your Prime Minister" – a clear suggestion of dual loyalty.
In an act comparable to the ancient Israelites' worshipping of the Golden Calf, Senator Norm Coleman, who once called Trump: "A bigot. A misogynist. A fraud. A bully," led a Passover Dayenu chant in which he replaced "God" with "Trump".
Moses, where art thou?
Still, a drama unfolded during Trump's speech. Ten members of If Not Now, a nonviolent American Jewish organization aimed at ending US support for the 1967 Israeli occupation of Gaza and the West Bank, stood up and chanted in protest: "Jews are here to say, occupation is a plague."
A press release soon followed:
10 young American Jews disrupted Trump's speech at the National Jewish Republican Coalition (RJC) Pro-Israel Rally at the Venetian Ballroom in Las Vegas. As soon as Trump began to speak, they stood up and chanted, "Jews are here to say Occupation is a plague. Jews are here to say white nationalism is a plague," a reference to the 10 plagues remembered in the upcoming Jewish holiday of Passover. They then sang the Hebrew song Olam Chesed Yibaneh, "We Will Build This World With Love" as they were removed from the auditorium.
The Twitterati ask the wrong questions
Progressive American Jewish Twitter was abuzz about Sheldon's party and If Not Now's intervention. Several examples:
Yonah Lieberman (@YonahLieberman): Going after both #Birthright and Trump in 24 hours has got the Jewish right using Nazi rhetoric to try and intimidate the new Jewish Future.
Talia Lavin (@chick_in_kiev): there [sic] is nothing as contemptible to me as a jewish [sic] fascist. Nothing as myopic, as malleable, as cruel and shosrtsighted [sic]
Rafael Shimunov (@RafaelShimunov): Between Sheldon Adelson putting Trump's name on his kippa [sic], and the @RJC replacing God with Trump in one our holiest prayers as Jews, Republican Jews have officially ______________?

The responses to Shimunov's quiz included: sold out, Gone meshugganah and embraced extremism, among others.
However, these progressive American Jews do not implicate the real culprit.
In spite of its name and best efforts, the RJC is not a Jewish organization, but a Zionist one. Its members are not "the Jewish right" or "Jewish fascists", but simply "Zionists".
Only Zionists would worship an anti-Semite like Trump in return for unconditional support of Israeli apartheid, much like the vast majority of Zionist Israelis who adore Trump within the supposed "Jewish state" itself.
It is not Republican Jews who have "sold out" or have suddenly "embraced extremism", but Zionists since the very inception of the movement, well before the establishment of the state of Israel and until today. In logical confluence, Neo-Nazis have been inspired by Israel's policies and the term "white Zionism" has been used to describe the emerging "alt-right" neo-fascistic movement, the very one Trump spearheads.
Unsurprisingly, Ben Shapiro, a Zionist Republican who also happens to be Jewish, has inspired far-right Islamophobes, including the Quebec mosque shooter Alexandre Bissonnette.
Yet crucially, Zionist collaboration with anti-Semites and white supremacists crosses the aisle. For it was a Democrat, liberal Zionist Jew – Batya Ungar-Sargon of The Forward – who instigated the fallacious smear campaign against Rep. Ilhan Omar which she then used as a marketing tool to fundraise under the guise of a Jewish vanguard against anti-Semitism.
Ungar-Sargon's smear was picked up by establishment Democrats, overtly racist Republican Zionists, the President's son and Trump himself numerous times, including as a means to mock Rep. Ilhan Omar at the Sheldon Party.
The UK as a case study
The conflation of Zionism with Judaism serves to distract from the plight of Palestinians by focusing on a manufactured crisis within the "Jewish community", downplaying the role of empire and other capitalist supporters of the Zionist project. The distinction between "Jewish" and "Zionist" here is crucial, and one only needs to glance across the pond at the United Kingdom to learn why.
Labour Party leader Jeremy Corbyn, who has consistently shown solidarity with Palestinians and conveyed criticism toward Israeli apartheid in tune with socialist ideals, has been hypocritically vilified by Zionists for supposedly tolerating and even inspiring "anti-Semitism" within the Labour Party.
The campaign against Corbyn relies on the International Holocaust Remembrance Alliance's (IHRA) highly controversial and flawed definition of anti-Semitism which in its examples, erroneously and opportunistically conflates criticism of Israel with anti-Semitism.
What's more, Jewish party members who support Corbyn and the Boycott Divestment and Sanctions (BDS) movement, such as Jackie Walker, have been abused, suspended and even expelled. Meanwhile, Ella Rose, who was featured in the Al Jazeera documentary 'The Lobby' threatening Jackie Walker with physical violence is still a member and was recently elected by the Jewish Labour Movement (JLM) as its new "Network officer".
Unsurprisingly, the Zionist smear campaigns in the UK against politicians and activists who convey support for Palestinians and BDS and resist Zionist settler colonialism, apartheid and genocide show a striking resemblance to the recent defamation of Minnesota Rep. Ilhan Omar and members of the women's march and as part of a larger effort against Senator Bernie Sanders.
Much like Ungar-Sargon's The Forward claim of progressive Judaism yet real loyalty to Zionism, the UK Jewish Labour Movement (JLM) is supposedly affiliated with the UK Labour party supporting "labour values", yet it is truly a liberal Zionist organization.
It does not require its members to be either Jewish or from the Labour Party, yet has recently passed a no confidence motion of Jeremy Corbyn based on discredited charges of "anti-Semitism".
The Question
The focus must remain on Zionist criminality. And the only relevant dilemma for progressive American Jews remains – are you a Zionist or an anti-Zionist? As veteran Israeli journalist Gideon Levy recently wrote: "If you remain a Zionist, you can no longer be of the left; if you're of the left, you can no longer be a Zionist."
All those who claim to care about Palestinians, including progressive Jews and organizations such as If Not Now who in their broad umbrella avoid implicating Zionism or directly supporting BDS cannot continue to claim left wing universalist values while simultaneously serving as the "liberal" wing of the apartheid Zionist regime.
Only a consistent and unapologetic anti-Zionist framework is effective and congruent with leftist values.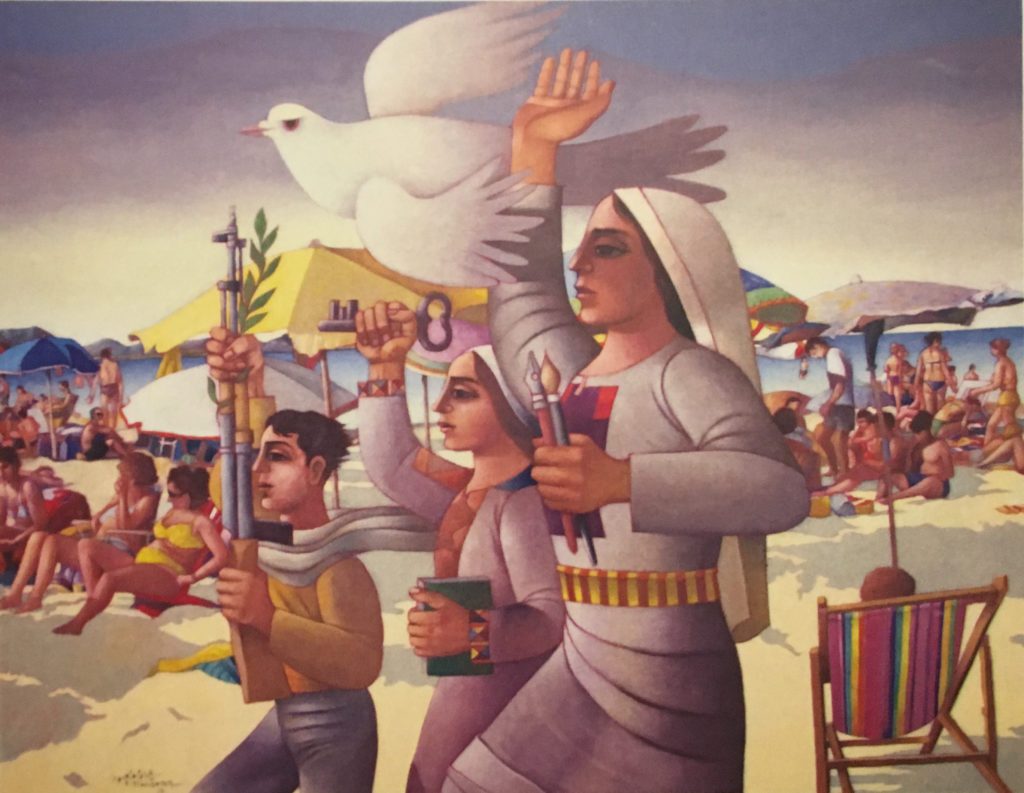 Cover art by Banksy, Bethlehem, Palestine
Related Links
Reminder that Gary Spedding whitewashes the zionist JLM.