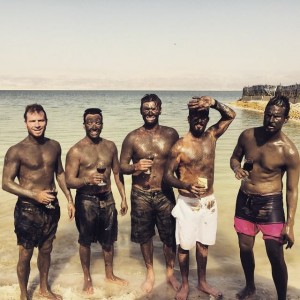 Appearing in promotional shots in mud blackface, the Backstreet Boys besmirched themselves not only by flaunting the Palestinian-led boycott of Israel, but by becoming complicit with Israel's crimes against Palestinians, marketing apartheid products.
Photographed frolicking in the Dead Sea to promote Premier Dead Sea Cosmetic Laboratories, the Backstreet Boys muddied their own brand with Israel's colonial, apartheid crimes.
Premier Dead Sea, an Israeli company which is part of the Hadan Group and located in Lod, was ousted from Dundee and Sligo in 2011 after successful BDS campaigns.
Along with accepting more than $1m for their three performances at Ra'anana in May 2015, the Backstreet Boys allowed themselves to be used for brazen rebranding of Israeli settler colonialism, brutal military occupation, apartheid and theft with photo sessions in Occupied Jerusalem and the Dead Sea. Did the band receive more than a nice day, a mud beauty treatment, a meal and Goodie bags for their promotional photos?
Deployment of celebrities to pad Brand Israel reflects a desperate need to obscure an international image which becomes dirtier by the day.