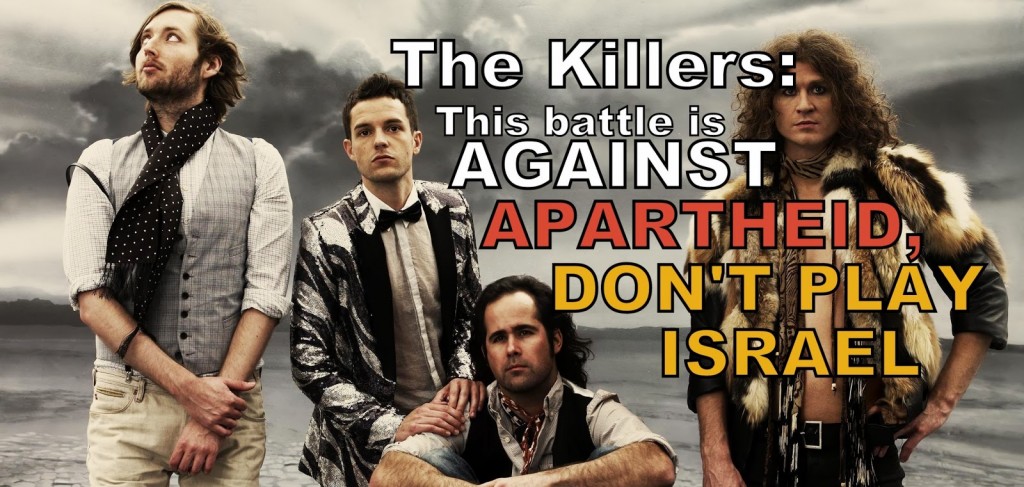 Dear Brandon Flowers, Ronnie Vannucci, David Keuning and Mark Stoermer of The Killers,
It is being reported by some media that you are planning to perform in Israel this October and we, DPAI, urge you not to book. The reports might be baseless (there have been many instances of false reporting of bands playing Israel even after they explicitly told the Israeli promoters that no money would buy their conscience), so please let us know whether they are or not.
We ask you, as musicians of conscience, not to close your hearts to the oppression of the Palestinian people. There is a profound moral obligation to refuse to play in Israel, and even though the financial rewards might be considerable, we sincerely hope you choose to act according to your conscience.
Last month, the esteemed Professor of Physics, Stephen Hawking, chose to publically support the boycott of apartheid Israel. He joins Desmond Tutu, Roger Waters, Alice Walker, Ahmed Kathrada, Naomi Klein, Judith Butler, John Berger and many others who agree that Israel's system of oppression cannot be brought to an end without ending international complicity and intensifying global solidarity, particularly in the form of the boycott. On the growing list of artists who have joined the boycott are Faithless, Leftfield, Gorillaz, Klaxons, Massive Attack, Gil Scott Heron, Santana, Pete Seeger, Pixies, Tindersticks, Elvis Costello, Cassandra Wilson and Cat Power. They understand it takes a boycott to work for justice, and that "dialogue" or performing in Israel while also speaking out against it has failed.
You might want to read Professor Ilan Pappé's "The Ethnic Cleansing of Palestine," which is recommended reading on the website Mormon Matters. Pappé is also a strong advocate of the boycott of Israel.
Music cannot build bridges between Israel and the millions of Palestinians whom it oppresses. Bridges can be built through the boycott, as was the case in South Africa, with the ultimate result being that the rights of all people are respected.
The purpose of the boycott is to exert pressure on Israel to respect the rights of Palestinians, by ending its occupation and blockade of the West Bank and Gaza Strip; respecting the rights of Palestinian refugees who are prevented from returning to their homes just because they are not Jewish; and abolishing institutionalised discrimination including more than 50 laws [1] preventing equal rights of Palestinian citizens of Israel.
The boycott builds on a historical tradition of popular resistance around the world: from within Palestine itself to the Montgomery bus boycott in Alabama to the struggle against apartheid in South Africa. Historically, boycotts work.
Roger Waters wrote:
Where governments refuse to act people must, with whatever peaceful means are at their disposal. For me this means declaring an intention to stand in solidarity, not only with the people of Palestine but also with the many thousands of Israelis who disagree with their government's policies, by joining the campaign of Boycott, Divestment, and Sanctions against Israel. This is [however] a plea to my colleagues in the music industry, and also to artists in other disciplines, to join this cultural boycott. Artists were right to refuse to play in South Africa's Sun City resort until apartheid fell and white people and black people enjoyed equal rights. And we are right to refuse to play in Israel.[2]
Desmond Tutu has this view:
I have been to the Occupied Palestinian Territory, and I have witnessed the racially segregated roads and housing that reminded me so much of the conditions we experienced in South Africa under the racist system of Apartheid.[3]

"International Boycotts, Divestment and Sanctions against the Apartheid regime, combined with the mass struggle inside South Africa, led to our victory … Just as we said during apartheid that it was inappropriate for international artists to perform in South Africa in a society founded on discriminatory laws and racial exclusivity, so it would be wrong … to perform in Israel".[4]
Today, due to the boycott call and its international magnitude, it is impossible for any international artist to play in Israel in a political vacuum. Your performance will be interpreted and used by supporters of Israel and by the state as an endorsement of Israel's regime, whether you want it to be or not.
Billions of dollars are lavished on Israel annually by western states, particularly the United States and Germany. Taxpayers in those countries are in effect subsidising Israel's violations of international law at a time when social programs are undergoing severe cuts, unemployment is rising, and the environment is being devastated.
Please join in the struggle to end western complicity in Israel's violations of international law and respect the Palestinian-led call for cultural boycott.[5] This is not only good for Palestinians, but also good for those around the world struggling for social justice and against perpetual war.
Sincerely,
DPAI
We are a group, of over 1000 members, representing many nations around the globe, who believe that it is essential for musicians & other artists to heed the call of the PACBI, and join in the boycott of Israel. This is essential in order to work towards justice for the Palestinian people under occupation, and also in refugee camps and in the diaspora throughout the world.
[1] http://adalah.org/eng/Israeli-Discriminatory-Law-Database
[2] http://www.guardian.co.uk/commentisfree/2011/mar/11/cultural-boycott-west-bank-wall
[3] http://www.huffingtonpost.com/desmond-tutu/divesting-from-injustice_b_534994.html
[4] http://www.timeslive.co.za/local/article727749.ece/Tutu-urges-Cape-Town-Opera-to-call-off-Israel-tour
[5] http://www.pacbi.org/etemplate.php?id=1047