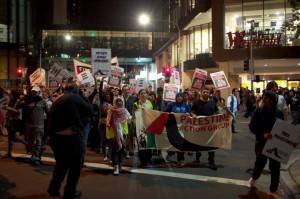 From the Palestine Action Group Sydney:
150 supporters of Palestine staged a rally in Parramatta in support of the global campaign of boycotts, divestment and sanctions against Israeli apartheid today. The protest was timed to also commemorate the massacres at the Sabra and Shatilla Palestinian refugee camps in Lebanon 30 years ago.
The Police had yesterday requested the Palestine Action Group cancel the event, but organisers decided to proceed as planned.
Demonstrators were addressed by South African activist Kolin Thumbadoo, who was president of the Anti-Apartheid Movement in Australia during the campaign against apartheid in South Africa.
In his speech Kolin stated, "As I was then, I am now, an implacable, unapologetic anti-racist. As I was opposed to a white minority regime in South Africa, so to am I opposed to a racist Zionist regime in occupied Palestine."
The protest marched to the Max Brenner chocolate shop in Parramatta to highlight it's connections with the Strauss Group, an Israeli corporation which publicly supports two of the most notorious brigades in the Israeli Defence Forces, the Golani and Gavati brigades.
"Just as in the struggle against Apartheid in South Africa, companies that support or profit from Israeli Apartheid should be boycotted," said one of the protest organisers, Patrick Langosch.
The Palestine Action Group plans to hold more demonstrations in the future to continue to support the BDS campaign and the struggle of the Palestinians.
Related Links