Jesus & Mary Chain: Have You Heard About the Boycott?
Dear Jim Reid, William Reid, Phil King, Loz Colbert and Mark Crozer (The Jesus and Mary Chain),
We are a group of over 900 people from all over the world who are united in support of human rights, justice and freedom for the Palestinian people. Some of our members have been fans of The Jesus and Mary Chain since the 1980s. We are asking you to refrain from playing in Israel.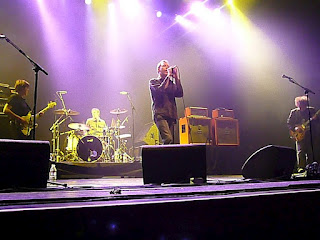 The recent findings of the Russell Tribunal on Palestine verify that Israel is an apartheid state. Here is an excerpt, from last November. Read the entire findings at http://bit.ly/svjpBT :
"The Tribunal finds that Israel subjects the Palestinian people to an institutionalised regime of domination amounting to apartheid as defined under international law. This discriminatory regime manifests in varying intensity and forms against different categories of Palestinians depending on their location. The Palestinians living under colonial military rule in the Occupied Palestinian Territory are subject to a particularly aggravated form of apartheid. Palestinian citizens of Israel, while entitled to vote, are not part of the Jewish nation as defined by Israeli law and are therefore excluded from the benefits of Jewish nationality and subject to systematic discrimination across the broad spectrum of recognised human rights. Irrespective of such differences, the Tribunal concludes that Israel's rule over the Palestinian people, wherever they reside, collectively amounts to a single integrated regime of apartheid."

Music plays a very political role in the case of Israel because of the global BDS movement. The PACBI, (Palestinian Call for the Academic and Cultural Boycott of Israel) has, since 2005, asked musicians to refrain from playing in Israel, and their call, representing Palestinian civil society, has become a global movement. Many people have already joined a new Facebook page titled: "Jesus and Mary Chain, No Reverence for Apartheid. Don't Play Israel."
When a band agrees to play in Israel and breaks the picket line, whether they intend to or not, they are making a political statement. In 2005 an Israeli spokesman asserted that: "We see culture as a propaganda tool of the first rank, and…do not differentiate between propaganda and culture." [Ha'aretz, September 2005] Your performances on 18 and 19 October will place you on the side of injustice and oppression, we are asking you to stand with the oppressed instead .
Many other musicians have chosen to respect the boycott and equal rights for Palestinians, among them, Roger Waters. You might like to read Waters' words in last year's Guardian in "Tear down this Israeli wall", where he says:
"This is, however, a plea to my colleagues in the music industry, and also to artists in other disciplines, to join this cultural boycott." [1]
Please read about Israel's apartheid in the letter that was written to French philosopher and prominent intellectual, Jacques Rancière, Professor emeritus, University Paris 8, by the PACBI. Jacques Rancière subsequently chose to cancel his planned lecture at the Minerva Humanities Center at Tel Aviv University earlier this year.[3]
This year artists Cassandra Wilson, tUnE-yArDs, The Pains of Being Pure at Heart and Cat Power have chosen to cancel their planned gigs in respect of the boycott, and stand in solidarity with the Palestinian people in their struggle for justice. Also among the growing list of artists that have cancelled concerts and events in Israel are the late Gil Scott-Heron, Elvis Costello, the Pixies, Mike Leigh, Klaxons, Gorillaz Sound System and many more.[4]
We hope that you will choose to respect the boycott.
Warm Regards,
Don't Play Apartheid Israel (DPAI)

Notes
[1] Tear down this Israeli wall, I want the music industry to support Palestinians' rights and oppose this inhumane barrier
http://www.guardian.co.uk/commentisfree/2011/mar/11/cultural-boycott-west-bank-wall
[2] International Star Natacha Atlas announces Israel boycott http://electronicintifada.net/blog/ali-abunimah/international-star-natacha-atlas-announces-israel-boycott
[3] (See http://www.pacbi.org/etemplate.php?id=1793)
[4] 2011 Summary of the Cultural Boycott of Israel http://www.pacbi.org/etemplate.php?id=1788