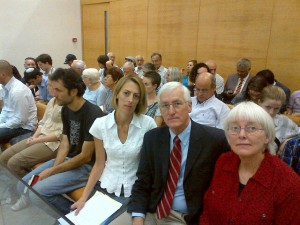 UPDATE 29/8/12
Unsurprisingly, the criminal zionist entity court-washed Rachel's murder with the Corrie family's lawyer indicating an appeal may be pursued. This high profile civil suit has not and will not work in Israel's favour since the facts clearly reveal the truth which the court has covered up, along with Israel's reprehensible posturing justifications for murdering innocents at whim including Palestinian children. Chris McGreal's account is blood-curdling and disturbing. Can a state which remorselessly kills children and unarmed peace activists as deliberate policy claim any justification for existing?
The Israeli military commander in southern Gaza at the time was Colonel Pinhas "Pinky" Zuaretz. A few weeks after Corrie's death, I (as the Guardian's correspondent in Israel) spoke to him about how it was that so many children were shot by Israeli soldiers at times when there was no combat. His explanation was chilling.

At that point, three years into the second intifada, more than 400 children had been killed by the Israeli army. Nearly half were in Rafah and neighbouring Khan Yunis. One in four were under the age of 12.

I focussed on the deaths of six children in a 10-week period, all in circumstances far from combat. The dead included a 12-year-old girl, Haneen Abu Sitta, killed in Rafah as she walked home from school near a security fence around one of the fortified Jewish settlements in Gaza at the time. The army made up an explanation by falsely claiming Haneen was killed during a gun battle between Israeli forces and Palestinians.

Zuaretz conceded to me that there was no battle and that the girl was shot by a soldier who had no business opening fire. It was the same with the killings of some of the other children. The colonel was fleetingly remorseful.

"Every name of a child here, it makes me feel bad because it's the fault of my soldiers. I need to learn and see the mistakes of my troops," he said. But Zuaretz was not going to do anything about it; and by the end of the interview, he was casting the killings as an unfortunate part of the struggle for Israel's very survival.

"I remember the Holocaust. We have a choice, to fight the terrorists or to face being consumed by the flames again," he said.

In court, Zuaretz said the whole of southern Gaza was a combat zone and anyone who entered parts of it had made themselves a target. But those parts included houses where Palestinians built walls within walls in their homes to protect themselves from Israeli bullets.

In that context, covering up the truth about the killings of innocents, including Corrie, became an important part of the survival strategy because of the damage the truth could do to the military's standing, not only in the rest of the world but also among Israelis.
It is impossible to watch the jubilant wave of the bulldozer driver after he killed Rachel Corrie without longing that the murderous, racist state of Israel collapses under the weight of its contradictions and is transformed as soon as possible into a state with equality for all its citizens, its hideous Occupation of Indigenous Palestinians ended, and rights of Palestinians to return to their lands recognised. A state which grants impunity for such a war crime, let alone the manifold other war crimes and crimes against humanity of which the apartheid zionist entity is guilty, invites its own demise.
To bring about the end of Israel's vile oppression and lawlessness as soon as possible, ISM's response to the Rachel Corrie verdict is logical:
By disregarding international law and granting Israeli war criminals impunity Judge Gershon's verdict exemplifies the fact that Israel's legal system cannot be trusted to administer justice according to international standards.The ISM calls on the international community to hold Israel accountable by supporting the Palestinian call for boycott, divestment and sanctions (BDS) and continuing to join the Palestinian struggle in the occupied Palestinian territories.
Omar Barghouti comments on the significance of Israel's impunity for its murder of Rachel Corrie:
"This latest Israeli mockery of justice underlines what the Golds
tone Report had proven after the Israeli massacre in Gaza in 2008-09. Referring to "structural flaws" in the so-called Israeli justice system, the report concluded that Israel cannot be trusted to administer justice according to international standards".

…

"This should also convince anyone who still needed to be convinced that without effective BDS against Israel it will never comply with international law. This is the lesson of South Africa".
If you're a performer, cultural worker, writer or academic, please contact PACBI with a statement about why you support boycott, divestment and sanctions of Israel, if you haven't already done so. Do it for the Palestinian Nasrullah family whom Rachel Corrie protected, do it for justice, do it for Rachel, just do it and help end Israel's impunity.
Related Links
The Technion – Israel Institute of Technology has developed an unmanned version for the D9 bulldozer to be used in Gaza.
At the US State Dept Daily Briefing, Nuland obfuscates:
QUESTION: Thank you. Now that an Israeli court has —

MS. NULAND: It takes two of you to cover for Matt and for – (laughter) – anyway, sorry.

QUESTION: No problem.

MS. NULAND: I couldn't resist.

QUESTION: An Israeli court today ruled against the family of Rachel Corrie, the American who was killed by a bulldozer in Gaza. Is the U.S. satisfied with that investigation, and is the U.S. disappointed that the Israeli military hasn't taken responsibility for her death?

MS. NULAND: Well, first of all, we reiterate our condolences to the Corrie family on the tragic death of their daughter, Rachel. As you know, we've worked with the family all through this process, and we will continue to provide consular support. We understand the family's disappointment with the outcome of the trial. Under Israeli law, the family has the right to appeal the verdict, and we've seen reports that they are considering doing that. So we will see how this proceeds going forward.

Please.

QUESTION: Can I follow up on that?

MS. NULAND: Yeah.

QUESTION: There are reports that her family at a press conference said that Ambassador Dan Shapiro told them that he found the – he was finding the investigation not to be transparent. Do you have any comment on that?

MS. NULAND: I was asked this question earlier this week. Beyond saying that we have met with the family regularly, that we have provided consular support, I'm not going to get into our private discussions with the family.

Please.
Witness to Rachel Corrie's Death Responds to Israeli Court Ruling Absolving Soldier
'Palestinians and Israel human rights activists have learned that justice cannot be obtained through the Israeli judicial system. The Haifa District Court, in which the trial was held, could not have ruled other than how the state wanted. For the past 45 years of Israeli occupation, the Supreme Court has excluded from its rulings all reference to international humanitarian law and to the Fourth Geneva Convention in particular, which protects civilians living in conflict situations and under occupation. Only Israeli law applies in the Occupied Palestinian Territories – military law and orders – and the courts have restricted even that form of law by declaring that in instances of "security," they defer to the military. As in Rachel's case, the IDF thus has carte blanche to commit war crimes with impunity, with no fear of accountability or punishment.'
Ramzy Baroud, on vicious zionist attitudes to the murder of peace activists:
Writing in The Jewish Chronicle, historian Geoffrey Alderman stated: "Few events – not even the execution of Osama bin Laden – have caused me greater pleasure in recent weeks than news of the death of the Italian so-called 'peace activist' Vittorio Arrigoni" (as quoted in The Guardian blog "View from Jerusalem with Harriet Sherwood" on May 18, 2011). While Sherwood found the comments "shocking", pleasure at the killing of a peace activist is fully consistent with Israel's ceaseless efforts at "discouraging" international activists from showing solidarity to Palestinians.
==========================================================================================================
The Israeli courts are to announce the verdict of the civil lawsuit against the Israeli Ministry of Defence initiated by Rachel Corrie's parents this Tuesday, August 28th. Around the world, humanitarians will protest in solidarity with the Corrie family and with all Palestinian families who have had their homes demolished by Caterpillar bulldozers as part of apartheid Israel's ongoing collective punishment of Palestinian people.
Rachel Corrie, a 23-year-old American from Olympia, Washington, was crushed to death March 16, 2003, by an Israeli military Caterpillar D9-R bulldozer while nonviolently protesting demolition of Palestinian civilian homes in Rafah, Gaza.
Rachel's parents, Cindy and Craig, are hoping for justice for their murdered daughter.
They hope Tuesday's court decision will conclude a case that's turned their daughter into a rallying cry for pro-Palestinian activists, taken years of their life and drained their savings.

"We are here with a great deal of anticipation for Tuesday," said Corrie's mother, Cindy, 64, a homemaker and musician from Olympia, Washington. "We are hoping for some accountability here for what happened to Rachel."

Corrie, a pro-Palestinian activist, was 23 when she was killed in March 2003 while she and other activists sought to block an Israeli military bulldozer they believed was about to demolish Palestinian homes in the Gaza border town of Rafah. The driver has said he didn't see Corrie, and the death was accidental.

The Israeli army had been undertaking systematic house demotions in the densely populated border area, trying to halt shooting and mortar attacks against soldiers and Jewish settlers who used the route. The house destruction sparked international condemnation at the time.
…
They hope the court will apportion blame to the bulldozer driver and his superiors, who have all been cleared of wrongdoing in a military court.

The Corries are seeking a symbolic $1 in damages, along with compensation for the money they've spent bringing the case to trial.

The Corries said their case underscored how difficult it was for families to pursue justice for loved ones killed by Israeli forces.

Criminal convictions of soldiers, who are tried in military courts, are rare. In one case, an Israeli military court in 2005 convicted a former soldier of manslaughter in the shooting of a British activist, Tom Hurndall.

Israeli rights group B'Tselem said in 304 cases where soldiers killed Palestinians, only nine indictments were filed. Another 27 cases were awaiting a decision of the military advocate general and 14 cases were under investigation.
The US ambassador to Israel, Dan Shapiro, has communicated the dissatisfaction of the US government with the Israeli military's investigation of Rachel's death.
While the US government's position on the investigation was not news to the Corrie family, attorneys said that hearing the ambassador's statement shortly before the verdict was "important and encouraging."

"This trial is an attempt to hold accountable not only those who failed to protect Rachel's life but also the flawed system of military investigations which is neither impartial nor thorough," the family's attorney said. "Under international law, Israel is obliged to take all feasible precautions to spare civilians from the dangers of military operations. The Israeli military flagrantly violated this principle in the killing of Rachel Corrie."

Corrie's father called the lawsuit "a small step in our family's nearly decade-long search for truth and justice."

Regardless of how the judge rules, the US government will demand a full account from Israel about Corrie's death.
To help demand justice for Rachel Corrie and her parents online and to highlight Israel's horrendous collective punishment of Palestinian people, tweet #RememberRachel and follow @RCFoundation for updates.
Support oppressed Palestinian people and their struggle for justice, support Rachel Corrie's parents and her cause, support boycott, divestment and sanctions against apartheid Israel!
Related Links
The Rachel Corrie Foundation for Peace and Justice
Rachel Corrie's family in Jerusalem, Aug. 26, 2012
US slams Israel for failed investigation of Rachel Corrie's death
Rachel Corrie death: struggle for justice culminates in Israeli court
Friday protest in West Bank remembers activist Rachel Corrie
Demolishing Houses, Demolishing Lives
Rachel Corrie's mother: 'I know this won't be the end'
Palestine / Israel Links
Up in salt: Israeli firm omits woman from kosher for Passover products