Three Little Birds, an all-female trio from Canada came under fire recently from the censorious Canadian zionist lobby after their song "Apartheid" was aired on CTV Morning Live.
Courageously, these harmonious women of principle released a statement/letter affirming their stance in support of Palestinian rights: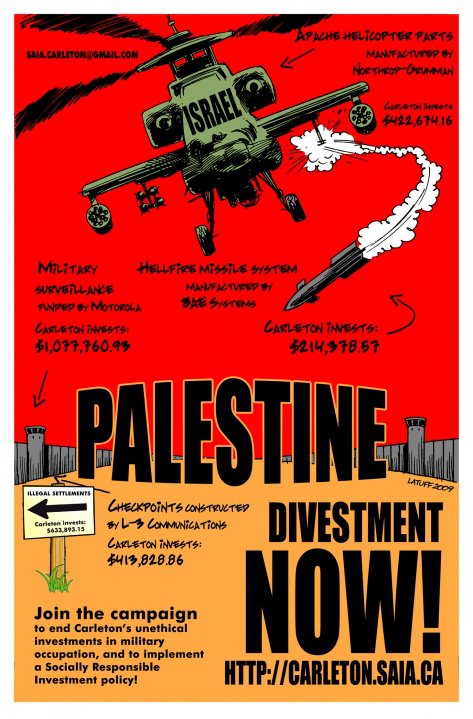 Re: CTV Defends Giving Band Airtime to Slur Israel as an "Apartheid" State (July 16, 2012)
(http://www.honestreporting.ca/news_article_name/CTVDefendsGivingBandAirtimetoSlurIsraelasanApartheidState7162012.aspx)

To whom it may concern/interest,

We'd like to thank HonestReportingCanada for writing about our TV clip on CTV. They attempted to censor CTV's airing of our song "Apartheid," but it now has almost 2,000 views. We sincerely thank HonestReportingCanada for the free promotion.

Our song "Apartheid," was originally written in response to the banning of a poster at Carleton University that depicted the bombardment of Gaza in 2008-2009, which killed over 1,400 Palestinians. A year later, we learned that the Carleton University pension fund invests in and profits from the very weaponry that is depicted in the poster (breakdown on the attached image). Three Little Birds is deeply disturbed that the university pension fund profited from the Gaza bombings and continues to profit from the weaponry and other infrastructure of occupation that oppress Palestinian people. The song is our reaction to attempted censorship. With great poetic irony, HonestReportingCanada is currently asking its subscribers to censor CTV coverage of music and politics by calling upon CTV executives to never again present anyone on the air who criticizes the current actions of the state of Israel through use of the term "apartheid" like we did with our song.

We don't use the term "Apartheid" lightly. It is the current actions of the state of Israel that necessitated the use of the term. According to the definition of apartheid under international law, the Russell Tribunal on Palestine, and the Human Sciences Research Council of South Africa Report, Israel is currently operating as an apartheid state.

The Wall that Israel is building in the West Bank, which was declared illegal by the International Court of Justice in 2004, has annexed Palestinian territory, appropriated Palestinian water resources, and destroyed thousands of orchards, homes and communities. Furthermore, Israel currently has over 500 checkpoints in the occupied West Bank, which restrict the movement of virtually all Palestinians living there, and subjects them to violence and humiliation on a daily basis. Additionally, Palestinians living within the boundaries of Israel proper have their citizenship restricted, as they are legally discriminated against. (Check out link to the Adalah Inequity Report: http://www.adalah.org/upfiles/2011/Adalah_The_Inequality_Report_March_2011.pdf). This institutionalized racism has led people such as Desmond Tutu, anti-apartheid activist to state in his Guardian article, "Apartheid in the Holy Land," that "I've been very deeply distressed in my visit to the Holy Land; it reminded me so much of what happened to us black people in South Africa. I have seen the humiliation of the Palestinians at checkpoints and roadblocks, suffering like us when the young white police officers prevented us from moving about." Israel, as any other country or individual, must be held accountable for its actions, and we are therefore proud to stand against apartheid, and with the struggle for freedom, justice, and equality for all those living in Israel and Palestine.

In light of HonestReportingCanada's attempted censorship of the term "Israeli apartheid," we find their slogan to "promote fairness" and "ensure accuracy," laughable. While we understand that we are little more than a "fringe musical group" next to the magnitude that is HonestReportingCanada, we nonetheless suggest that they stop promoting censorship and ensure the accuracy of their own information. For example, they assert that Gay Pride Toronto has banned the term "apartheid." This is false, and only requires the simple use of a search engine to confirm this. Or just follow this link!
(http://www.thestar.com/news/gta/pride/article/827793–pride-toronto-reverses-israeli-apartheid-ban)

Thanks again for the free promotion, HonestReportingCanada!

We invite our supporters to send their own thoughts to CTV's Regional Vice-President Richard Gray at the following address: . Let's ensure that CTV knows that we want to hear more about this topic!

Warmly,
Three Little Birds

For more information about these issues, we recommend visiting:

Our Sources:

Russel Tribunal on Palestine: http://www.russelltribunalonpalestine.com/en/sessions/south-africa
UN Office for the Coordination of Humanitarian Affairs (OCHA) report from December 2011: http://www.ochaopt.org/documents/ochaopt_atlas_barrier_affecting_palestinians_december2011.pdf
http://www.ochaopt.org/documents/ocha_opt_MovementandAccess_FactSheet_September_2011.pdf
International Court of Justice decision: http://www.icj-cij.org/docket/index.php?pr=71&code=mwp&p1=3&p2=4&p3=6&ca
B'Tselem facts about the Wall: http://www.btselem.org/separation_barrier
B'Tselem info on checkpoints: http://www.btselem.org/freedom_of_movement/checkpoints_and_forbidden_roads
Checkpoint Watch (Israeli NGO): http://www.machsomwatch.org/en/daily-reports/checkpoints
Adalah- The Inequity Report: http://www.adalah.org/upfiles/2011/Adalah_The_Inequality_Report_March_2011.pdf
Desmond Tutu, "Apartheid in the Holy Land" –http://www.guardian.co.uk/world/2002/apr/29/comment
Israel and Apartheid: A fair comparison?http://rabble.ca/news/2010/03/israel-and-apartheid-fair-comparison
Human Sciences Research Council of South Africa Report, "Occupation, Colonialism, Apartheid?: A re-assessment of Isreal's practices in the occupied Palestinian territories under international law," 2009.

Background Info:

http://www.ochaopt.org/
http://jewishvoiceforpeace.org/
http://www.adalah.org/eng
http://www.stopthewall.org/
http://www.hrw.org/news/2010/12/18/israelwest-bank-separate-and-unequal
http://www.pacbi.org/
www.bdsmovement.net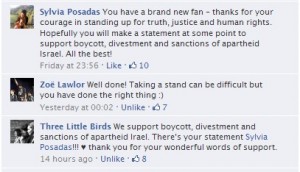 Noticing that their statement contained no direct affirmation of boycott, divestment and sanctions of apartheid Israel, I commented:
You have a brand new fan – thanks for your courage in standing up for truth, justice and human rights. Hopefully you will make a statement at some point to support boycott, divestment and sanctions of apartheid Israel. All the best!
Three Little Birds responded:
We support boycott, divestment and sanctions of apartheid Israel. There's your statement Sylvia Posadas!!! ♥ thank you for your wonderful words of support.
While some musicians still may not have heard of the call of Palestinian civil society for BDS to be implemented by the global community until Palestinian people obtain their just rights guaranteed by international law, it is encouraging that Three Little Birds are way out front with their conscientious vocal support. Singer Angela Schleihauf has also contributed narration and voiceovers for the Carleton University Students Against Israeli Apartheid Divestment Campaign.
Find out more about this exciting band and their stunning music on their facebook page and follow them on twitter at @TLBtheband
Related Links