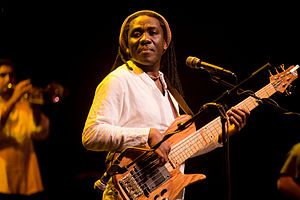 Dear Richard Bona, Luisito Quintero, Roberto Quintero, Dennis Hernandez, Mike Rodriguez and Osmany Paredes (Mandekan Cubano),
We are aware that you are returning to play at the Red Sea Jazz Festival in Israel, a government supported and sponsored event. We (Don't Play Apartheid Israel) would like to ask you to make the courageous choice to refrain from playing the festival this year.
You may not be aware, but new developments have taken place in Israel, which make it even clearer that Israel is an extremely racist state. The very city you will perform in has been to the forefront in the latest racist incitement and attacks specifically directed against Africans. Please read these examples:
Eilat Mayor Presses for Immigration Enforcement. Eilat mayor Yitzhak Halevi is a leader in the movement against Africans.
http://www.israelnationalnews.com/News/News.aspx/156175#.T-3PyBdSSI8
Netanyahu: African refugees threaten Israel's identity, security
http://mg.co.za/article/2012-05-21-israel-on-african-immigrants/
Israelis attack African migrants during protest against refugees, protesters go on 'unbridled rampage' targeting African workers and looting shops serving refugees
http://www.guardian.co.uk/world/2012/may/24/israelis-attack-african-migrants-protest
Immigration in Israel: African outcasts in the promised land. As African refugees are put into camps and attacked by racist gangs, Donald Macintyre reports from Tel Aviv http://www.independent.co.uk/news/world/middle-east/immigration-in-israel-african-outcasts-in-the-promised-land-7879780.html
Israel launches African migrant deportation drive
http://www.reuters.com/article/2012/06/17/us-israel-southsudan-idUSBRE85G07620120617
African refugees in Israel get a cold shoulder and worse
http://articles.latimes.com/2012/may/27/world/la-fg-israel-africa-refugees-20120527
Video: Israeli mob demands all African refugees be deported from the country (and anyone who disagrees deserves to be raped)
http://mondoweiss.net/2012/05/video-israeli-mob-demands-all-african-refugees-be-deported-from-the-country-and-anyone-who-disagrees-deserves-to-be-raped.html
Please join other ethical jazz musicians who have chosen to heed the boycott call. These include Cassandra Wilson, Jason Moran, Eddie Palmieri, and Tuba Skinny. Other artists, such as Carlos Santana, Elvis Costello and Roger Waters at first agreed to perform in Israel but then , decided that it was of greater importance to support the just struggle of the Palestinian people against Israeli oppression, and we hope you join them in rethinking your performances. Often artists intend to stand apart from politics and just play their music, but please be aware that your performance will be used to musicwash Israeli apartheid. For example, see the Israeli Foreign Ministry's statement in 2005 that "We see culture as a propaganda tool of the first rank, and…do not differentiate between propaganda and culture." Also, be aware that Palestinians will not be able to see you perform as they will not be able to attend the festival, because of the apartheid. Can you, with the knowledge of Israel's racist oppression, play to a segregated audience?
The savage Israeli siege of 1.7 million people in Gaza and other forms of collective punishment of the 2.7 million people in the West Bank and Occupied East Jerusalem are only part of the Israeli war crimes. The Russell Tribunal on Palestine concluded that "Israel subjects the Palestinian people to an institutionalized regime of domination amounting to apartheid as defined under international law." Jeff Halper, an Israeli professor of anthropology, testified saying: "the situation in Israel was 'ugly' and 'more than just the separation of people'. "If you look at the map of the region, you can see the bantu state that has been created." Nearly 6 million Palestinians are subjected to Israel's harsh form of apartheid.
Palestinian Civil Society called for a cultural boycott of Israel – many musicians support it, such as the over 150 Swiss artists who have signed up to respect the boycott, stating "We note that the non-violent boycott, when it gains wide popular support, is an effective means of putting pressure on those in power."
Recently Alice Walker, respected author of The Color Purple, called international attention to the urgency of abolishing apartheid in Israel. She refused Yediot Books in Israel permission to republish her acclaimed novel. A strong supporter of the cultural boycott, Alice wrote:
"It is my hope that the non-violent BDS (Boycott, Divestment, Sanctions) movement, of which I am part, will have enough of an impact on Israeli civilian society to change the situation."
Richard Bona, Luisito Quintero, Roberto Quintero, Dennis Hernandez, Mike Rodriguez and Osmany Paredes, we hope you will join these other brave people in respecting the Palestinian call for a cultural boycott.
Sincerely,
Don't Play Apartheid Israel
We are a collective of over 900 members, representing many nations around the globe, who believe that it is essential for musicians & other artists to heed the call of the PACBI, and join in the boycott of Israel. This is essential in order to work towards justice for the Palestinian people under occupation, and also in refugee camps and in the diaspora throughout the world.
Related Links
JAZZ Artists of Conscience, Stand with Justice Not Apartheid in 2012