This is the open letter written by Raymond Deane, Cultural Liaison Officer of the Ireland-Palestine Solidarity Campaign (IPSC) to Irish traditional group Dervish asking them to cancel their dates in apartheid Israel June 2012.
DPAI (Don't Play Apartheid Israel) Facebook page here: Dervish, Don't Bring Your Travelling Show to Apartheid Israel
OPEN LETTER TO DERVISH
Dear members of Dervish (Kathy Jordan, Brian McDonagh, Liam Kelly, Tom Morrow, Shane Mitchell and Michael Holmes):
Many lovers of Irish music have been deeply shocked and disappointed to learn of your plan to tour Israel next June, despite the 2006 Palestinian call for an international cultural and academic boycott of the Israeli state until it abides by international law.
On this tour you will be joined by the Irish band FullSet, which boasts that it has "already shared a stage with some of the hottest names in Celtic music, such as Moya Brennan, Lúnasa…, Andy Irvine and Dónal Lunny."
This is deeply ironic, because Irvine and Lunny – together with Christy Moore, Sharon Shannon, Damien Dempsey, Ronan Browne, Jimmy McCarthy, and many other giants of Irish music (and over 200 other creative and performing artists) – have signed a pledge "not to avail of any invitation to perform or exhibit in Israel… until such time as Israel complies with international law and universal principles of human rights."
This means that if you perform in Israel you will be betraying both the Palestinian people and many of your most respected colleagues. You will be manipulated by the state of Israel to whitewash the utter criminality of its occupation and colonisation of Palestinian lands.
In 2005 an Israeli spokesman asserted that "We see culture as a propaganda tool of the first rank, and…do not differentiate between propaganda and culture." [Ha'aretz, September 2005]
Here are some examples (among many) of the way that Israel represses the expression and dissemination of Palestinian culture:
In 2002, Israel prevented the Palestinian poets Zakaria Mohammed and Ghassan Zaqtan from travelling to Ireland to read their work.
In May 2009, Israeli soldiers prevented the opening of the Palestine Festival of Literature in Jerusalem. In April 2011, the venue hosting the final event of that year's Festival was attacked with tear gas by the Israeli army.
In May 2010, the Israeli authorities deported Spain's most famous clown, Ivan Prado, who was planning to establish a clown festival in Ramallah.
In summer 2011, Israeli commandos assaulted the Freedom Theatre in occupied Jenin, arresting several of its members.
Also last year, Israeli Prime Minister Binyamin Netanyahu suspended Israel's financial contribution to the United Nations Educational, Scientific and Cultural Organisation which oversees the protection of the world's cultural heritage. This was to "punish" the majority of the world's states for having voted to admit Palestine to the UN agency. This constitutes an Israeli cultural boycott of most of the world. For the same reason, Israel larcenously suspended tax transfers to the Palestinian Authority.
If you cancel your trip to Israel, thus incidentally saving the members of FullSet from the infamy of breaching the Palestinian cultural boycott so early in their career, you will have joined the likes of Roger Waters, Elvis Costello, Cassandra Wilson, and Carlos Santana who, having at first agreed to perform in that country, decided that it was of greater importance to support the just struggle of the Palestinian people against Israeli oppression.
The governments of the EU see Israel as "a strategic partner" and offer it generous trading and diplomatic privileges. When governments refuse to take human rights violations seriously, then it is up to civil society to act. Please be on the side of justice: please cancel your tour of Israel!
Raymond Deane
Cultural Liaison Officer
Ireland-Palestine Solidarity Campaign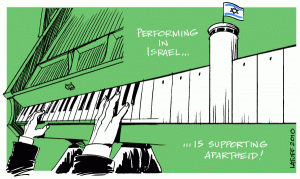 Meanwhile, the organiser of the Dervish performance posted on the Facebook page:
Hello people of Ireland, land me your ear for a moment. My name is Avshalom. I'm a musician and producer and I'm organizing Dervish's concerts in Israel. I love Irish music & I have close friendly relations with the members of Dervish whom I know for the past 15 years. People who know me will probably say I'm quite a nice and loving person even though I'm Israeli. The story of Israel-Palestine is very sad and tragic one for both sides… please try to remember that. Innocent people are suffering for so many years for terrible mistakes of leaders and politicians from both sides.

I'm certainly not a politician and responding to such attacks is not my cup of tea. I just want to share few things about me and get the right to expose my point of view.
I'm straggling for piece all my life. There are hundreds of thousands like me in my country. My personal way of contribution for piece and coexistence between Israelis and Palestinians was not demonstrations of any kind but creating an excellent ensemble consist of Arabs and Jews. We performed for about 15 years all around the globe. The idea was not a political one as we looked for the best musicians in order to make the best music. People have always applauded not only to the music but also to the fact that Israelis and Palestinians can create art together. We have not tried to change anybody in the band. Every one kept his own political ideas…but we shared some incredible love and passion to music and deep friendship. The project survived and gained a lot of success because we really believed music should not be played for political reasons and saw our music as something that brings people together and heals wounds.
I've invited Dervish to bring their music over not to support any political idea. Performing in Israel by Dervish does not mean anything about what they think or feel about the conflict. I'm sure that when they will receive an invitation to perform at the Palestinian territory, they will happily accept it.
Please people; try to accept that music transcends barriers. It's not necessarily meant to support or criticize any political systems.
This is the DPAI response:
Dervish, Don't Bring Your Travelling Show to Apartheid Israel
Thanks for your post but Palestinian civil society has called for a boycott of apartheid Israel until it abides by international law. The guidelines are very clear and we support the Palestinian BDS call. This is not the story of an equal conflict between "two sides", it is in fact about the dispossession and ethnic cleansing of the Palestinian people and the apartheid, war crimes and imprisonment they have been subjected to by Israel for 64 years.

PACBI (Palestinian Campaign for the Academic and Cultural Boycott of Israel) has issued a very strong statement on normalisation and we adhere to that, it's below if you'd like to read. We are asking Dervish to respect this BDS call, stand with other artists of conscience who have done so, stand with the oppressed Palestinian people in their struggle for justice and stand against Israeli apartheid. The Israeli state uses performances there as a means to whitewash its crimes against humanity, Dervish will be part of that if they play. With respect, the Palestinian call for solidarity has primacy here and we reiterate our call for Dervish NOT to play for apartheid.
PACBI: Debating BDS: On Normalization and Partial Boycotts
Yesterday the unofficial Facebook page of the Israeli embassy in Ireland posted on the official Dervish page, demonstrating to them that any performance in Israel will be used by the state to legitimise apartheid.