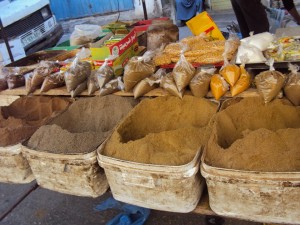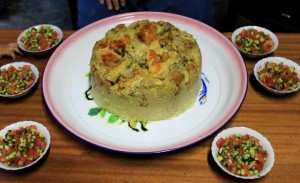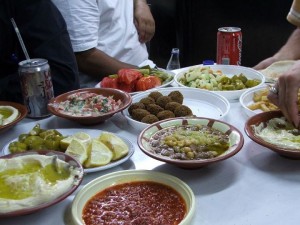 Growing up
My father's poems
Ran through my veins
Like blood
A necessary life ingredient
A rhythm that kept my heart pumping
Growing up
My mother's cooking
Warmed my soul
Her spices
Penetrated every fibre of my being
My Palestinian identity
Shaped
By food and poetry
By a feast of will and hope
By an assortment of words
Carefully arranged
On our kitchen table
And succulent flavors
That lingered in our heart
But of late
My father's poems
Seem to come out broken
Fatigue crept into the mind
Of a man who waited for too long
Of late
The aroma of my mother's spices
No longer lingers in the air
A sense of aging
A touch of despair
Like many of their generation
Time is running out
And they are still trapped
In the physical distance
Too far away from home
Strangers to the ground
On which they tread
I look beneath my feet
I too stand
In a vast land
Of aspirations not fulfilled
Dreams not accomplished
Desires relentless
Unforgotten
Sometimes
I am confronted
By the deplorable display of inhumanity
That has forced millions away from home
And kept them from returning
I hold on to my identity
I write poetry
And pray its rhythm
Will keep my children's hearts pumping
I bring out the spices
And carefully measure my cumin
My cardamom
My sumac and cinnamon
I want to fill the air
With a defiant aroma
That will nourish my children's soul
And remind them where we come from
I write and I cook laboriously
with resolve
I create a Palestinian feast
Of delicious verses
for all the parents
who have waited for too long
I write and I cook
I hope my pen doesn't dry out
And my spices linger
For a while longer
Until I satisfy my hunger
For justice
I tell my children we must be patient
My generation has yielded revolutions
But revolutions take generations to yield
So let me teach you how to write and cook
How to live and hope
For a future
Where Palestinians will no longer wait
For freedom
Justice
And their simple right to return home!
by Samah Sabawi
[published with permission]
Samah is a Palestinian writer, playwright and Public Relations expert with years of experience both as an activist for human rights as well as a political analyst. She is a Policy Advisor at Al-Shabaka. Presently living in Australia, Samah awaits the end of Israel's denial of her right to return to Palestine.
Photos of Palestinian food and spices courtesy of Palestine Food [published with permission].
Related Links
Samah Sabawi spoke at the Israeli Apartheid Week in Sydney – here's her full paper on normalisation.
"We have said it loud and clear: We will not co-exist with you in your world of inequality. If you want to co-exist with us, you are welcome to join us in our struggle for freedom, because right now, this is the only place where we exist!"