ACTION AGAINST "ISRAELI APARTHEID INC." IN AUSTRALIA STARTS 6PM, FRIDAY FEBRUARY 10, BOURKE ST MALL, MELBOURNE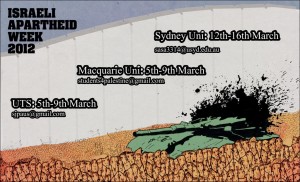 The 8th Annual Israeli Apartheid Week 2012 :
To accommodate various university schedules across regions, IAW will take place at slightly different times between February and March. Here is a list of dates for the regions confirmed so far:

Europe: February 20 – March 10
Palestine: March 12-19
United States: February 26 – March 3
Canada: March 5-9
Arab World: March 5-11
South Africa: March 5-11.
Follow @apartheidweek for updates, and check out the website at www.apartheidweek.org
Omar Barghouti: 'Justice and equality only destroy their negation, injustice and apartheid, and this is precisely what Israel and its lobbies are running scared of, the effective and sustainable challenge of Israeli apartheid and colonial rule.'
Related Links
Compendium of Israeli apartheid links are here:
Israeli Apartheid is Worse Than South African Apartheid
Palestine / Israel Links
Current US opportunistic racism analysed by Daoud Kuttab: 'Bashing Palestinians remains an easy political pastime, especially at election time.'
Israel is aiming to ethnically cleanse Bedouins from lands which it covets and on which it wishes to build Jews only settlements.
Jewish settlers attack Palestinian village, steal sheep herd
Abbas, Mashaal agree to form unity government
Hamas condemns Israeli attempts to wipe out Islamic, Christian shrines
Settlers attacked the Jerusalemite boy Amer Hejaij
Gaza fuel shortage ups risk of imminent health crisis
Settlers raid Ramallah village, vandalize property
International thoughts: Coping with the reality of Israeli occupation
I have experienced the checkpoint as an international, Muslim woman who wears the veil and observed the ignorant and mostly arrogant behavior of these young teenage soldiers. I am horrified, angry, and left paralyzed by confusion as I try to comprehend this behavior. I simply cannot imagine that the Palestinian people have to go through that every single day without having the possibility to leave as I do–without knowing that they can go home and are safe.
Happy Birthday, Dear Vittorio (RIP) by @ShahdAbusalama
Lawyers speak on academic freedom at @PennBDS conference
Other Links
Does your Australia senator or MP care more about US interests than the welfare of Australian citizen, Julian Assange?
The roles of class and culture in racism toward Indigenous Australians. Essential reading.
Electoral funding figures show Labor's donations collapse
"Each star is a US base. But just to be clear, Iran is the one that is threatening us."