Dear Barbra Streisand,
It has come to our attention that you have plans to perform in support of Israeli Soldiers on 8 December. Right now Israeli soldiers are committing with impunity countless well-documented war crimes against the indigenous population of Palestine.
We are calling on you now to heed the Palestinian call to boycott the only apartheid regime in the world, one which holds the population of Gaza in virtual imprisonment.[1] The IDF troops maintain what main-stream human rights organizations have called the largest open air prison in modern history, they enforce Israel's five-year blockade, 63 years of dispossession and ethnic cleansing. Palestinians rely on people of conscience, including artists and musicians, to take a stand and refuse to entertain Israel. In Gaza, over two thirds of the population are UN registered refugees, ethnically cleansed from their homes by Israeli soldiers in 1948 to live the rest of their lives in the Gaza prison camp.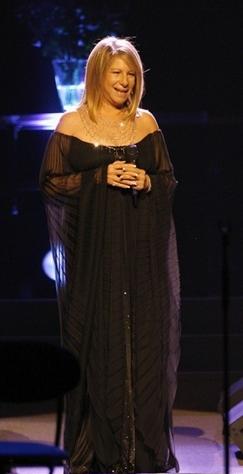 Millions more refugees, living in exile, remain and are denied their right to return home to see their loved ones thanks to Israel's policy of restriction of movement and its refusal to abide by international law. Your performance for the "IDF Troops" will encourage the Israeli state to believe that is does not have to be accountable to international law, that it can continue to act with impunity.
The ongoing siege of Gaza, has made existence for the approximately 1.2 million Palestinians there intolerable, cutting off the main life-line of goods and people coming into Gaza, resulting in severe shortages of food supplies, basic goods and crucially important items like cement which is vital to rebuild the 17,000+ homes that have been destroyed by Israeli attacks. Injured and ill people are not allowed to travel abroad to receive all manner of medical treatment unavailable in Gaza. Over 600 sick patients have died because they had no solution but to stay in the besieged Gaza Strip where they spent their dying days, to the despair of their families.
Most recently, Israel has instituted a 'punitive policy', more collective punishment, a crime against humanity, toward the people of Gaza, by cutting off their electricity. The north of Gaza has had no power for the past 9 days. [2]
For musicians with a passionate heritage of music and dance, the Israeli siege of Gaza bans importation of instruments, the possibility of receiving international performances and taking their music abroad. Israel's air, land and sea blockade of all their borders has meant that for years musical instruments were banned from entry to Gaza [3]
Do you really want to perform to support Israel's soldiers given that in the winter of 2008-9, they attacked Gaza, committing war crimes and human rights violations against a population of which over half -an estimated 800,000- are children. During this merciless 23-day assault, 1,417 people were killed including hundreds of children, with over 5500 injured. These heinous crimes have been recounted in detail in the United Nations Fact Finding Mission report. [4]
In the face of an international conspiracy of silence, Palestinian Civil Society, almost unanimously, called for international artists to refuse to perform in Israel as part of the BDS (Boycott, Divestment and Sanctions) campaign which is a non-violent method of holding Israel accountable to standards of equality and human rights that modern nations are accustomed to.
A host of internationally renowned musicians have already joined this call by refusing to perform in Israel including Carlos Santana, Annie Lennox, Faithless, Elvis Costello, the Pixies, Gil Scott Heron, Massive Attack, Leftfield, Gorillaz Sound System, Snoop Dogg, Jean Luc Godard, and Devendra Banhart. Roger Waters, wrote a letter announcing his support of a cultural boycott of Israel. He said that in his view,
"..the abhorrent and draconian control that Israel wields over the besieged Palestinians in Gaza, and the Palestinians in the occupied West Bank, coupled with its denial of the rights of refugees to return to their homes in Israel, demands that fair minded people around the world support the Palestinians in their civil, nonviolent resistance." [5]
We ask you to join their fight, a fight for basic human rights, equality and justice. It is time for the world to take real action to stop Israel's war crimes against children, women and men; it is time for conscientious individuals to stand on the right side of history by refusing to condone the war crimes of the Israeli state.
Please stand on the right side of history and refrain from entertaining a regime that has committed and continues to commit war crimes and crimes against humanity.
Sincerely,
Related Links
By playing nuclear-armed Israel and for the oppressors of the Palestinian minority, Streisand would be going against her causes. Streisand said,
"The Democrats have always been the party of working people and minorities. I've always identified with the minorities."
….
Streisand has personally raised $25 million [52] for organizations through her live performances. The Streisand Foundation,[53] established in 1986, has contributed over $16 million through nearly 1,000 grants to "national organizations working on preservation of the environment, voter education, the protection of civil liberties and civil rights, women's issues [54] and nuclear disarmament".
Palestine / Israel Links
International Day of Solidarity with the Palestinian People – 29 November
Oi Va Voi : Please Don't Be Complicit with Apartheid Israel
Video: Chicago activists tell shoppers to boycott Israel on Black Friday
Video: French BDS activists de-shelve huge amounts of Israeli produce at Carrefour
PCHR Strongly Condemns WHOs Decision to Conduct a Conference in Jerusalem – International Middle Ea.
Video: Israeli occupation forces demolish homes and mosque, arrests girls near Hebron :
Israel's foul acts of ethnic cleansing continue: 'At 10 am two bulldozers arrived in the village, escorted by five military vehicles. Without showing any demolition order, the army demolished two houses, a mosque, a barn and a structure containing the generator.'
Army To Demolish A Palestinian Home In Jerusalem
Liberal Zionists and the Palestinian right of return
Official: Israel deliberately disconnects Gaza electricity :
Israel, another word for collective punishment – the apartheid ziocolonial entity uses 'punitive policy' against the people in the north of Gaza. Electricity had been cut off to the north for nine days.
Gareth Evans blithers about Responsibility to Protect, omits ongoing zionist ethnic cleansing project. Gareth should rename policy as Responsibility to Protect But Not From Us, as it doesn't apply to western settler colonial genocidalists.
Times Photographer Complains of Israeli Soldiers' 'Cruelty' at Border Crossing
From The Lancet :
'10% of pregnant Palestinian women were delayed at checkpoints every year from 2000 to 2007, while travelling to give birth in hospital. These delays resulted in 69 births, and 35 infant and five maternal deaths at the checkpoints. Generally, the type and severity of the delay-related morbidity are not recorded.'
John Lyons describes Israel's villainous treatment of Palestinian children destined for military court. 'After September 11 I'd seen images of alleged terrorists walking like this but I'd never seen children treated this way. It's not surprising that Israel doesn't want this image out there – it would look uncomfortably like a Guantanamo Bay for kids.'
Other Links
Egypt imports 21 tons of tear gas from the US, port staff refuses to sign for it – Bikya Masr
Northern Territory intervention has brought hatred, says Arnhem elder
'Intervention mark II' a new whitewash
The price of siting US 'defence' installations: Turkey threatened by Iran if US or Israel attacks – there's a lesson for Australia there.