Since a delightful presentiment from Lee Rhiannon on last night's Q&A, parts of Archbishop Desmond Tutu's letter of support and solidarity to Marrickville Council have surfaced. The letter will be presented to Council tonight. Marrickville Council has the admirable fortitude to embrace human rights and justice for Palestinians.
Firstly on the Coalition for Justice & Peace in Palestine (CJPP):
"Sometimes taking a public stand for what is ethical and right brings costs, but social justice on a local or global scale requires faith and courage," wrote Archbishop Tutu.

"I want to pay my respects to you and your fellow Councilors in Marrickville for taking a stand to isolate the Israeli state, and before that for offering practical solidarity to our sisters and brothers under occupation in the Holy City of Bethlehem.

"International Boycotts, Divestment and Sanctions against the Apartheid regime, combined with the mass struggle inside South Africa, led to our victory.".
Mayor Fiona Byrne and Councillors respond:
"I'm honoured to receive this endorsement from Nobel Peace Prize Laureate, Archbishop Desmond Tutu," Mayor Byrne said. "Desmond Tutu's courageous stand against Apartheid in South Africa and ongoing advocacy for peace and human rights is an inspiration to us all. Palestinian civil society has called for support for the Boycotts, Divestment and Sanctions campaign to highlight the struggle of the Palestinian people for basic human rights. I am proud that Marrickville Council was able to support and highlight the human rights violations suffered by many Palestinian people," Mayor Byrne said.

"We are humbled and inspired by this expression of support from Archbishop Desmond Tutu," said Councillors Kontellis, Thanos and Peters, who along with Mayor Byrne maintained their support for the BDS despite intense media pressure.
Then In the Sydney Morning Herald
The Nobel peace prize recipient and critic of Israel wrote that he wanted to extend his respects to the mayor, Fiona Byrne, and her fellow councillors "for taking a stand to isolate the Israeli state".

"We in South Africa, who both suffered apartheid and defeated it, have the moral right and responsibility to name and shame institutionalised separation, exclusion, and domination by one ethnic group over others," Archbishop Tutu said in the letter, which will be formally presented to Cr Byrne tonight.

"Sometimes taking a public stand for what is ethical and right brings costs, but social justice on a local or global scale requires faith and courage."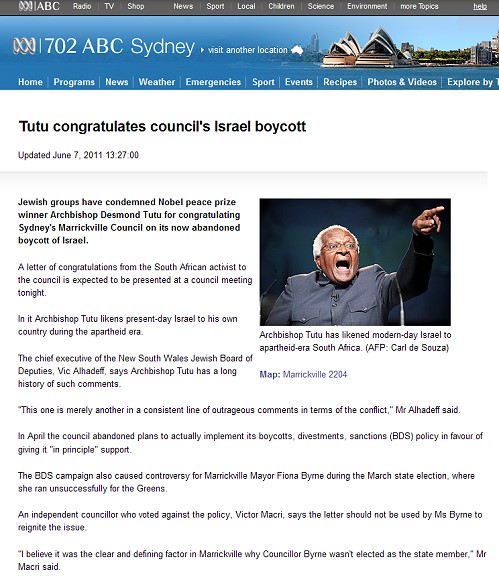 Yet why has the ABC used such a dreadful, unflattering photo of Archbishop Desmond Tutu and quoted Vic Alhadeff's snide smears?
Jewish groups have condemned Nobel peace prize winner Archbishop Desmond Tutu for congratulating Sydney's Marrickville Council on its now abandoned boycott of Israel.
….
The chief executive of the New South Wales Jewish Board of Deputies, Vic Alhadeff, says Archbishop Tutu has a long history of such comments.

"This one is merely another in a consistent line of outrageous comments in terms of the conflict," Mr Alhadeff said.
Yet Alhadeff was associated according to a deleted, cached and now screen-shot post from the blog of the Inner West Jewish Community and Friends Peace Alliance, 'a local grassroots group which formed as a response to the December 14 2010 resolution by Marrickville Council to boycott Israel' with an aim to use the scuttling of the first Australian Council initiative to warn local government off support of BDS.
We think it is extremely important to ensure that this first local government attempting to implement the boycott will be convinced by their constituents and by intelligent public opinion to reconsider and recast their boycott decision. The March state election is giving candidates and voters the opportunity to consider what an Israel boycott means, and to ask questions such as whether local or state governments should be deciding foreign policy.

We have plans for some carefully targeted media coverage and advertising in relation to the election. These strategies are expensive, but we believe they will be successful. We have been fortunate to have ongoing help and advice from very capable professionals. Also, we have among our own numbers people who are deeply involved in the Jewish community, and we are in frequent communication with Vic Alhadeff and Yair Miller from the Jewish Board of Deputies as well as Peter Wertheim from the Executive Council of Australian Jewry.

We need to raise approximately $12,000 in the next two-three weeks to carry out the activities that we believe will make a decisive difference. All the professional work that is being done for the campaign has been donated pro bono, but there are unavoidable advertising and research costs we will need to pay.'
…
If you would like to contribute to the success of this campaign, please donate what you can. Please also pass this information on quietly to like-minded friends.
Alhadeff has consistent form himself, most recently endorsing the Shalom Institute's decision to ban pro-BDS speakers from Jewish Festival Limmud-Oz and slamming Lee Rhiannon's involvement with the Coalition for Justice and Peace in Palestine forum, which he described as "an activist conference lacking any hint of balance or academic integrity on a divisive and complex issue".
Following an exceeding dirty campaign against Palestinian people's human rights of push polls, electoral poster vandalisation with racist graffiti, near complete media blackout of Palestinian voices, newly elected NSW Premier Barry O'Farrell threatening to 'sack' the Council for its support of BDS and death threats to Councillors, the Marrickville Council stuck to the principles of BDS in its final motion without implementing a boycott.
According to the Sydney Morning Herald, Vic Alhadeff said his 'organisation had no knowledge of the poster campaign, or the phone survey, until afterwards'.
The solidarity of human rights icon and anti-apartheidist Archbishop Desmond Tutu is a wonderful accolade for Marrickville Council and the community which supported their principled struggle for justice for Palestinians through boycott, divestment and sanctions. Congratulations to the courageous Councillors from Marrickville who have set an example which all people of conscience and compassion can applaud.
Poll: 77% of Israelis oppose going back to pre-'67 lines
Related Links
Lee Rhiannon hails Desmond Tutu praise for Marrickville Council's Israel boycott
Tutu congratulates council's Israel boycott
Tutu praises Marrickville mayor
West Dunbartonshire council has reaffirmed its support for BDS following false allegations made about the implementation of its boycott policy.
Palestine / Israel Links
The Impossible Distance: A Choice to Kill : fascism kills compulsively to replenish itself
On Naksa Day, unarmed resistance sends Israel into violent contortions
While evidence that the Syrian regime directly organized the demonstrations is scant to non-existent, the regime clearly enabled the demonstrators to reach the fence by neglecting to repel them with its own troops. Not only does this fact fail to excuse Israel's wanton killing, it highlights the irony of Israel and its allies condemning the Syrian regime for its brutal repression of Syrian citizens rising up against it (of course, the whole world should deplore Assad's draconian rule), while at the same time demanding that the regime repress the Palestinian refugees who are protesting for their own internationally recognized rights.
Ex-army adviser says Goldstone op-ed makes S. Africa safer for ex-pats
Israel Prepares To Approve 4100 New Units For Israeli Settlers In East Jerusalem
Israel's Obsession with walls : Israel needs northern wall In face of new Arab invasion strategy on Golan, Israel must build new cement wall
West Bank mosque targeted in suspected 'price tag' attack by settlers Palestinians: Jewish youth roll burning tires into a mosque in Maghayer village next to Alei Ayin outpost demolished by IDF last week.
Poll: 77% of Israelis oppose going back to pre-'67 lines
77% of Israelis would rather stay expansionist and reject peace – they 'oppose returning to pre-1967 lines even if it would lead to a peace agreement and declarations by Arab states of an end to their conflict with Israel' … 82% considered security concerns more important than a peace deal.
Saudi Arabia Links
petro-dollar counter-revolution Saudi Arabia's array of bribes to makes its inhabitants forget that they're living under the whip of nut-job monarchs.
.
Australian Links
Emails reveal nature of attacks on climate scientists
Statement by Samah Hadid, Australian Youth Representative to the United Nations Third Committee, delivered 4 October 2010