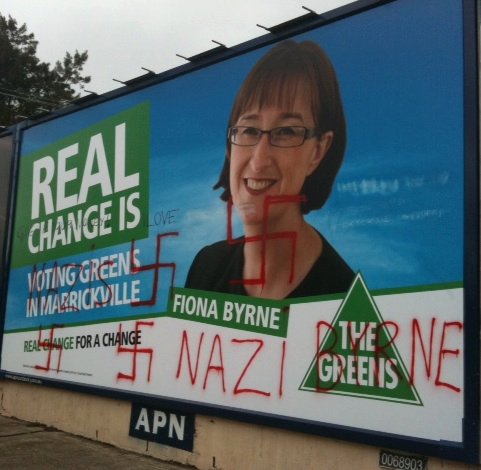 Too busy to write much today, so here goes with a mish mash of Marrickville links. Greens candidate and Council Mayor Fiona Byrne was targeted with a reprehensible volley of smears and dirty campaign tactics prior to the election in order to hijack both the Greens and the principled BDS resolution passed by Marrickville Council. Prominent in hasbara media ops as usual was the scurrilous Australian.
But what a joke! the ALP and the Libs in disgraceful unison with Fred Nile in support of Israeli apartheid.
The Liberal-National Government will need 22 votes to get its agenda through the Legislative Council.

It is expected to turn for that support to Fred Nile's Christian Democrats and the Shooters and Fishers party, who are predicted to hold two seats each.
Pre-election dirty tricks in Marrickville:
In Marrickville – where the swing required to unseat Labor was 7.5 per cent – Ms Tebbutt was slightly ahead of Ms Byrne but had not claimed victory.

The battle for Sydney's inner west took an ugly turn yesterday when police were called to investigate vandalism of Marrickville Greens' candidate Fiona Byrne's campaign posters that were defaced with swastikas.

The Nazi symbols appeared on Ms Byrne's posters in Petersham and Enmore on Friday night, some scrawled with the words: "Watch out for the Nazi." Other threats have been made.

Ms Byrne is the mayor of Marrickville Council, which controversially voted to boycott Israel four months ago. The boycott has sparked threats to other Marrickville councillors.

Police confirmed they were investigating the threats and the poster defacements.

Ms Byrne played down the threats yesterday, saying they were simply part of an intense campaign. "It's been a pretty emotional campaign," she said. "There have been some interesting tactics out there, but for me it's about the voters and really keeping positive."

She said the threats, most of which had been made in blogs or sent by email, had been reported to the NSW Electoral Commission and the police.
@annabelcrabb: If Carmel Tebbutt wins M'ville she can thank Israel, and the cute baby on her electorate-wide flyer she put out last night #nswvotes #
@annabelcrabb: Last night, Tebbutt's campaign distributed a door tag with cute baby pic – "Don't throw the baby out with the bathwater" #nswvotes #
My encounter on twitter with Israel born Hajnal Ban nee Black, in denial about the smear tactics and illegal campaign poster defacements used against Fiona Byrne is below. Apparently the term 'denier' is trademarked to the Israel Lobby.
Jinjirrie: The bizarro world of @HajnalBlack : 'I am merely calling for respect in the Climate Change debate. There is no respect when the word denier is used in this context' http://is.gd/5oMKcE #

Jinjirrie: . @HajnalBlack why do you think a non-violent campaign for justice against a state globally identified as apartheid is anti-semitic? #

HajnalBlack: @Jinjirrie Sorry, I forgot, Hamas is non-violent #

Jinjirrie: . @HajnalBlack Hamas is not a signatory to the 2005 non-violent call for BDS of Israel from Palestinian CIVIL society

Jinjirrie: . @HajnalBlack have you ever bothered to read the relevant #BDS documents? http://bdsmovement.net/ http://pacbi.org/ #

Jinjirrie: . @HajnalBlack BDS is directed at institutions which support the illegal Israeli Occupation and apartheid, not individuals #

Jinjirrie: . @HajnalBlack before I forget, what's your reaction to the Nazi swastika poster defacements & filthy smear campaign against Fiona Byrne? #

@HajnalBlack: @Jinjirrie Her views and actions would indicate that she should be moderate in her perspective if she'ld like to avoid such harsh reactions #

Jinjirrie: @HajnalBlack so you condone the use of political smear tactics & Nazi swastika poster defacements against Fiona Byrne? #auspol #BDS #

No response … yet.
Hajnal is happy to smear the Greens as fringe extremists with the best of them. In heropen letter to the Prime Minister of Australia she fumes:
"You and your Ministers' use of the word 'climate change denier' to describe me and others who agree with the fact that human induced climate change 'science' is questionable and the fact that a Carbon Tax will do zilch to lower Earth's temperature is offensive. It is clear that your clever use of the English language is designed to paint people with opposing views to you as similar to holocaust deniers; fringe extremists who can't grapple with reality.

I would like to formally make you aware of the fact that I regard your comments as racial vilification, as they link me to a group of people who I hold with such anathema, such distaste, that it hurts our family's sensitivities surrounding the holocaust.

I won't bother writing a letter of concern to the Greens who also part take in this despicable word game, as the Greens are a fringe group. However your antics and the hysteria that you whip up against people opposed to your increase in taxes is most certainly painting you as a Green-sympathising extremist."
Hajnal Black proves Christopher Pyne wasn't alone in channelling the tenuous Holocaust allusion. Pynehead laid claim on a trademark for 'denier' last week.
There was a time (much of the 20th century, indeed, when established beliefs were up for challenge) when scepticism was fashionable. In the currently overheated period, however, the very words sceptic and (gasp) denier have become as loaded as the accusation by a mediaeval inquisitor of heresy.

"Denier," cried Ms Gillard. You might hardly be surprised to discover there was a bonfire being built in the grounds of Parliament House for the ritual burning of the heretic Abbott.

Mr Pyne flew to what he imagined was his leader's defence.

He demanded that Mr Jenkins force Ms Gillard to withdraw her "offensive words".

"We all know the connotation the Prime Minister is trying to bring about by using the word 'denier'," he fulminated.

"We know she's trying to allude to the Holocaust. It is offensive and it must stop."

The Speaker, digesting Mr Pyne's leap of logic, declared he had to employ "as much sensitivity as I can muster" to deal with the matter.

Unsurprisingly, he didn't buy the proposition.

"I think that the construction the manager of opposition business has placed at this point in time is stretching it," he understated.

Mr Pyne protested. "I make the connection between climate change denier and Holocaust denier."

Mr Jenkins told MPs to "take a deep breath and behave in a manner that those that observe us from outside would expect".

His plea was, of course, denied.
UPDATE
Excellent story by Sonja Karkar on the Marrickville muckraking and subversion by the Coalition of Delegitimisation 'The Greens and BDS – Killing two birds with one stone'
UPDATE 2
Lee Rhiannon, NSW Greens Senator-elect's comments on BDS are prescient in this article by Antony Loewenstein dissecting the Greens' result in the NSW election.
"Months before the election we needed to explain why the Greens backed BDS and we needed to work closer with our allies on BDS; academics, the Arab community and social justice movements in Sydney and Melbourne. Collectively we didn't do enough to amplify support for BDS and show that this is part of an international movement."

..

For Rhiannon, one of the saddest sights of the election was the ALP Left, "who call themselves the conscience of the party, driving this attack on the Greens over BDS. Anthony Albanese and Luke Foley ran a sophisticated campaign through the media to discredit the Greens. This is a party who has sometimes worked closely with the Palestinians — but in this case it was a bankrupt move for political reasons."

..

Jamie Parker revealed to New Matilda the extent of the hatred directed at him during the campaign due to the Greens BDS policy. He had countless letters sent to him calling him a Nazi and Jew hater. His car was vandalised and campaign signs spray-painted with swastikas. He received death threats and some abusers said they knew where he lived. "One letter said I wanted to turn Balmain power station into a gas chamber and the light rail would take people there", Parker tells me. "Lefty Jews told me that you can't be surprised if extreme people do extreme things but they wouldn't come out in public and condemn it." He was appalled.
Did Fiona Byrne Get Fair Coverage?
The Australian's banal, predictable under-analysis – no mention of the dirty tricks and repetition of the illusory but damaging 'Byrne taking the issue to the state' smear'
On push polls:
A push poll does not have to sound evil, but can take a hot button issue and attribute to candidate because he belongs to a particular Political Party.
A push poll is a political campaign technique in which an individual or organization attempts to influence or alter the view of respondents under the guise of conducting a poll. In a push poll, large numbers of respondents are contacted, and little or no effort is made to collect and analyze response data. Instead, the push poll is a form of telemarketing-based propaganda and rumor mongering, masquerading as a poll. Push polls may rely on innuendo or knowledge gleaned from opposition research on an opponent. They are generally viewed as a form of negative campaigning.[1] The term is also sometimes used inaccurately to refer to legitimate polls which test political messages, some of which may be negative. Push polling has been condemned by the American Association of Political Consultants,[2] and is illegal in New Hampshire.[3]
Related Links
Public Trustee takes Hajnal Black to court for $2m
Councillor Hajnal Black defends $2 million 'cash transfer' from sale of sick friend's house
Hajnal Ban dropped by LNP
"China boycott" a Labor dirty trick
Bob Brown dumps on BDS, bows to opportunism and the Israel lobby, who though raucous are not representative of the electorate :
Federal leader Bob Brown yesterday admitted Byrne's controversial decision to support Marrickville Council's boycott of Israel had undermined her campaign: "I think it [the boycott] had an effect on it?—?that's my feedback from the electorate. I'm picking up from the electorate that it's a matter of concern… As I've pointed out through the campaign, it's not national Greens policy."

On election eve police were called to investigate vandalism of Byrne's posters which had been defaced with swastikas and phrases like "Watch out for the Nazi". Pro-Israel groups also gathered at Marrickville polling booths on Saturday, urging voters not to support her because of her pro boycott-stance.

Crikey revealed on Friday that Ian Cohen, the NSW Greens' longest-serving member in the upper house, does not support a boycott of Israel and believes it damaged the party's campaign.
Anti-Israeli stance focus of Greens review – Oz slime
Father Dave speaks in support of BDS at Marrickville Council
Company denies push polling against Greens
Cr Byrne said the companies involved needed to take responsibility for the effect of the survey.

"Members of the community have made it clear that the last question asked is about myself and the state election," she said.

"At the end of the day, such a question reveals the true intention of this survey, which is to influence the outcome of the state election campaign."

A Greens spokesman said it was likely there was more than one phone poll being conducted in Marrickville, which is held by Labor by a magin of 7.5 per cent.

Liberal candidate Rosana Tyler said yesterday several members of her own party had also taken part in a recent phone survey, believing it to be from council.

"The way the questions were framed it would appear that it was a council survey," she said.
Greens hung Fiona Byrne out to dry
"Many voters were searching for a genuine progressive alternative to NSW Labor and we failed to present as that," Ms Faehrmann writes in the Herald today.
Advertisement: Story continues below

She says the Greens abandoned Ms Byrne when she came under attack from Labor and Jewish lobby groups for her support of the Boycott, Divestment and Sanctions (BDS) campaign.

"The original proponents of BDS within the NSW Greens were nowhere to be seen, and our overwhelmed candidate for Marrickville was left with little support," she writes. "In any language, it was poor strategy and bad behaviour."
Palestine / Israel Links
Mighty Israel and its quest to quash Palestinian popular protest
ADL slams Facebook for refusing to remove 'third Intifada' fan page
"We are disappointed that Facebook has rejected our request to remove this site, which is in clear violation of their terms of service," the ADL said in a statement.

"We are especially disappointed in this case because in the past there has often been understanding and sensitivity from Facebook when we have brought violations of its own rules to its attention. We urge Facebook to reconsider its decision and remove this site, which by its very title incites violence," the statement added.
Settlers squat on church-owned land, demand farmers leave
Grand larceny by the criminal zionist entity Israeli Authorities Orders Coal Fields Evacuated
National Director Foxman says page misleadingly calls for peaceful demonstrations; regrets Facebook has not yet taken down page. – what a loon!
Third Intifada
Third Intifada Event
31 Mar, CANBERRA: ISRAELI APARTHEID WEEK- Palestine Solidarity and the BDS Campaign
Smothering the "Dynamic Debate" in Israel
Breaking Israel's illegal blockade on Gaza goes mainstream : Swiss president has plans
Jerusalem bus bomb victim was British
Bob Geldof – do not accept an honorary doctorate from Ben Gurion University
46% of Jewish Israelis support settler "price tag" terror, Congress blames Palestinians for incitement
"The Israel Lobby", five years on
'One of the great personal successes, in my view, has been the increasing number of Jews who recognise the devastating result of simply allowing the pro-settler, anti-Palestinian Zionists solely taking the floor. Judaism simply cannot be about backing never-ending colonisation of Arab land.'
Israeli Apartheid Week in Gaza
80 Reasons Why Gaza has the right to self-defense
Palestinians jailed because lawyer can't communicate with them
Boycotting Israel … from within – Ronnie Barkan : "What is even worse is that people are raised to be deeply racist. Everything is targeted at supporting [Jewish] privilege as the masters of the land. Supporting BDS means renouncing my privileges in this land and insisting on equality for all."
Who is annexing Whom? – Uri Avnery:
So political boycotts are not wrong, as long as they are directed against others. It's the old "Hottentot morality" of colonial lore – "if I steal your cow, that's right. If you steal my cow, that's wrong."

Rightists can call for action against left-wing organizations. Leftists cannot call for action against right-wing organizations. It's as simple as that.

BUT THE law is not only anti-democratic and discriminatory, it is also blatantly annexationist.

By a simple semantic trick, in less than a sentence, the lawmakers do what successive Israeli government did not dare to do: they annex the Palestinian occupied territories to Israel.
Abu Rudaineh calls on Hamas to accept Abbas' offer
Palestine: Biggest Escalation of Violence in Gaza since Cast Lead
British Jews begin pitched battle over hasbara
Who are the Libyan Freedom Fighters and Their Patrons?
Two killed in Gaza air strike
Denial is a river of Palestinian blood running through zionism : Yossi Gurvitz – When the Ghosts Return
Israel deploys 'Iron Dome' anti-rocket system
Bomb Shelters Going Up In Washington Square – Israel Lobby hasbara in New York
Department of oxymorons, Israel division
Majority of Palestinian Voices Still Being Ignored
The Nakba Law deepens apartheid in Israel
Israeli minister, media perpetuate lie about Goldstone's Gaza report
Israeli genocidalism: Army Evicts Palestinian Family in Jordan Valley to Facilitate Settlement
More Israeli genocidalism: Officials: Israel destroys ancient wells near Bethlehem
Settler pogroms target sheep, olive trees and children – and yet more Israeli genocidalism!
South Africa: 'Boycott Israel' campaign scores big win
Syria Links
Libya Links
Libya: a legitimate and necessary debate from an anti-imperialist perspective
how we missed you, humanitarian intervention
Of Principle and Peril
Who gains? Loving the Libyan Rebels
Libyan "Revolutionaries" Aren't So Revolutionary..
Egypt Links
On Sunday evening, around 2000 protesters marched against the proposed law by Essam Sharaf's cabinet banning strikes and protests.
War stalks revolution in Middle East
US Links
Top Bush-era GITMO and Abu Ghraib psychologist is WH's newest appointment
UNDERSTANDING PLUTOCRACY (war, ecocide, neo-feudalism, alienation, etc.) AND WAKING FROM IT
The privatization of US foreign policy
The Day the Klan Marched – Anti-KKK Protesters Beaten by Racist Austin Police
U.S. Products Help Block Mideast Web
The Kill Team : How U.S. soldiers in Afghanistan murdered innocent civilians and mutilated their corpses – and how their officers failed to stop them.
Australia Links
Why give voice to bigots? Why are the Melbourne Age and the Sydney Morning Herald giving voice to an Islamaphobe?
Inequality is growing in Australia: ACOSS
"We know the cost of essential items and services like food, rent, energy, health, education, clothing and transport costs continue to go up. In fact since 2000, the cost of living in Australia, as evidenced by the CPI has risen by 34% with energy expenses in particular doubling in the past decade and expected to double again in the next 5 years. And ACOSS believes this is understating it as the CPI isn't necessarily the best measure to reflect the disproportionate impact of the rise of essential goods and services for people on the lowest incomes.

"We know that nationally over a million low-income households are in housing stress with housing costs exceeding more than 30% of household income. 65% of people on low incomes in private rentals currently experience housing stress, with many of these households spending over half their income on rent.

"And whilst the cost of staying afloat has gone up, those people who some of the most reliant on our social safety net – people who are unable to get paid work – have not had commensurate increases in their social security payment – the Newstart Allowance."
Bolt's day in court as racial villification case kicks off
Politics of misogyny, or misogyny of politics … you decide
Partnerships: not a political quick fix
'It is clear that before we can effectively close the gaps in Education, Employment and Health we need to remove the ability of the Federal Government to use Aboriginal Australia as an election tool and place it into the hands of a bi-partisan task-force with a 7 to 10year life span to include and pro-actively consulate with Indigenous community members to implement effective community strategies.'